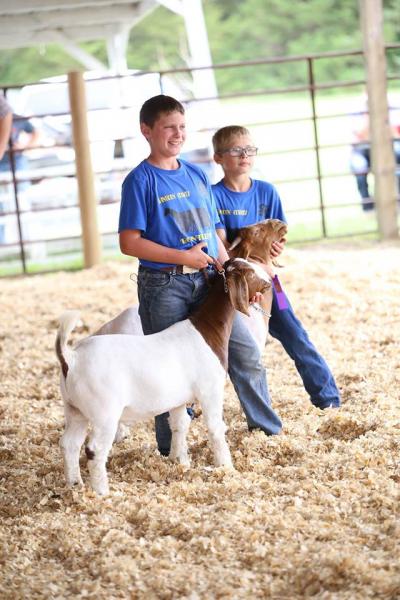 SDSU Extension's 4-H Youth Development Program helps young people to reach their full potential as competent, confident leaders of character who contribute and are connected to their communities.
In 4-H, youth design and participate in their own projects and related activities. This unique learn-by-doing model teaches essential skills that youth will use throughout their lives. Whether a young person builds a rocket, raises a companion pet, or plants vegetables, 4-H gives youth the skills they need to thrive and succeed.
Live Updates
South Dakota 4-H will utilize social media platforms to stay connected with families and to provide live updates during activities at the South Dakota State Fair. 
Families can utilize Twitter for live updates on shows, contests and events. Information in live updates may include reminders of livestock weigh-ins, current class statuses and other event-specific details. Users can follow South Dakota 4-H on Twitter by searching "SDSUExt4H" or any of the following hashtags in the search bar.
Beef - #SD4HBeef
Companion Animal - #SD4HCompanionAnimal
Dairy Cattle - #SD4HDairyCattle
Dairy Goats - #SD4HDairyGoat
Meat Goats - #SD4HMeatGoat
Poultry - #SD4HPoultry
Rabbits - #SD4HRabbit
Sheep - #SD4HSheep
Swine - #SD4HSwine
Consumer Decision Making - #SD4HCDM
Fashion Revue - #SD4HFashionRevue
Horticulture Skillathon - #SD4HHortSkill
Public Presentations - #SD4HPubPres
On Facebook, search "South Dakota 4-H" to access show and event highlights or simply type the hashtag indicated above for the desired show or event.
4-H families are encouraged to tag South Dakota 4-H and utilize the hashtags listed above when sharing their own posts about 4-H activities at the fair. 
Results
Photos
View pictures in the 2020 4-H State Fair album.
Livestock
Beef
Dairy Cattle
Goats
Small Animal
Sheep
Swine
Display Exhibits
Youth In Action
In-Person
Virtual
Use the links below to view books, forms and scoresheets. Items are scoresheets unless otherwise labeled. Forms and worksheets are marked with a *.
Animals
Display Exhibits
Educational Displays and Posters
Clothing and Textiles
Computers and Technology
Engineering
Food Preservation
Youth In Action
Consumer Decision Making Skill-a-thon
Food & Cooking ID
Interior Design & Housing ID
Sewing & Clothing ID
Fashion Revue
Communications Project
Robotics Challenge
Packet

This contest has been modified for 2020. Use this packet to prepare for 2021.
Special Foods
2020 4-H Sponsors
Platinum Sponsors $1000+
In Memory of Henrietta Gohring
SD Nutrition Council
CorTrust Bank
SD Youth Hunting Adventures
Midwest Dairy Association
SD Community & Family Extension Leaders
Rich K. Howard
Northwestern Energy
Clay County 4-H
DeSmet Farm Mutual Insurance
Carolyn Clague & Dennis Hopfinger
Dakotaland Feeds LLC
Gold Sponsors $500-$999
Florence Brandner
Grant County 4-H Leaders Assoc.
Silver Sponsors $250-$499
Potter County 4-H Leaders
Clay County Flyers 4-H Club
Tripp/Gregory County 4-H Shooting Sports
Butte County 4-H Shooting Sports
SD Draft Horse & Mule Breeders
SD Charolais Breeders Assn.
Charles Schwab
Friends of 4-H – Lake County
Lake County Leaders
Wieman Land & Auction Co., Inc.
Angus Sale Committee - Sioux Empire Farm Show
Beal Distributing, Inc.
Turner County 4-H Leaders Association
SD Poultry Industries Assn.
Brookings County 4-H Leaders Assn.
In Memory of Michael Alan Noble
Bronze Sponsors $50-$249
Barbara May Hughes
Broken Spur Ranch
Brule County 4H Leaders
Clark County 4-H Leaders Association
Davison County 4-H Leaders Association
Davison County 4-H Shooting Sports
Don's Food Center
Doug Gorham
Dr. James Torsney OD
Erin Rose Denker
Gramma's Babydolls
Held's Hampshires
Hubbs Agency, Inc.
In Memory of Darrel "Red" Pahl
In Memory of Joanne Kratochvil Kratz
In Memory of John P. Jones
In Memory of Lawrence Carson
In Memory of Tracey Schmitz
In Honor of Bob Schmitz
Jaycox Girls
Jensen Construction Inc
Jensen Livestock LLC
Jones County 4-H Leaders Assn.
K&B Archery Inc
Bronze Sponsors $50-$249 (Continued)
Kessler Ranch
Lake County Leaders
Lincoln County 4-H Leaders
Lonell & Mary Moeller Trust
Marcia M. Quinn
Minnehaha Master Gardeners
Moody County 4-H
Pfeifer Implement
Prairie Rangers 4-H Club
South Dakota Red Angus Assoc.
Up & Get It 4-H Club
Rich Howard
June James
Pam & Merritt Warren
John L. Durand
Dr. & Mrs. Herbert McClellan Jr.
Marlys I. Kelsey
Other Sponsors $0-$49
Margaret & Jerome Withers
William C. Gallagher
In Memory of Grant Nielson
Kingbrook Rural Water System
Rex & Darla Newling
Past Results & Photos
Congratulations 4-H members and families! View results and photos from previous fairs.
View Results