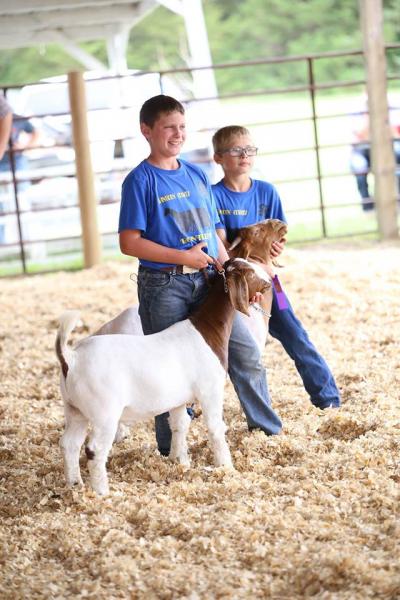 Date: Tuesday, Aug. 31 – Monday, Sept. 6, 2021
Location: South Dakota State Fair @ Huron
Registration Deadline: Aug. 10, 2021
SDSU Extension's 4-H Youth Development Program helps young people to reach their full potential as competent, confident leaders of character who contribute and are connected to their communities.
In 4-H, youth design and participate in their own projects and related activities. This unique learn-by-doing model teaches essential skills that youth will use throughout their lives. Whether a young person builds a rocket, raises a companion pet, or plants vegetables, 4-H gives youth the skills they need to thrive and succeed.
Live Updates
South Dakota 4-H will utilize social media platforms to stay connected with families and to provide live updates during activities at the South Dakota State Fair. 
Families can utilize Twitter for live updates on shows, contests and events. Information in live updates may include reminders of livestock weigh-ins, current class statuses and other event-specific details. Users can follow South Dakota 4-H on Twitter by searching "SDSUExt4H" or any of the following hashtags in the search bar.
Beef - #SD4HBeef
Companion Animal - #SD4HCompanionAnimal
Dairy Cattle - #SD4HDairyCattle
Dairy Goats - #SD4HDairyGoat
Meat Goats - #SD4HMeatGoat
Poultry - #SD4HPoultry
Rabbits - #SD4HRabbit
Sheep - #SD4HSheep
Swine - #SD4HSwine
Consumer Decision Making - #SD4HCDM
Fashion Revue - #SD4HFashionRevue
Horticulture Skillathon - #SD4HHortSkill
Public Presentations - #SD4HPubPres
On Facebook, search "South Dakota 4-H" to access show and event highlights or simply type the hashtag indicated above for the desired show or event. 4-H families are encouraged to tag South Dakota 4-H and utilize the hashtags listed above when sharing their own posts about 4-H activities at the fair.
Results and Photos
Results from the 2021 State Fair will be posted on this page at the conclusion of each competition. Photos from this year's competitions can be viewed in the 2021 State Fair album.
Livestock
Beef
Dairy Cattle
Goats
Small Animal
Sheep
Swine
Resources
Use the links below to view books, forms and scoresheets. Items are scoresheets unless otherwise labeled. Forms and worksheets are marked with a *.
Animals
Display Exhibits
Educational Displays and Posters
Clothing and Textiles
Computers and Technology
Engineering
Food Preservation
Youth In Action
Consumer Decision Making Skill-a-thon
Food & Cooking ID
Interior Design & Housing ID
Sewing & Clothing ID
Fashion Revue
Communications Project
Robotics Challenge
Special Foods