Volunteers are among our most treasured resources at SDSU Extension. From teaching youth about nutrition to advancing the technology skills of older generations, our volunteers bridge the gap between research and community knowledge throughout South Dakota. With over 800,000 residents to serve, we seek out passionate individuals to help us accomplish what we cannot do alone. SDSU Extension volunteers participate in a variety of service programs through our organization, helping us expand the scope and effectiveness of our mission. In exchange for their service, volunteers receive training on a wide array of topics of interest to them. 
To learn more about SDSU Extension Volunteer programs, select from the list of programs below or contact Aimee House Ladonski, SDSU Extension Volunteer Development Field Specialist (605.782.3290).
Master Volunteers
SDSU Extension trains interested citizens to become "Masters" on a variety of topics. These Master volunteers then use what they have learned to facilitate Extension educational programming in their communities - sharing their expertise and providing services to South Dakota's citizenry.
All SDSU Extension Master Volunteers:
Must complete a certain number of hours of specialized training in a particular subject,
Be able to lead community education programs in the subject, and
Commit to giving at least 50 hours of service in the specific subject.
Master Volunteers may teach youth or adults, train other volunteers, or work on projects like community gardens.
Volunteer Programs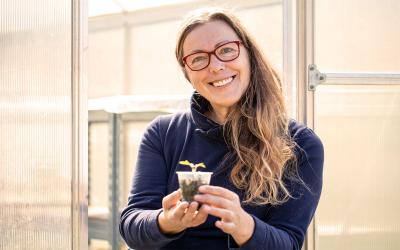 SDSU Extension Master Gardeners volunteer more than 10,000 hours each year answering questions and hosting programming.
The Master Food Preserver program provides volunteers with extensive knowledge of safe home food preservation practices, research-tested recipes and up-to-date USDA food preservation regulations.
If you enjoy teaching others how to take charge of their health, the Master Health Volunteer Program may be for you! A Master Health Volunteer is an earned certification that increases your knowledge in health topics and teaches you to facilitate educational programs for your communities.
"I love working as a volunteer with SDSU Extension as a South Dakota Master Gardener. My mind is stimulated with the up-to-date horticulture information provided which fuels my teaching portfolio which in turn connects me to my community."
— Sue W. White, President, SDMG Association