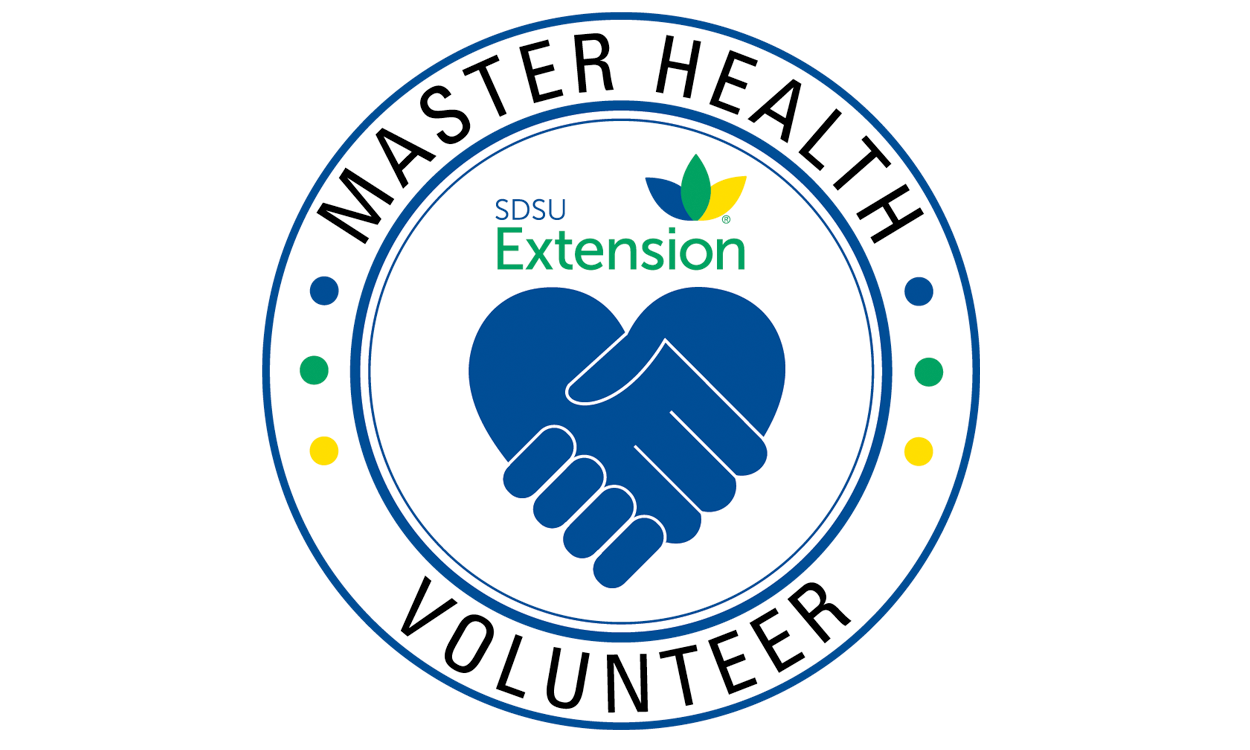 What is a Master Health Volunteer?
SDSU Extension is committed to help South Dakotans better their lives. Through the application of evidence-based knowledge, we create high-quality, relevant continuing education that encourages lasting and effective change. Research shows at least 50% of health status is due to lifestyle factors such as not using tobacco, being physically active, maintaining a healthy weight and good nutrition, among many others.
If you enjoy teaching others how to take charge of their health, the Master Health Volunteer program may be for you! A Master Health Volunteer is a certification one can earn to increase their knowledge and skills in health topics and help facilitate educational programs to their communities. A Master Health Volunteer can choose one of five program tracks to become certified.
Vision: Advance the health and wellbeing of all South Dakotans.
Mission: Train volunteers to provide research-based information to individuals and families to improve their health and financial wellbeing.
— Master Health Volunteer Program
Program Tracks
Better Choices Better Health: Facilitate a self-management education workshops to help improve other's quality of life.
Fit & Strong!: Instruct a program focusing on cardiovascular fitness and strength training to improve overall health
Walk With Ease: Help those who suffer from arthritis by being active through this walking program
Money Mentor: A network of trained volunteers who will provide one-on-one money management guidance and group personal finance education.
Growing Healthy Families & Communities: Offer evidence-based program to youth and adults that focuses on healthy eating, physical activity, food resource management, food security, and food preparation.
Program Requirements
Becoming a Master Health Volunteer requires the successful completion of approximately 40-hours of training content. Much of the training content can be completed online at your own pace. Some training components will require attendance via Zoom on TBD days and times.
Following the completion of training, a Master Health Volunteer must display successful completion and demonstration of the knowledge, skills, and abilities in topics covered during training.
Training Topics
Mental Health
Chronic Disease
Exercise
Leadership
Gerontology
And more!
Volunteer Expectations
Once an individual has successfully completed the course components, the Master Health Volunteer is considered an intern until 40 hours of give back volunteer hours are completed. Once the hours are complete, the individual becomes a Certified Master Health Volunteer. To maintain certification, volunteers must log 20 hours of service and 10 hours of training every year. Training opportunities will be shared throughout the year.