Depending on your needs and the cover crop(s) you plant, you can enhance water retention and infiltration, decrease erosion, amp up organic matter, extend grazing seasons… and so much more. 
Let the SDSU Extension team put research-based information to work and help you decide the best cover crop(s) to meet your production goals.
Upcoming Events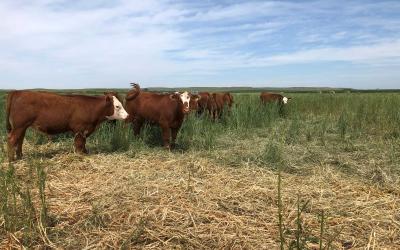 SDSU Extension will host Managing Soil: Maximizing Profit Conference and the Southeast Research Farm Annual Meeting, Dec. 2, from 9:00 a.m. - 3:15 p.m. at the NFAA Easton Yankton Archery Complex Community Center (800 Archery Lane, Yankton, SD).

This guide focuses on forbs, or flowering "broad-leaved" herbaceous plants, but forbs can be narrow-leaved as well.
South Dakota gardeners and specialty crop producers have expressed a need for cover crop research. Learn about a recent research project investigating clover cover crop integration for pepper and broccoli production.
Understanding your ranching system is critical, and identifying anticipated soil-plant-animal responses during periods of dry, wet, or normal conditions will enable you to develop climate-ready practices. Learn how to get started today!