Our team of experts and volunteer Master Gardeners can help you with all your indoor and outdoor flower and ornamental plant needs. Whether you are just getting started or a pest has invaded, we are here with research-based information and resources to help.
Upcoming Events
South Dakota State University (SDSU) Extension will be hosting its annual mosquito control meeting over Zoom on Oct. 20, from 1:30 p.m. - 4:15 p.m.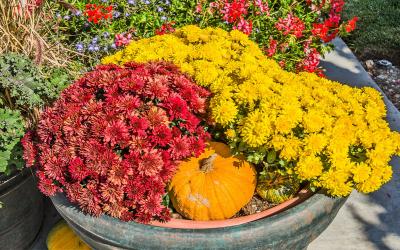 With just a bit of imagination and a little time, your worn-out summer containers can gain new life with a variety of cool-season flowers and plants that come in brilliant fall colors!
Due to large populations and dry conditions, grasshoppers are moving into gardens and feeding on whatever they can find. In a normal year, grasshoppers can be a nuisance in a garden, but during an outbreak year, they can present a real threat to gardens, shrubs and small trees.
Flowers in many gardens are currently being visited by soldier beetles. While these orange beetles have a strong preference for flowering plants, they are predators and pollinators and don't pose a threat to your garden.