SDSU Extension works with forage producers, providing them with access to quick tests, research-based information, and best management practices to help maximize yields and nutritional quality of forages.
Twine or netting? Yes, our team can help you make this decision too. 
Upcoming Events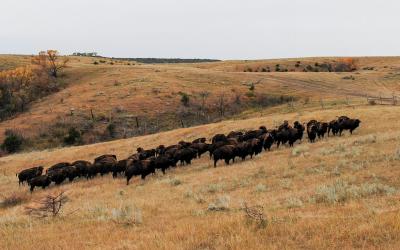 Known for its wide-ranging topics, demonstrations and practical applications, the symposium has been held biennially among the four cooperating states — Colorado, Nebraska, South Dakota and Wyoming — since 1969.
During periods of drought, it is important to aware of the factors that can be a concern during these conditions, specifically nitrates and prussic acid. It is important to take precautions when using feeds that could contain one or both compounds.
This week we started to receive reports of pastures and alfalfa stands that have been heavily fed on by fall armyworm caterpillars. Typically, these pests are not an issue in South Dakota. However, populations have been very large in many states during 2021, and they have now moved into South Dakota.