SDSU Extension works with forage producers, providing them with access to quick tests, research-based information, and best management practices to help maximize yields and nutritional quality of forages.
Twine or netting? Yes, our team can help you make this decision too. 
Upcoming Events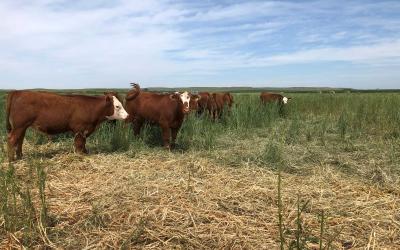 SDSU Extension will host Managing Soil: Maximizing Profit Conference and the Southeast Research Farm Annual Meeting, Dec. 2, from 9:00 a.m. - 3:15 p.m. at the NFAA Easton Yankton Archery Complex Community Center (800 Archery Lane, Yankton, SD).

This guide focuses on forbs, or flowering "broad-leaved" herbaceous plants, but forbs can be narrow-leaved as well.
Understanding your ranching system is critical, and identifying anticipated soil-plant-animal responses during periods of dry, wet, or normal conditions will enable you to develop climate-ready practices. Learn how to get started today!
Residual forage is the amount of green leaf left after a grazing event. Understanding its importance can help producers capitalize on the symbiotic relationship that occurs when soil health is front and center on rangelands.