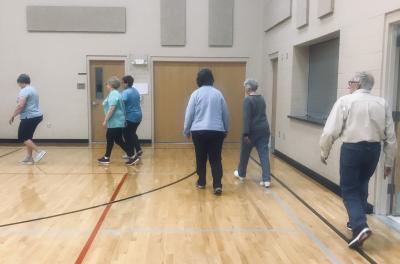 Walk With Ease offers educational workshops that are designed to help adults living with ongoing arthritis, joint pain, or who are sedentary and want to become more active. Comprehensive studies demonstrate that Walk With Ease reduces pain, increases balance and strength, as well as improves your overall health. 
Learn more about how you can become involved with the program by exploring our options below! 
"When I first started, I had recently injured my knee. I hardly have any pain now. I attribute my success mainly to this class."
— Anonymous
About the Program
The Arthritis Foundation's Walk With Ease Program is a 6-week walking program that can reduce pain and improve overall health. Whether you need relief from arthritis pain or just want to be active, if you can be on your feet for 10 minutes without increased pain, you can have success with Walk With Ease.
SDSU Extension is excited to implement this program statewide by supporting trained leaders and maintaining a statewide database of impact and programming. 
Our participants say:
"We love the Walk With Ease program, we feel comfortable to walk in a safe, judgement-free environment."
"This class helped strengthen my feet and gave me a feeling of more stability."
"I'm able to walk more, sleep better, and have a better mood!"
"I went to the doctor- I lost weight, blood pressure was lowered, and I lowered my A1-C. Because of my walking, my daughter is using her treadmill and my mother is doing laps around the house with her walker."
Options
Group
SDSU Extension is offering local workshops statewide by supporting trained leaders and maintaining a statewide database of programming and impacts.
Each session is offered by a trained, CPR-certified leader.
Self-Guided
Enjoy the flexibility of a walking program on your own schedule.
Register for a self-guided workshop below and wait for the informational email to come to your inbox one week prior to the workshop start date.
Worksite
Educate, incentivize, motivate and help improve overall quality of life for your employees.
Implement the program with your own trained leader or sign up for the self-directed workshops listed below.
Contact Hope Kleine or Nikki Prosch to learn more about having an employee trained as a Walk With Ease leader.
©Arthritis Foundation
Discover what worksites and employees are saying about the Arthritis Foundation's Walk With Ease program.
Bring Walk With Ease to Your Community
Join the team of Walk With Ease leaders in South Dakota! SDSU Extension is proud to serve as the Hub of Walk With Ease leaders in South Dakota. If you are interested in becoming a trained leader, please contact Nikki Prosch or Hope Kleine to learn more. 
Not seeing Walk With Ease in your community? Send your name, location and e-mail address to Nikki or Hope, and we will connect with you if a workshop comes to your area!
Additional Resources
Arthritis Foundation: Learn more about the Arthritis Foundation Walk With Ease program, download the Arthritis Foundation Walk With Ease App and access additional resources for managing your joint pain and arthritis symptoms.
Better Choices, Better Health© SD Chronic Disease Workshops (CDSMP) are designed to help adults living with chronic conditions and caregivers manage physical and mental health wellness. Participants will learn goal setting, problem solving, managing difficult emotions, understanding medications, relaxation techniques, nutrition and physical activity planning and idea, and tips for communicating with providers and family. Learn more about these workshops here.
COVID-19 Safety Precaution
All face-to-face Walk with Ease workshops are suspended until April 11, 2020. The self-guided program will continue during this time.