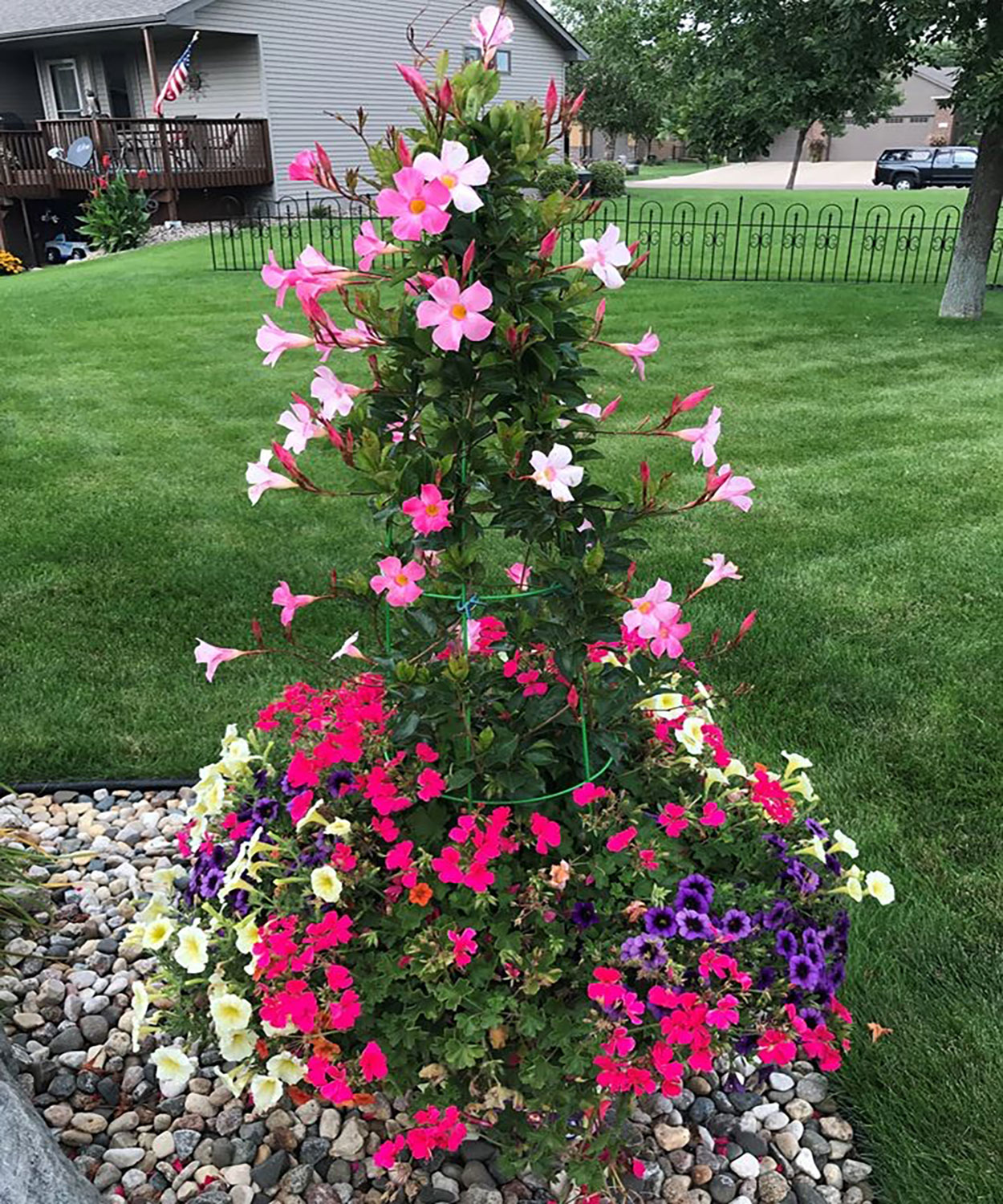 Cindy Jungman will admit her exposure to gardening was quite limited growing up in Aberdeen, South Dakota.
"My mom grew some 'moss roses,' and that was about it," Jungman jokes.
It wasn't until college, when she and her roommates started buying houseplants for their apartment, that Jungman realized she had a budding interest in horticulture. In 1975, Jungman got married and she and her husband, Joe, started their very first garden soon after. That same year she also started growing her own seeds.
"I had a real interest in seeds from the very beginning, and I've always had a seed starting operation," Jungman says.
Over the years, Jungman's interest has expanded to include other methods of plant propogation. "I take hundreds of cuttings and divisions each fall and keep them under lights during the winter. This way, I garden all year-round," Jungman says.
Gardening was just a hobby for Jungman for many years. In 1999, she became certified as an SDSU Extension Master Gardener Volunteer and helped to form the Prairie Potters Master Gardener Club in Pierre. Today Jungman serves as the President of the South Dakota Master Gardener Association Board.
"Many start out [in Master Gardeners] because of their own personal interests, but when you start working with others and sharing your passion for gardening, volunteerism becomes pretty contagious," Jungman says. "It's really rewarding to volunteer and do something you enjoy at the same time."
While the Master Gardener program provides volunteers with extensive knowledge of best gardening practices, it is a service commitment. To become certified, volunteers must complete 40 hours of training, pass a test and then commit to 40 hours of volunteer service in their community. After that Master Gardeners must report 20 volunteer hours and 10 hours of continuing education each year.
"Master Gardeners is a service organization," Jungman says. "That's our primary purpose, to support the SDSU Extension Master Gardener program and their mission."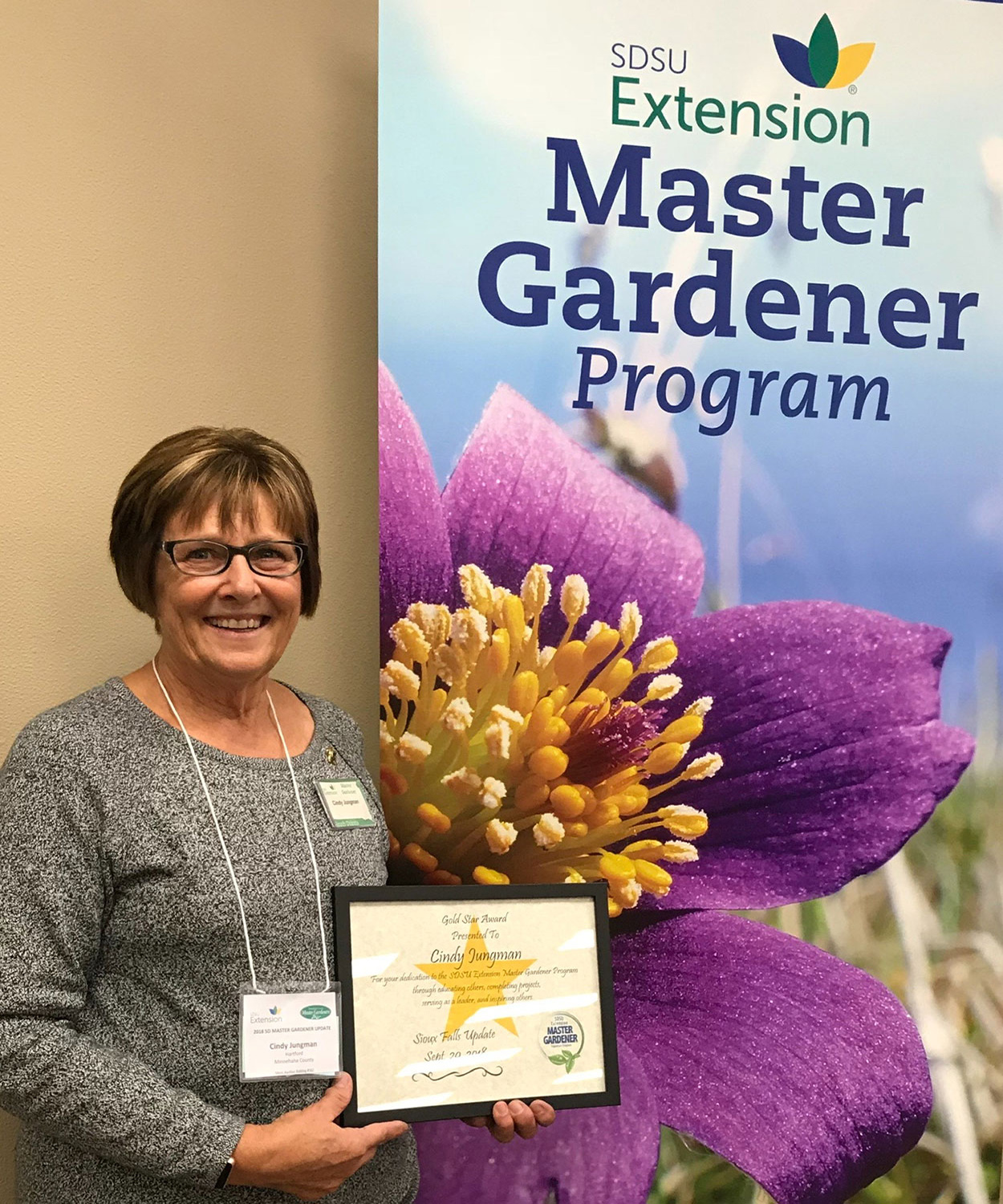 Over the years Jungman says she has enjoyed leading educational programming for adults and children and participating in the annual plant sales and yard tours, but her favorite volunteer activity is public speaking and sharing her knowledge. Her presentations have included such topics as seed starting, container gardening, growing succulents and plant propagation.
"Another thing that was very rewarding for me was mentoring a new intern a few years ago. We had different backgrounds and life experiences, but we shared a love of gardening. We became good friends during the process," Jungman says.
After retiring from her position as Director of Administrator Services for the South Dakota Department of Public Safety, Jungman and her husband moved to Hartford in 2014 to be closer to their children and grandchildren. At that time, she joined the Minnehaha County Master Gardener Club, where she is currently the chairperson for the club's annual Spring Fling and Masters in the Garden educational events.
With the move from Pierre to Hartford came a new landscape and some gardening challenges.
"We have a huge yard, but the backyard is very wet," Jungman says. "I use raised beds for my vegetable and herb gardens, but I grow flowers in the ground, so I have to garden for wet conditions. This was a new learning experience. Also, utilizing containers allows me to do stuff I couldn't do in our wet ground."
"Many start out [in Master Gardeners] because of their own personal interests, but when you start working with others and sharing your passion for gardening, volunteerism becomes pretty contagious."
— Cindy Jungman, South Dakota Master Gardener Association Board President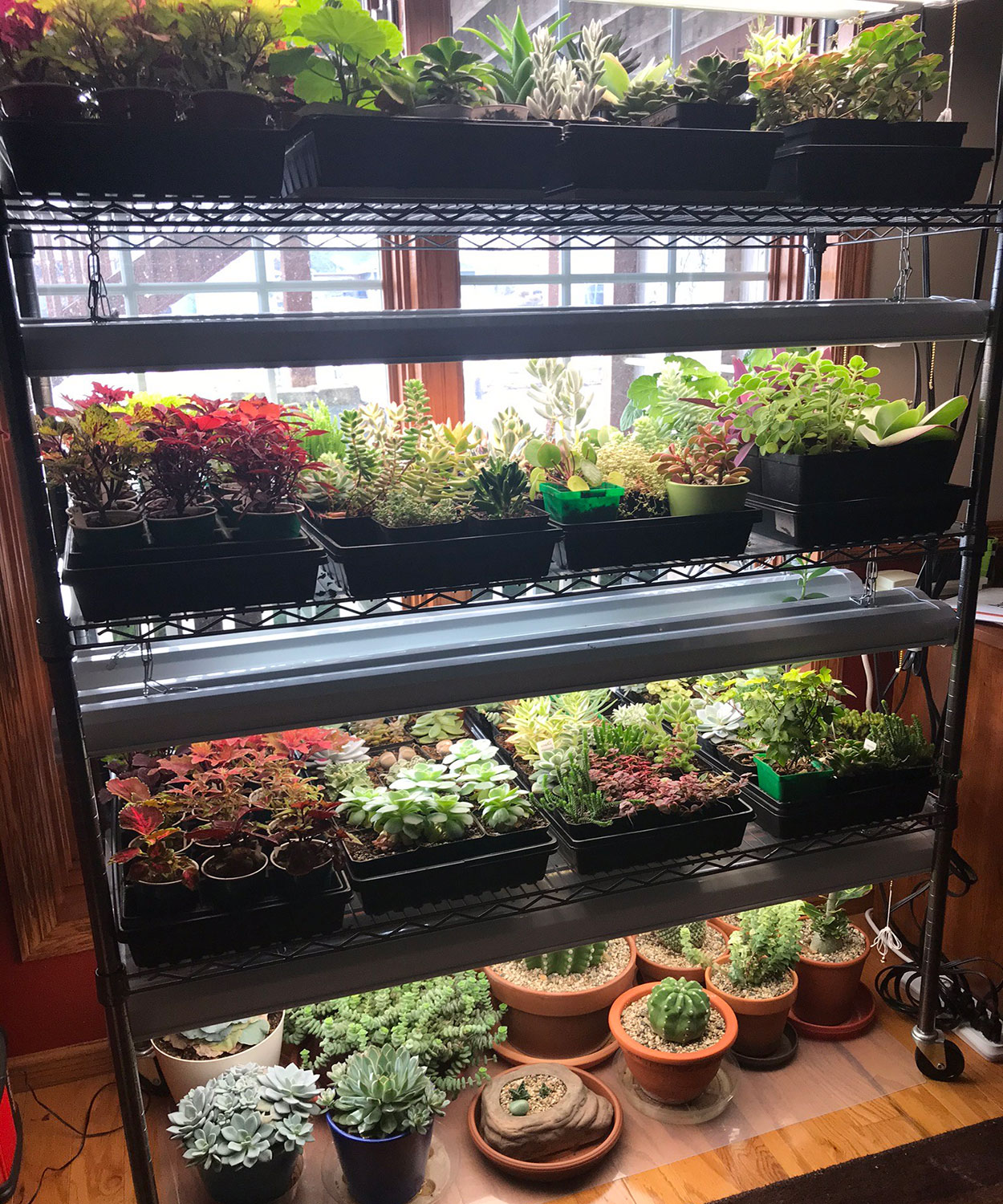 Jungman is now a "container connoisseur," planting 150 containers each year. Affectionately known as the "crazy pot lady" among friends, Jungman shares her ideas for "Amazing Containers" through her club's website and social media. During the pandemic, Jungman featured nearly 60 of her containers, with photos, seed and plant "recipes" and tips on Facebook. From "Painter's Palette" and "Pineapple Splash" to "Shades of Green" and "Shady Oasis," the column offered a variety of ideas for planters in every exposure, from shade to full sun.
Prior to the pandemic, Jungman often hosted tours of her gardens and container collection throughout her yard. Popular attractions included a grouping displaying 25 different coleus varieties and a large collection of succulent containers utilizing 175 succulent plants. Jungman also showcased her heavy-duty homemade tomato cages, livestock panel vertical gardening and a "hot house" method for growing peppers.
"I look forward to the time when I can again invite people back into my garden," she says.
Jungman served two years as Vice President of the South Dakota Master Gardener Association before moving into the President role in October 2020. She hopes to spend the last year-and-a-half of her term bringing the organization back together after the isolation caused by the pandemic. She also wants to connect with the South Dakotans who took the Master Gardener course virtually during the pandemic. Because the Master Gardener training was online last year, the organization gained members from all over the state.
"We need to reach out and engage with those interns and help bring them into their local clubs. We're really working hard at outreach and trying to get re-connected with the local clubs," Jungman says. "We are also actively planning for a state update conference in September. It's the only time we get together as a state organization, so it's very important in forming strong statewide connections."
A Master Gardener for more than 20 years, Jungman says the continuous education the program offers has been valuable.
"There is always something to learn as a gardener," Jungman says. "For instance, I saved my own seeds for the first time last year, so I had to learn what type of seeds you can save, which varieties are open-pollinated versus hybrid and so on. As you age, you can also learn to adapt your gardening practices to what you are capable of doing. I won't be able to lift heavy bags of soil forever, but I can continue to garden with raised beds and containers."
Unlike her own childhood, Jungman keeps gardening front and center with her three grandchildren, ages three to eight. They get to help plant and pick from her gardens, often choosing cherry tomatoes to eat right off the vine. They also create fairy gardens together, and she lets them pick out flowers to plant each spring.
Whether it's spending time with her grandchildren or leading garden tours, Jungman says the most rewarding part of being a Master Gardener is the relationships she has formed over the years through gardening.
"Not just working with people in the public and promoting Master Gardeners, but the friendships you make along the way, such valuable long-lasting friendships," Jungman says. "One of my best friends is the person who convinced me to take the Master Gardener class; we live miles apart now but remain good friends. While you are giving to the community, you are making lasting friendships."