2019 State Fair Book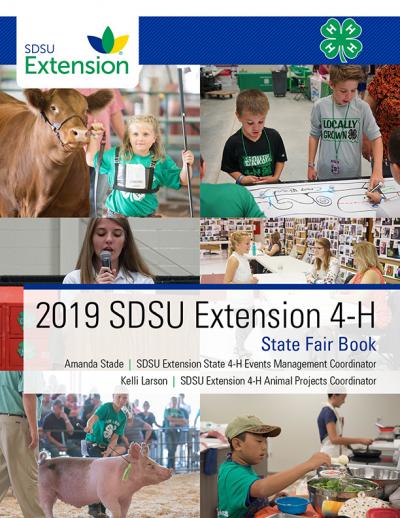 SDSU Extension's 4-H Youth Development Program helps young people to reach their full potential as competent, confident leaders of character who contribute and are connected to their communities. In 4-H, youth design and participate in their own projects and related activities. This unique learn-by-doing model teaches essential skills that youth will use throughout their lives. Whether a young person builds a rocket, raises a companion pet, or plants vegetables, 4-H gives youth the skills they need to thrive and succeed.
Download the 2019 SDSU Extension 4-H State Fair Book.
Thank you to the many sponsors and contributors who make the State Fair 4-H Division possible!
Stalling and Schedules
Show Orders
Youth in Action
Results & Photos
Congratulations 4-H members and families! Results and photos will be posted throughout the week.
View Results
Resources
Important Links
All items listed below are scoresheets unless otherwise labeled. Forms and worksheets are marked with a *. Italicized items are being revised and will be available soon.
2019 Judges
Beef

Market and Breeding: Jake Scott, Gordon, NE

Breeding: Willie Weis, Stacyville, IA

Showmanship: Ethan Johnson, Andover, SD

Companion Animal

Companion Animal Show: Dr. Carolyn Geis

Dairy

Dairy Goat: Mary Larson, Springfield, MN

Dairy Cattle and Showmanship: Luke Olson, Hutchinson, MN

Meat Goat

Breeding and Market: Ricky Thompson, Asher, OK

Poultry

Poultry Show: Art Reiber, Neola, IA

Poultry Showmanship: Josh Johnson, Bruce, SD

Poultry Showmanship: Reynold Loecker, Yankton, SD

Poultry Showmanship: Robert Rennolet, Menno, SD
Rabbit

Rabbit Show and Senior Showmanship: Drew Bliss, Marne, MI

Rabbit Show: Ruby Rezac, Sioux Falls, SD

Junior Rabbit Showmanship: Mike Grann, Wallace, SD

Beginner Rabbit Showmanship: Andrew Sweeter, Tea, SD

Sheep

Market: Marvin Ensor, San Angelo, TX

Breeding Wool: David Brown, Tower City, ND

Breeding Meat: David Hoskins, Jefferson, IA

Classifier and Showmanship: Brett Oelke, Barrett, MN

Swine

Market Swine Show and Showmanship: Brian Arnold, Lafayette, IN