Current Conditions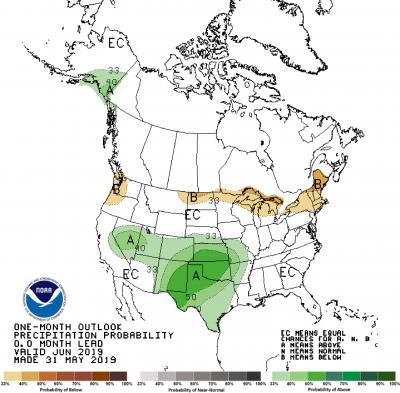 As South Dakota emerges from the wettest 12-month period in 124 years of climate recordkeeping (June 2018-May 2019), June has started warmer and drier than average.
The outlook, however, turns towards cooler and wetter than average again for the middle of the month. The Northern counties of South Dakota have benefited from drier conditions at the end of May and early June and have made more planting progress in corn and soybeans than most of the rest of the state. As of this writing, just 44 percent of corn has been planted statewide and just 14 percent of soybeans.
Mid-June Outlook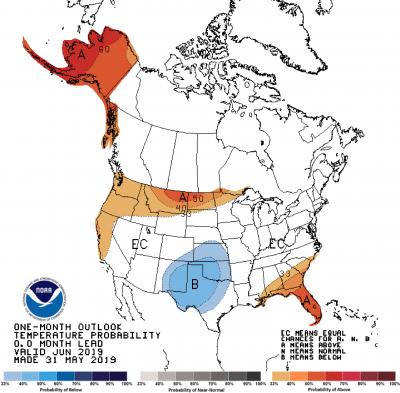 The current outlook that favors cooler and wetter conditions in mid-June will slow down soil drying and likely stall or slow down any further planting progress. This will be particularly true in the Southeast part of the state that is struggling more than any Region this season.
Statewide, soils are very wet to saturated, and any rainfall will runoff without infiltrating into the soil. With the James River still in major flood stage at its mouth to the Missouri and continued high levels in the Big Sioux and other rivers, the potential for an extended flood period and/or flash flooding remains.
Overall for the month of June, NOAA's Climate Prediction Center now projects equal chances of warmer, cooler or near average temperatures. This likely reflects the transition from warm to cool conditions mid-month. In addition, there are equal chances of wetter, drier or near average precipitation for June. This is a change from the earlier outlook that leaned towards wetter and cooler across the state. South Dakota is now in between an area favored to be drier than average to our north and wetter than average to our south.
As crops and gardens emerge and grow in the coming weeks, it will be important to manage weeds. The recent warm conditions have encouraged growth again. Additionally, scouting for disease and insect pests will still be necessary.