Written with contributions from Jessalyn Bachler, former SDSU Extension Range Field Specialist.
In a previous article, Five Range Management Principles or Rancher Rules were introduced to help producers make management decisions on rangelands. Each of the five principles will be elaborated on through this article series. The second principle describes how producers should create and implement a grazing plan for their operations.
Overview
Grazing systems come in many shapes and sizes, along with several different names. It can be difficult for producers, especially new producers, to select a grazing management plan that will allow their operation to be successful. It is also challenging to design a grazing system, because it is easy to get caught up in what other people are doing. It is important to remember that grazing systems are not "one size fits all" and must be adapted to your operation. Two commonalities that all grazing systems should include are promoting rangeland health and matching the producer's management and lifestyle. Thus, this article aims to give a clear outline, along with resources to aid in creating the right grazing plan for your operation.
To begin, let's consider the following quote from Ball et al. (2007), "It is not unusual for an inexperienced, but highly motivated, person to start a cattle or sheep operation and quickly develop a more-efficient and profitable business than more-experienced neighbors… such occurrences are not beginner's luck; they result from enthusiastic application of technology. Though initially not knowledgeable, such producers find and utilize sources of reliable information."
Step 1. Research reliable information.
There are many resources available for creating a grazing plan. Seek information from nonbiased institutions, such as the U.S. Department of Agriculture (USDA) or Land Grant Institutions, like South Dakota State University Extension (SDSU), as well as those in neighboring states that have somewhat similar rangelands, such as North Dakota State University Extension (NDSU) and University of Nebraska Extension (UNL). In addition, many local Natural Resource Conservation Service (NRCS) offices can help put together grazing plans and offer cost-share incentives for fencing or water development.
Step 2. Conduct a thorough ranch inventory. Develop a written plan.
There are three main benefits to having a written grazing plan. The first is that it will help you clarify what you want to achieve with the system (often, our ideas sound better in our head than when they are executed). The second is that the document provides a baseline that you can use to make changes from one year to the next, allowing the evaluation of successes and failures (SDSU Extension Adaptive Management article). Third, it provides an unbiased guide when difficult decisions must be made, such as adjusting stocking rates or culling animals during drought, or adjustments based on monitoring.
Although many grazing systems exist, it is valuable to develop a vision statement through strategic and scenario planning to determine which grazing plan will lead to achieving your operation's goals (vision) (See the Key Grazing Plan Components section). During this process, it will be necessary to consider the following fundamental grazing components to determine an appropriate grazing strategy (continuous, rotational, adaptive).
Fundamental Grazing Components
Soil type
Pasture
Climate
Water
Fencing
Resources
Is there labor, time and finances available for the grazing management plan to be fully implemented?
This includes physical labor for rotating cattle, fixing fences, checking water, and handling cattle (medical treatment, shipping, buying/selling).
Livestock
Do livestock types align with the grazing management style? For example, docile cows are easy to rotate versus younger cattle, like yearlings; yearlings will often roam further and spread across more of the pasture.
Does the species of livestock correlate with the type of available forage? For example, if you have a high percentage of forb or woody species in your pastures, a flock of sheep might best utilize those plants.
Are stocking rates and forage nutrient content adequate for cattle nutrient demands? (Overgrazing).
Finances
What capital is required for maintenance, improvements, or labor?
Will financial decisions return a profit?
Key Grazing Plan Components*
Step 1: Create the ranch vision.
Determine where the ranch is and where you would like it to be by performing a ranch inventory of resources and SWOT analysis (Ranch Inventory).
Step 2: Determine strategies to achieve the ranch's vision.
Perform a gap analysis.
Identify alternative strategies to close the gap.
Step 3: Scenario planning.
Step 4: Merge strategies and scenarios.
Choose grazing strategies that are most likely to succeed.
Step 5: Implement the plan and measure success.
Create step-by-step actions, timetables, and assign responsibilities to the individuals for completing tasks.
Communicate your plan with your management team.
Identify what will be monitored.
Assign responsibility.
Select monitoring intervals.
Communicate monitoring data where it is needed.
Create procedures if monitoring data indicates that the plan is not achieving desired goals.
Step 3. Have your plan evaluated.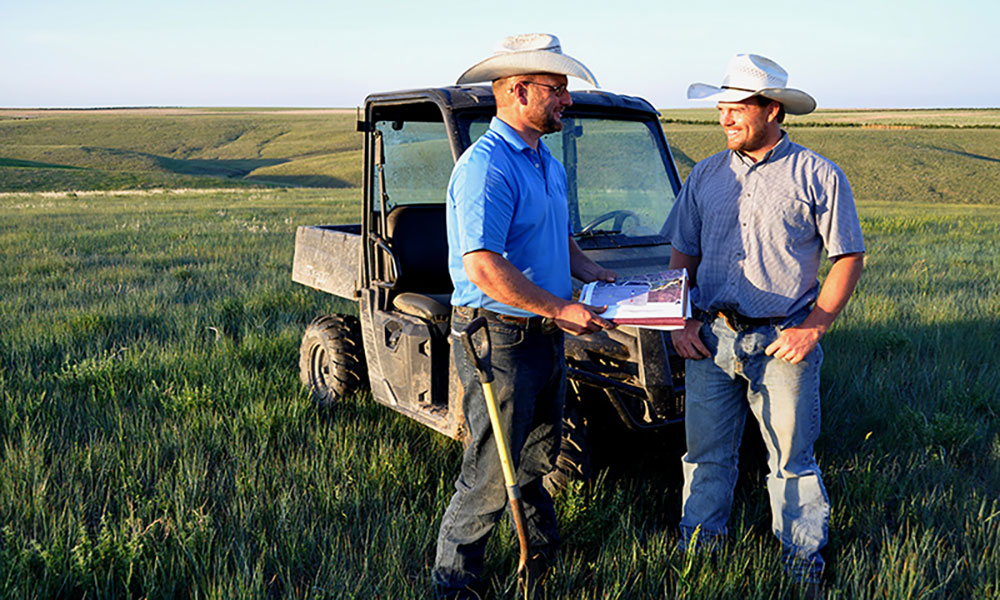 Numerous technical resources from USDA NRCS, SDSU Extension and ranch mentorship programs can provide free evaluation of your grazing system. This process provides an outside opinion to clarify, refine and improve initial plans. It is often helpful to have a person outside your operation "poke holes" in the initial plan you have developed, as you might not notice them yourself. Receiving constructive criticism can be difficult, but asking the hard questions before implementing a grazing plan will save heartache and financial cost down the road.
References
Ball, B.M., Hoveland, C.S., and Lacefield, G.D. 2007. Southern Forages: Modern Concepts for Forage Crop Management (4th ed.). Norcross, GA: Potash & Phosphate Institute and the Foundation for Agronomic Research.
Gates, R.N., Dunn, B.H., Davis, J., Arzeno, A., and Beulter, M. 2007. Strategic and Scenario Planning in Ranching: Managing Risk in Dynamic Times (EC924). South Dakota State University.
Five Range Management Principles Series