Conducting a complete ranch inventory is a perfect time for ranch managers to take an in-depth look at their operation. Completing a ranch inventory is the first step in the strategic planning process, but it also helps provide a current overview of the operation. During times of belt-tightening, it's imperative to make sure all the resources of the ranch are being utilized as efficiently as possible.
A ranch inventory should include 4 categories of resources available to the ranch operation:
Natural
Financial
Human
Physical
In addition to providing a current overview of the operation, we can complete a balance sheet, provide a summary of collateral for loans or operating notes, and assist with future decisions as finances are used to help determine if the operation can accommodate a son or daughter returning to the ranch.
We also may discover soil erosion problems or find pastures and underutilized rangeland when completing an inventory of the natural resources. Do stocking rates equal current carrying capacity of the ranch? A thorough inventory of the natural resources will tell us.
A thorough ranch inventory should allow someone not familiar with the operation have a good working knowledge of all the resources available to effectively manage the ranch. Gather all documents, maps and records that provide a clearer picture of the operation.
Natural Resources

Acquiring Maps
Acquiring maps of the ranch is the first step to begin a natural resource inventory. Maps will allow a manager to get a 10,000-foot overview of the operation.
The maps should include locations of corrals, fences, water sources, etc. Stocking rates with carrying capacities and ecological sites should also be detailed on the maps.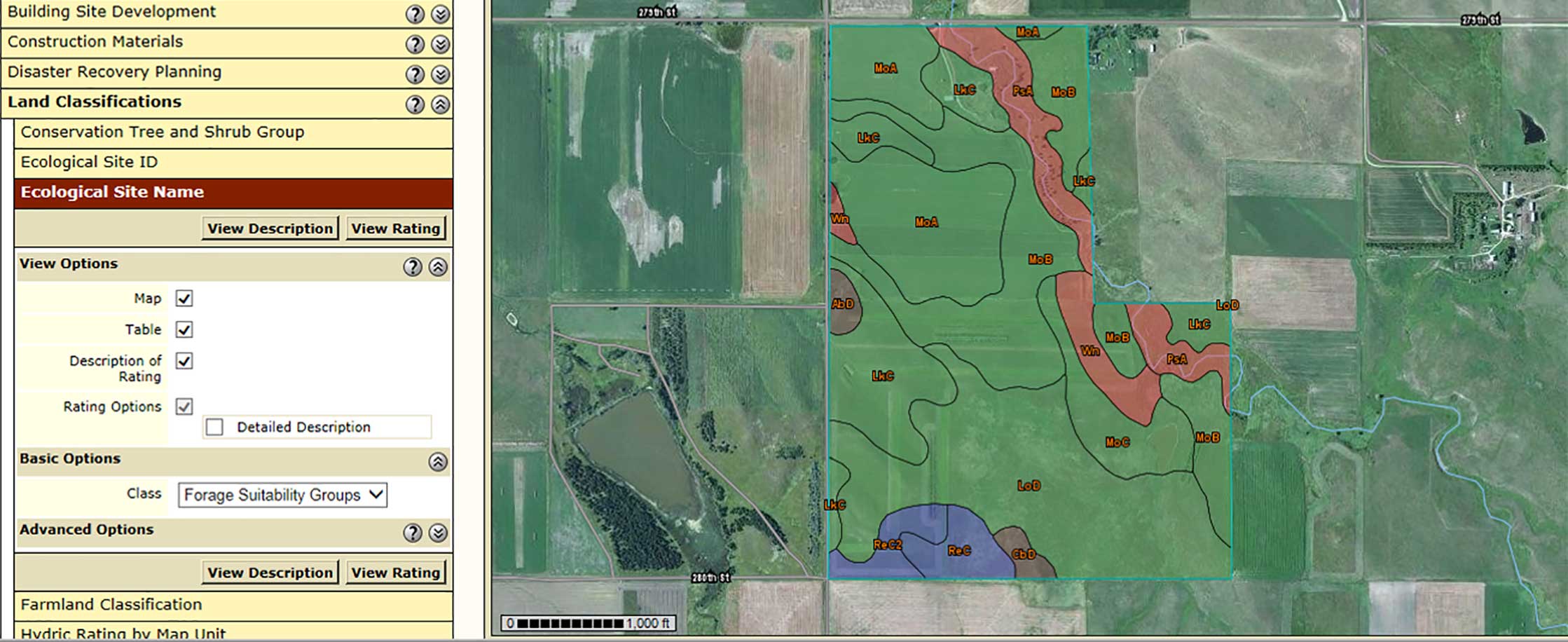 Maps can be hand-drawn from FSA (Farm Service Agency) crop-reporting maps (Figure 1-A) or professionally done by the NRCS (Natural Resources Conservation Service) (Figure 1-B).
If neither of those sources are available, a ranch manager can develop their own maps (Figure 2) by using the NRCS Web Soil Survey. If additional information or instruction is needed on web soil survey, please refer to iGrow Corn: Best Management Practices Chapter 16.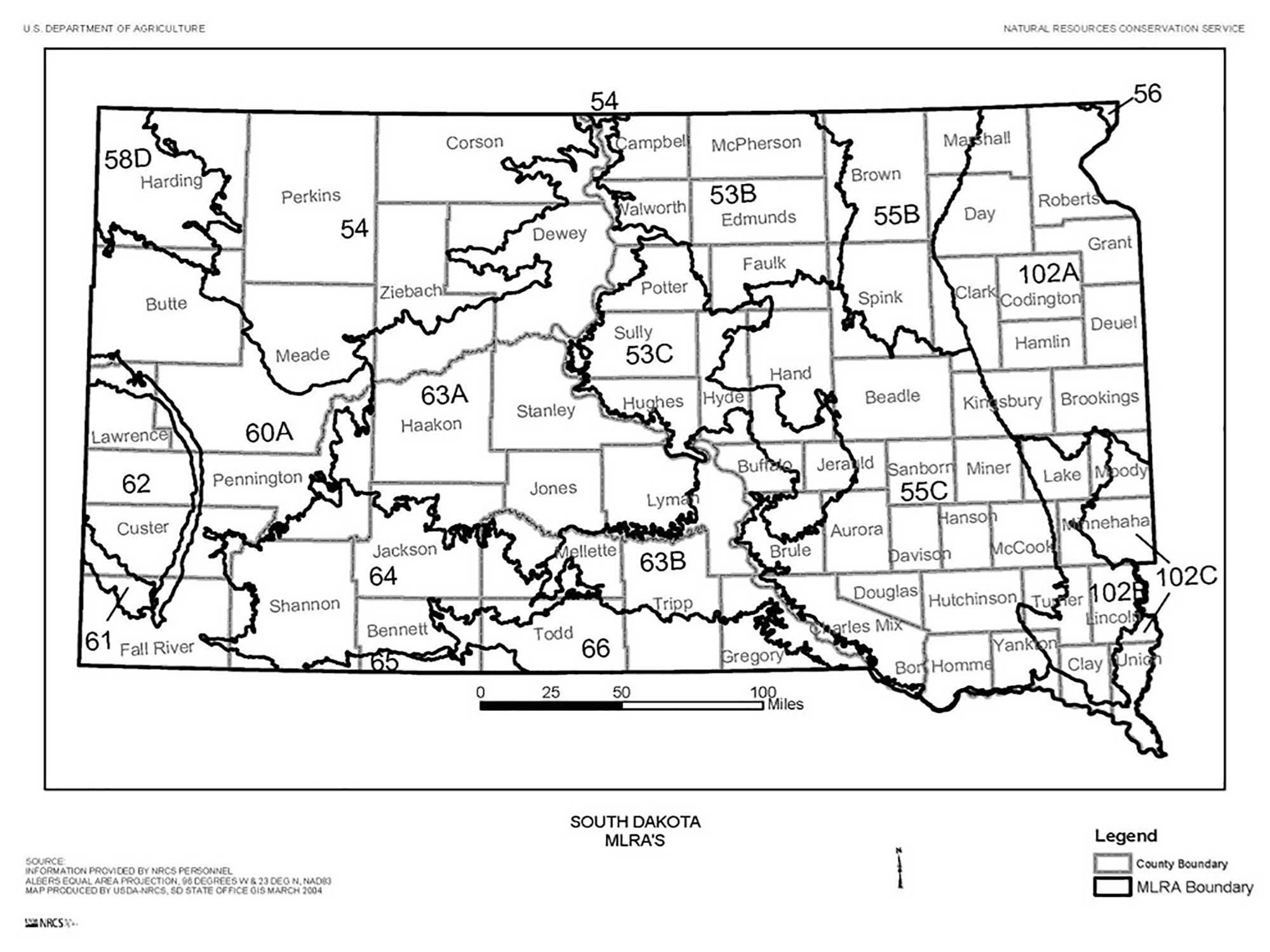 Major Land Resource Areas
MLRA (major land resource areas) maps (Figure 3) from NRCS offer great information for baseline rangeland production, historical weather and precipitation records. They are especially handy if no previous records are available from the ranch.
In addition, MLRA maps will also have the state and transition model (Figure 4) for that particular MLRA. The state and transition model identifies different vegetation states that may exist on that site and provide ideas on how to move the site to more desirable states and how to avoid moving the site to an undesirable state.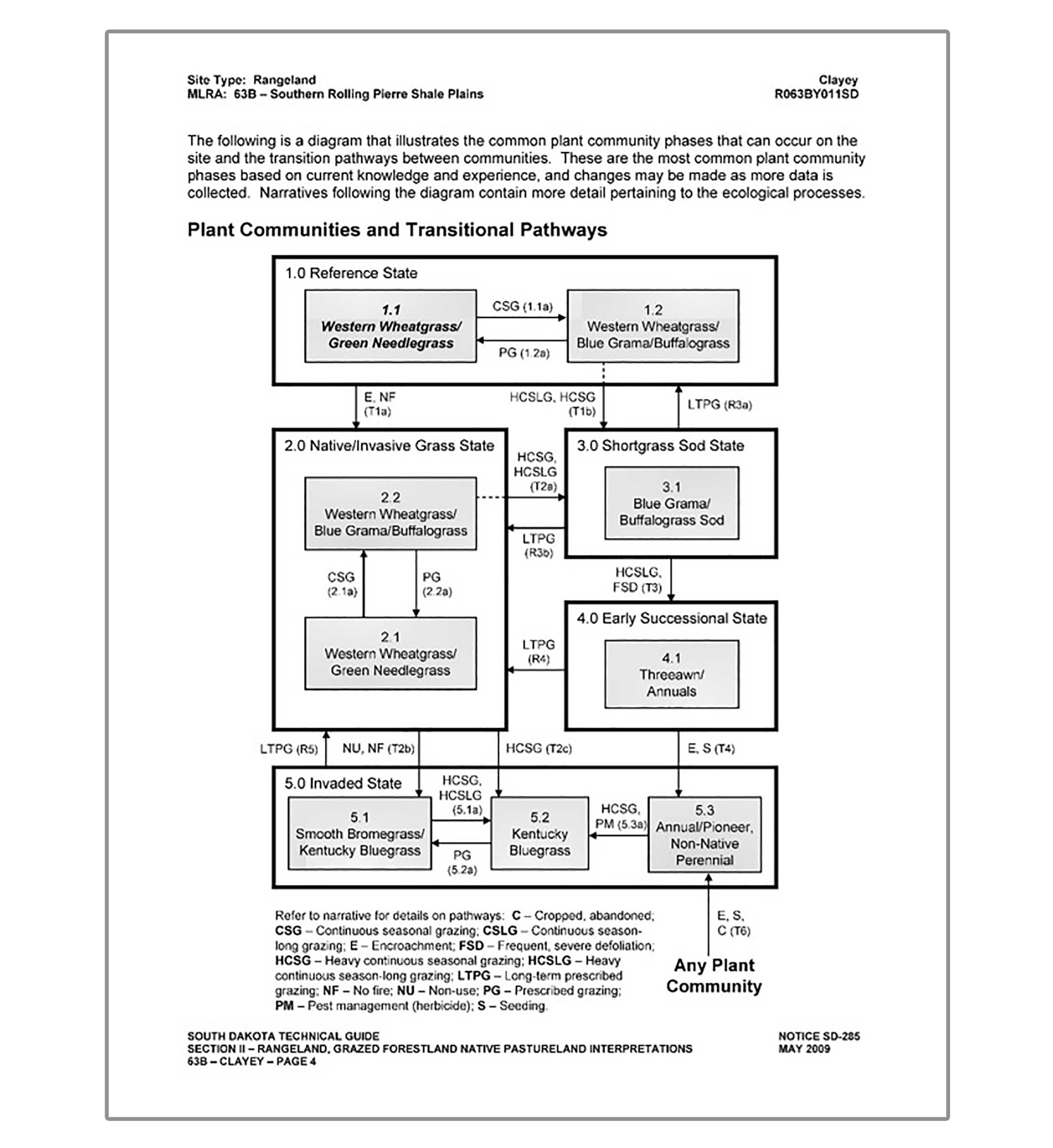 Determining Ecological Sites
In order to get the correct MLRA maps for the ranch, a manager must determine what ecological sites are present on the ranch. Acquiring correct ecological site maps allows a ranch manager to accomplish this.
An ecological site is a distinctive kind of rangeland based on similar:
Surface soil depth
Soil texture
Available soil moisture
Land slope
Precipitation
Soil fertility and salinity
Distinctive kinds of native vegetation
Common ecological sites in South Dakota include:
Sub-irrigated
Overflow
Sands
Sandy
Loam
Dense clay
Thin upland
Shallow
Claypan
Clayey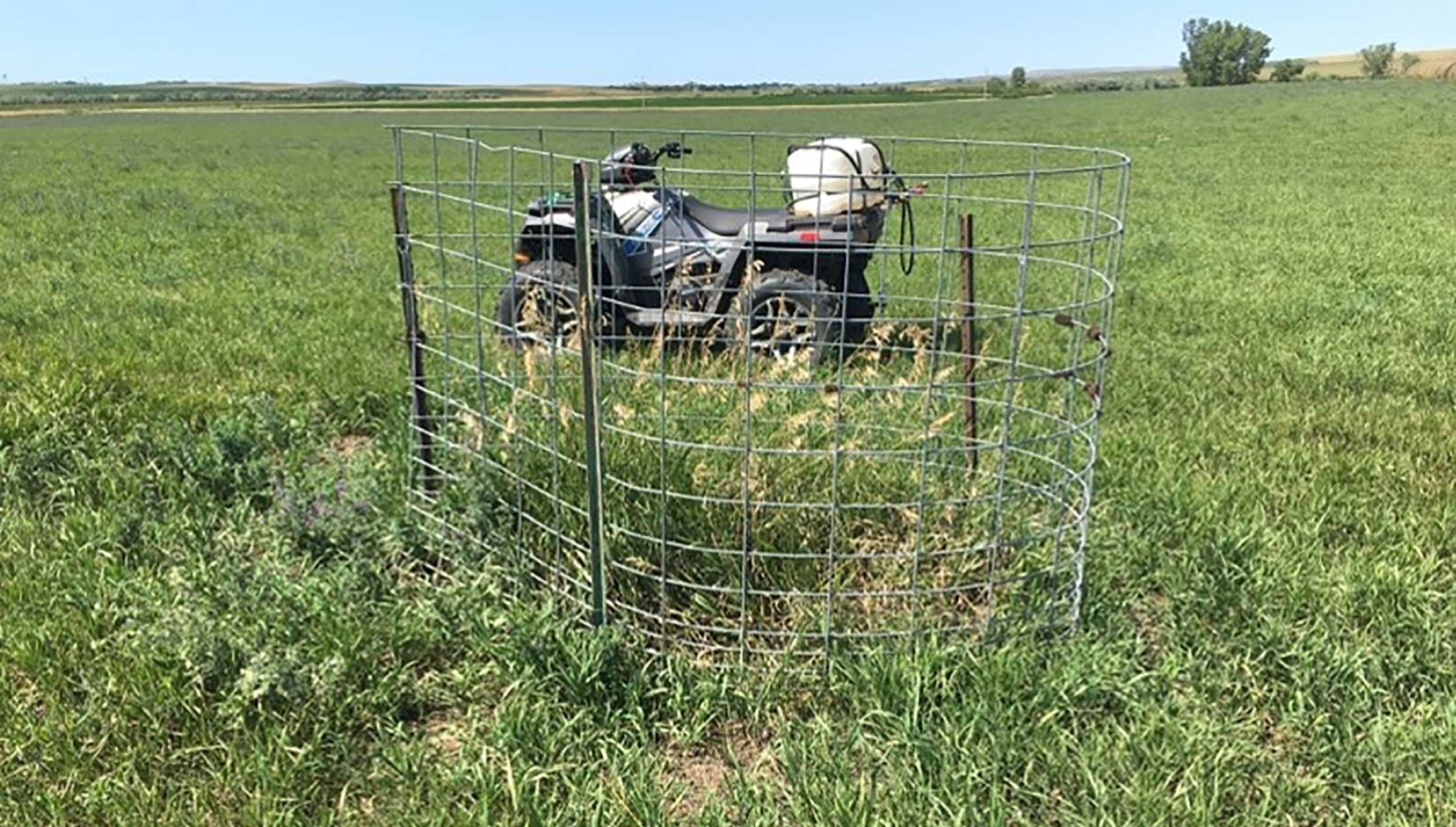 Putting It Together
Acquire maps for the ranch.
Determine your ecological sites in your pastures from maps.
Find your correct ecological site for the MLRA your ranch is in.
Conduct field visits to your pastures and determine what state your pasture is in.
Determine your stocking rates and what direction you want to manage your pasture.
Example
If the pasture I am searching is in northern Tripp County, SD, my pasture is in MLRA 63B. If my pasture is a clayey ecological site, I will select the clayey file for MLRA 63B from the South Dakota NRCS website. This file will contain all the historical weather and precipitation records along with baseline rangeland production estimates in lbs/acre.

At this point, I need to select the proper "state" my pasture is in (Figure 4) from field visits I conducted to my pasture (Figure 5, Figure 6-A, Figure 6-B). If I determine my pasture is mainly smooth bromegrass and Kentucky bluegrass, the pasture is in an invaded state according the state and transition model. If I want to manage my pasture to get more native grass species established, I follow the arrow from the "invaded state" to the "native/invaded grass state." The arrow represents a "threshold" our pasture must cross with management. The "LTPG" stands for long-term prescribed grazing. This is a management strategy to move our pasture across that threshold. Such as having stocking rates that match our current carrying capacity.
It is also true vice-versa; if our pasture is mainly western wheatgrass and green needle grass and is in the native/invasive state, non-use and overgrazing will push this pasture across that threshold back into the invasive state.
Financial Resources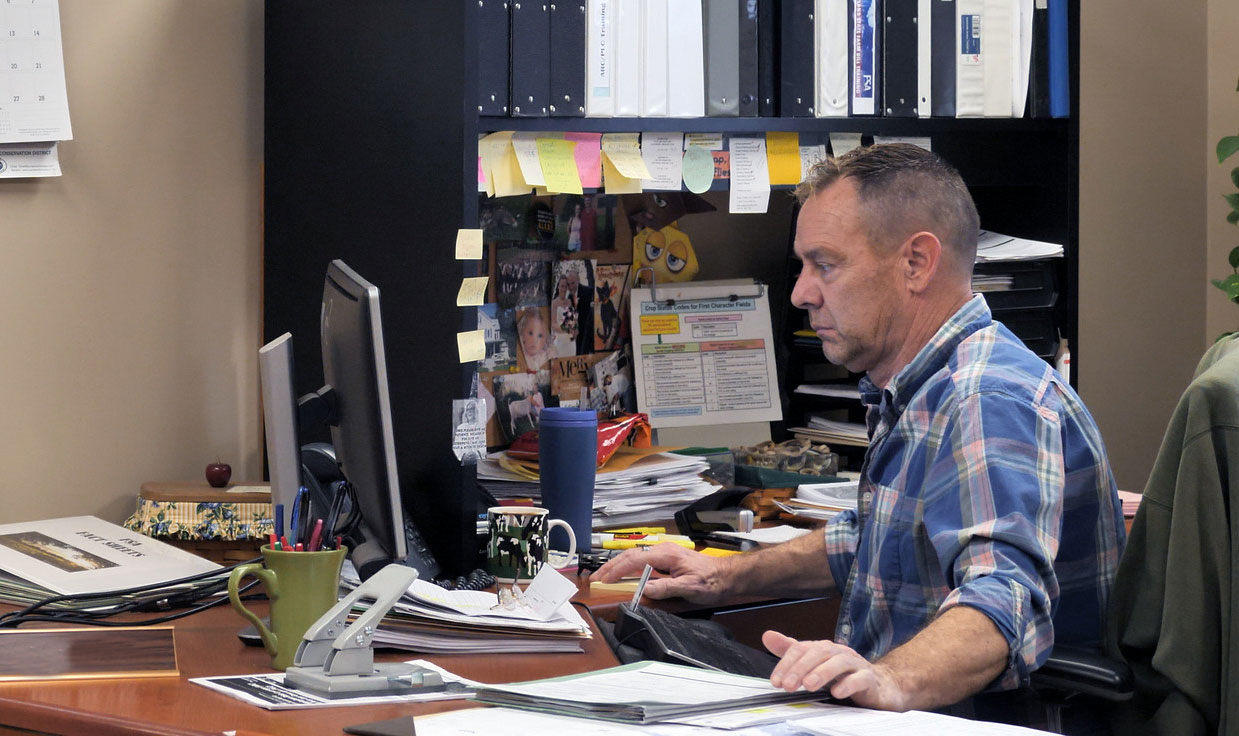 A financial inventory should include:
Any cash, checking and savings accounts used by the ranch.
Any brokerage accounts utilized by the ranch.
Any debts owed by the ranch to banks or other lenders along with the amounts owed, interest rates, and time remaining on loans.
Any lease agreements for land or livestock.
Any legal or trust agreements should also be included so all members of the ranch operation are on the same page.
Financial Records
Knowing the financial condition of the ranch is critical when negotiation new operating notes, new loans for diversification, or possibly making room for a son or daughter returning to the ranch.
Several computer programs, smartphone apps, and paper record booklets are available to complete a financial inventory of the ranch. No matter which method or technology is used, a financial inventory is critical when determining how well positioned the ranch is to manage risk.
A thorough financial inventory should allow a ranch manager to complete a balance sheet, income statement, and cash flow projection for the ranch. Please refer to Importance of Keeping Records for Filing Taxes on the Ranch/Farm and Financial Record Keeping Software: A comparison of Quicken and QuickBooks for resources available for organizing financial records. Please refer Iowa State University Extension's Farm Financial Statements for spreadsheet examples for completing balance sheets, income statements, and cash flow statements.
Human Resources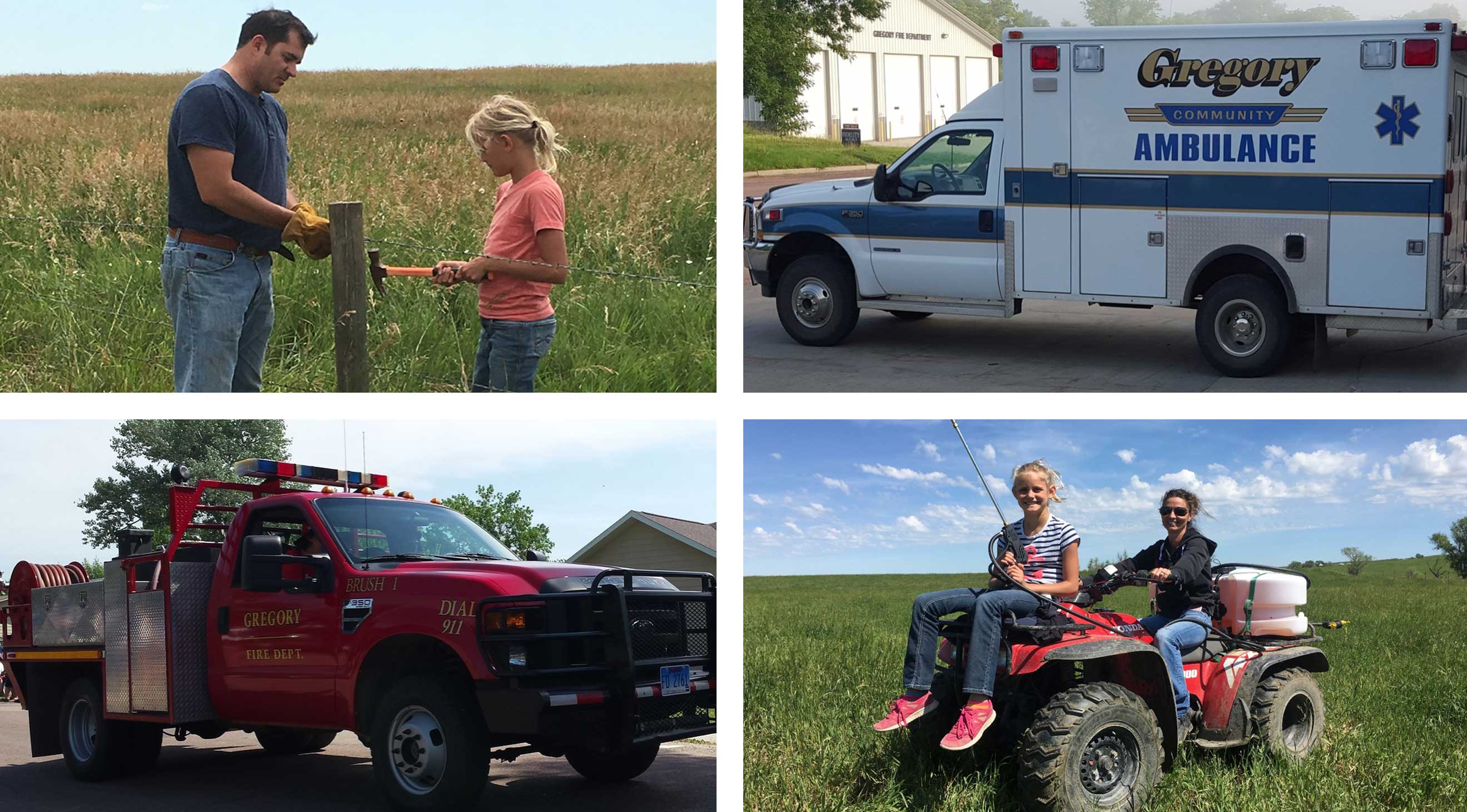 An inventory of the human resources of a ranch should include any person who works on the ranch or who works for the ranch in a support role. Also, don't forget about your local volunteer fire and ambulance departments that will respond to your ranch in case of an emergency.
Family, full and part-time employees.
Custom hired operators.
Neighbors and friends.
Volunteer Fire and Ambulance Departments.
Banker, attorney, FSA, NRCS, veterinarians.
A simple spreadsheet or notebook can be used for the human resources inventory (Table 1).
Table 1. Human Resources Inventory Example

| Name | Duties | Salary/Wages | Skills/Experience | Work Schedule | Contact Info |
| --- | --- | --- | --- | --- | --- |
| John Farmer, Age:39 | Owner/Manager | $20,000/year | B.S. Animal Science | 24/7 | 605-555-5555 |
| Tracy Farmer, Age: 36 | Owner/Manager | $20,000/year | B.S. Ag Econ | 24/7 | 605-444-4444 |
| John Doe, Age: 22 | Hired Man | $27,000/Year | - | 24/5 | 605-333-3333 |
| - | Banker | - | - | - | - |
| - | Lawyer | - | - | - | - |
| - | Vet | - | - | - | - |
| - | FSA | - | - | - | - |
Physical Resources
Physical resources will include: Equipment, livestock and crop resources. List all equipment utilized by the ranch along with the model, size, age and condition. Specify if the piece of equipment is owned, leased, or borrowed. Placing a value on the equipment can be done two different ways. We can use the market value or cost value.
Depreciation Example
For example, if we want to determine the cost value of a tractor using a straight-line depreciation method we take:
(Original Cost - Salvage value) ÷ Yrs. of Useful Life = Annual Depreciation
Example of tractor: ($120,000 - $30,000) ÷ 10 = $9,000
Now we multiply $9,000 by the years of accumulated use and then subtract from original cost of $120,000 to calculate the cost value.
If our tractor is 4-years-old: $9,000 × 4 = $36,000 in accumulated depreciation.
Original cost - accumulated depreciation = Cost value. ($120,000 - $36,000 = $84,000).
Our tractor would have a cost value (book value) of $84,000 (Table 2). This value can then be used in our balance sheet.
Table 2. Equipment Inventory Example

| Equipment Name | Model | Purchase Year | Age | Ownership | Book Value | Market Value |
| --- | --- | --- | --- | --- | --- | --- |
| John Deere Tractor | 7200 | 2012 | 4 | Owned | $84,000 | - |
| Farmall Tractor | 656 with F11 Loader | 2009 | 50 | Owned | $4,500 | $4,500 |
| Ford | F-150 | 2016 | 1 | Owned | $38,000 | $44,00 |
All livestock and crops produced on the ranch need to be included in the inventory. Fair market values can be used for stored crops or raised livestock. Purchased breeding stock can use fair market value or cost value. Please refer to these useful tools courtesy of SDSU Extension and the SDSU Department of Economics to assist with livestock and crop inventories.
Conclusion
As mentioned in the Strategic and Scenario Planning in Ranching Manual, a ranch operation first needs to "know where it is" before figuring out "where it's going." Completing an in-depth ranch inventory is a critical first step in the strategic planning process.
Slower winter months ahead on the ranch are an excellent time to work on a ranch inventory. The first attempt will be the most time consuming. Each passing year the ranch inventory will become more detailed, accurate and useful.
Accurate ranch inventories also improve communication with family members if they are absentee landowners. A yearly inventory will show other family members not on the ranch that the "family" resource is being taken care of.
Having a list of all available resources to ranch will allow a ranch manager complete a SWOT analysis. SWOT stands for strengths, weaknesses, opportunities and threats. SWOT is the second step in the strategic planning process.
References
Gates, R.N., B.H. Dunn, J. Davis, A. Arenzo, M. Beutler. 2007. Strategic and Scenario Planning in Ranching: Managing Risk in Dynamic Times. Manual No. EC924. South Dakota State University, King Ranch Institute for Ranch Management, Texas A&M University-Kingsville.
Johnson, J., B. Bennett, S. Beavers, B. Duckworth, W. Polk, B. Thompson. 2005. Developing Business Plans for Agricultural Producers. Department of Agricultural Economics, Texas Cooperative Extension, Texas A&M University.