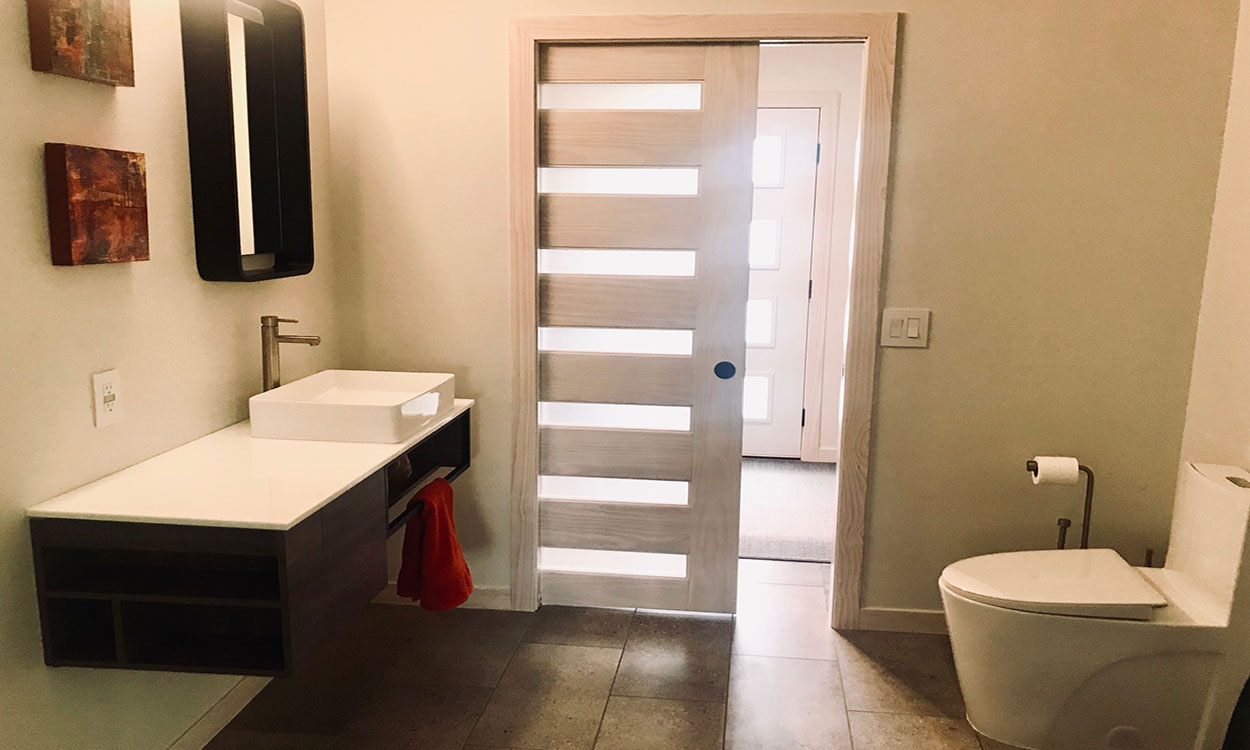 Written collaboratively by Leacey Brown and Gene Fennell, Fennell Design Inc.
The bathroom is arguably the most-important room in a residential setting when it comes to occupants or visitors who have disabilities. A person with a disability must be able to access the commode and bathing facilities. In an ideal world, all units would have one accessible bathroom that includes a roll-in shower, grab bars, turn space and space to transfer from a wheelchair to the commode. This is not practical for all residential units, and many home occupants want access to a bathtub. Three bathroom design elements are critical for people with disabilities and older adults.
Three Key Design Elements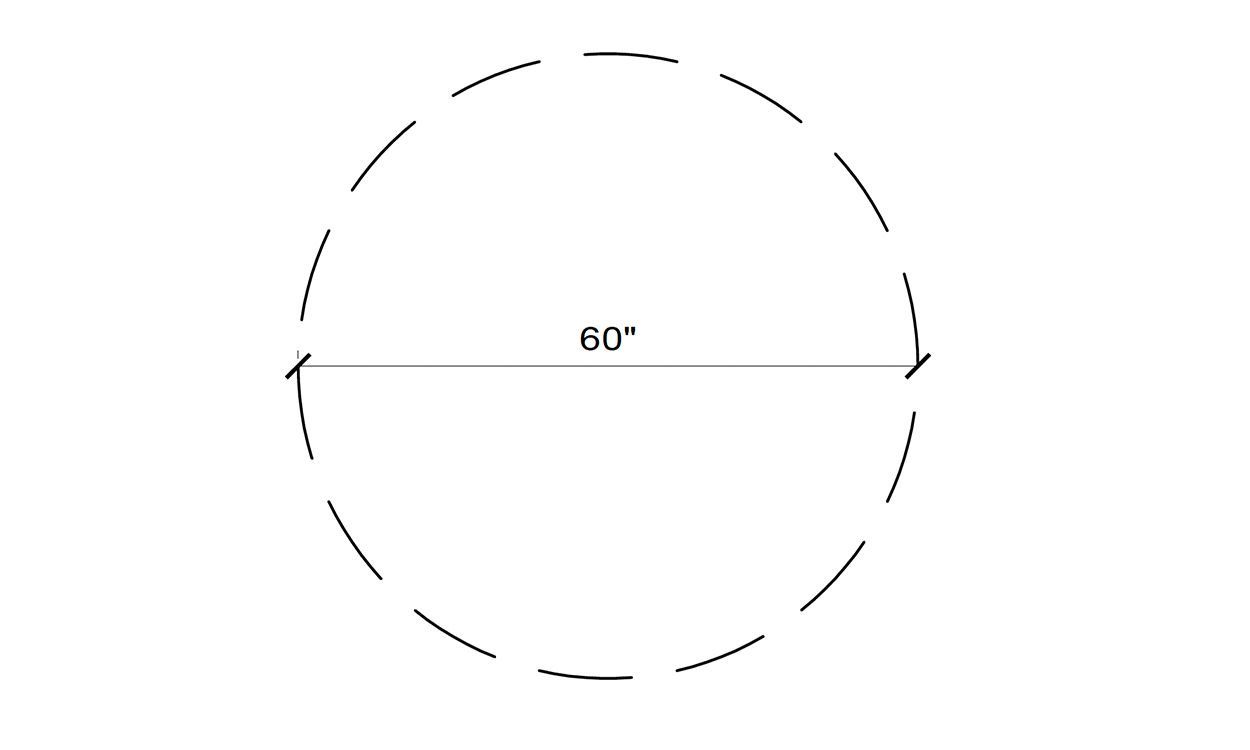 Element 1: Clear Space
Clear Space refers to the space available for someone who uses a wheelchair to maneuver themselves from their chair to the commode or shower.
Options to achieve clear space:
Option 1: Circular clearance space (Figure 1).

A bathroom with this configuration has a space of a minimum of 60 inches in diameter. Clearance space for knee and toe clearance should be available on the bathroom vanity.
Figures 3, 4 and 5 show examples of an accessible bathroom and shower design. The figures show how a wheelchair user can move their chair next to the commode to facilitate transfer.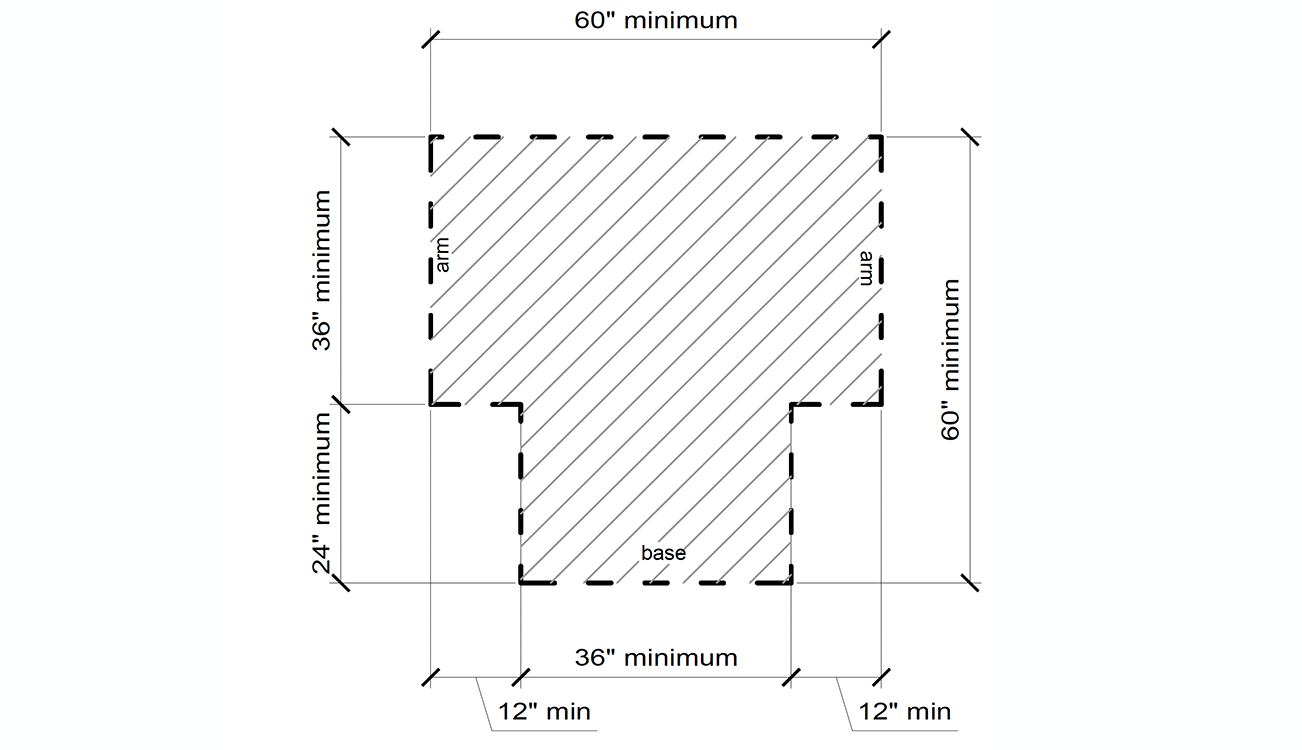 Option 2: T-shaped clear space (Figure 2).

A bathroom with this configuration uses a 60-inch square as its foundation. Within this square, there is a "T" shape. The height of the arm of the "T" is a minimum of 36 inches, and the base height is at least 24 inches. The width of the base of the "T" is a minimum of 36 inches. Clearance space for knee and toe clearance should be available on the bathroom vanity.
Figures 3, 4 and 5 show examples of T-shaped clear space. The figures provide detailed information on how to configure a bathroom with T-shaped clear space.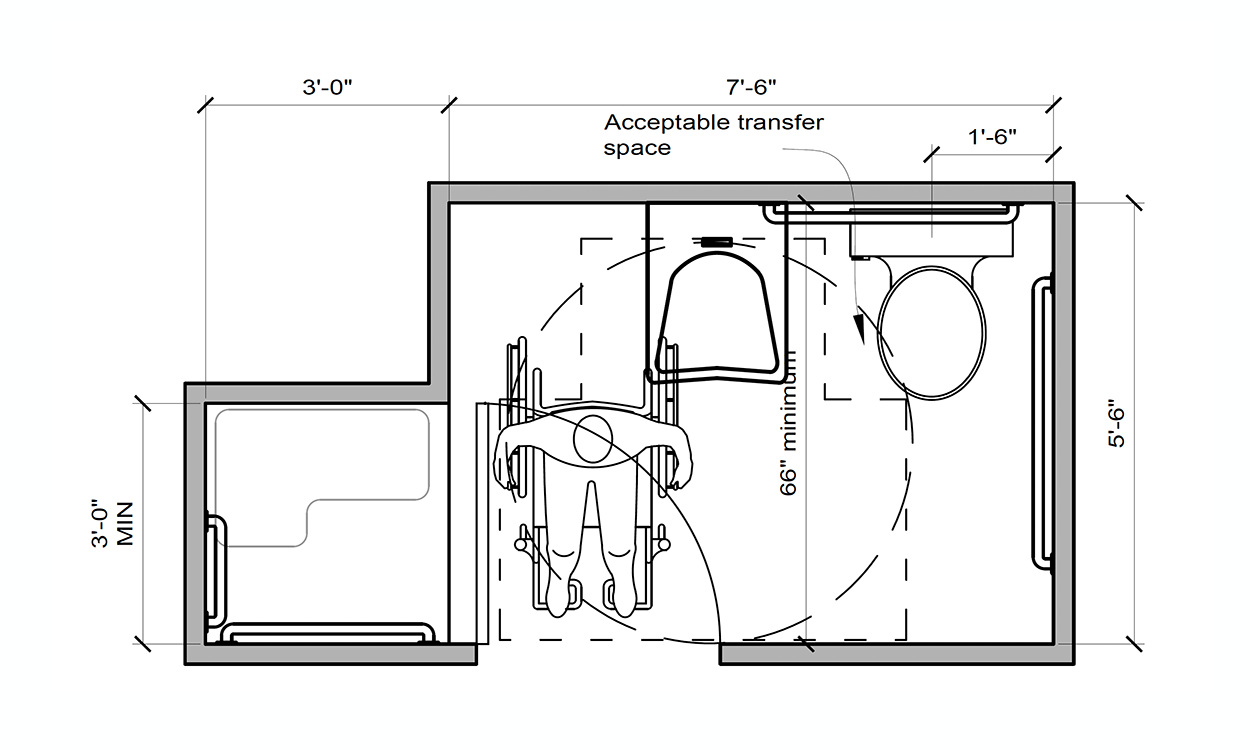 Element 2: Grab Bar Blocking
Blocking refers to the installation of additional lumber in key areas of a bathroom (e.g. commode and shower/tub), so that grabs can be added when the occupants need them.
Figure 7 shows a blocking plan for adaptability and offers an example of a blocking plan for a commode. In the diagram, the placement of blocking for three different grab bars is shown. As you can see, it is important to have strong supports in key locations to secure the grab bars to the wall.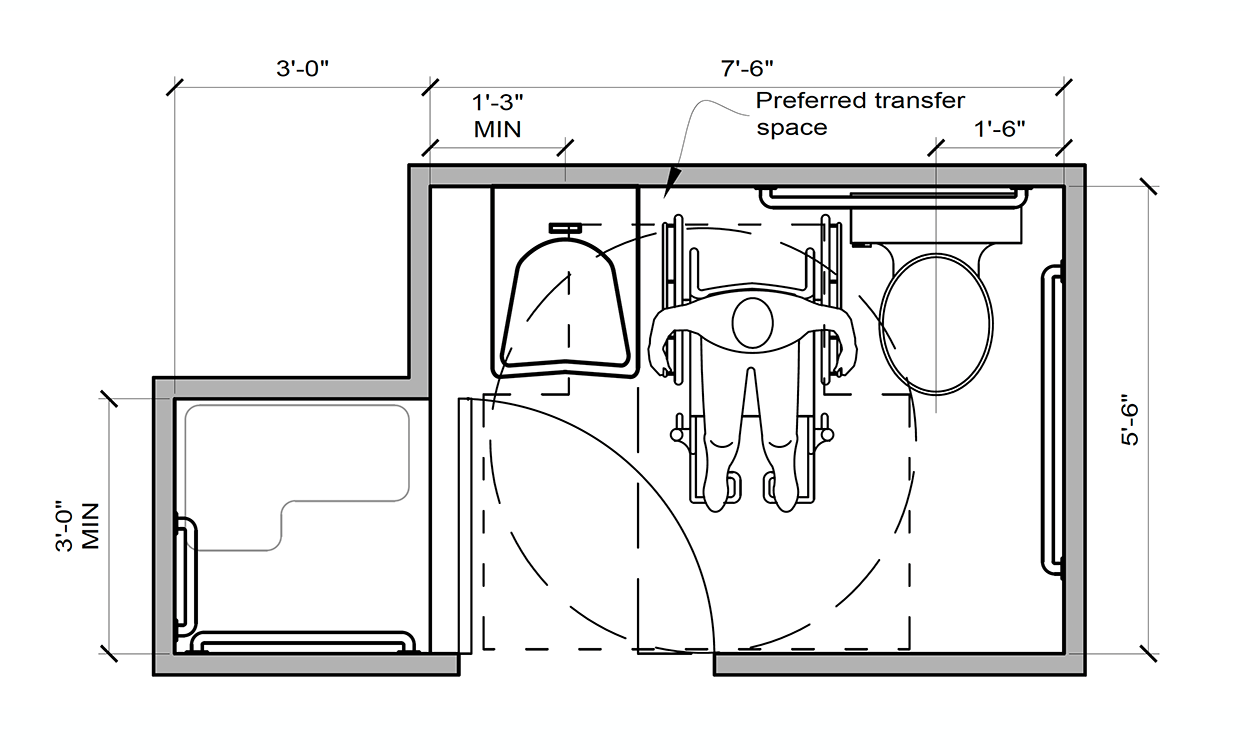 Element 3: Shower and Tub Layout
Shower and tub layout is a critical part of ensuring that a bathroom is both accessible now and adaptable to increased accessibility later. By accounting for the transfer space required for wheelchair users, you are ensuring that the needs of all occupants are met.
A wheelchair user needs a minimum of 48 by 36 inches to transfer to a shower. An example of how you might implement this into your design is to ensure that there is 36 inches between the shower and commode. You must also ensure there is approach space to access the space between the commode and shower.
Figures 3, 4, 5 and 6 show transfer-type shower size and clearance, illustrating the space a wheelchair user needs to transfer themselves from their chair into a shower stall.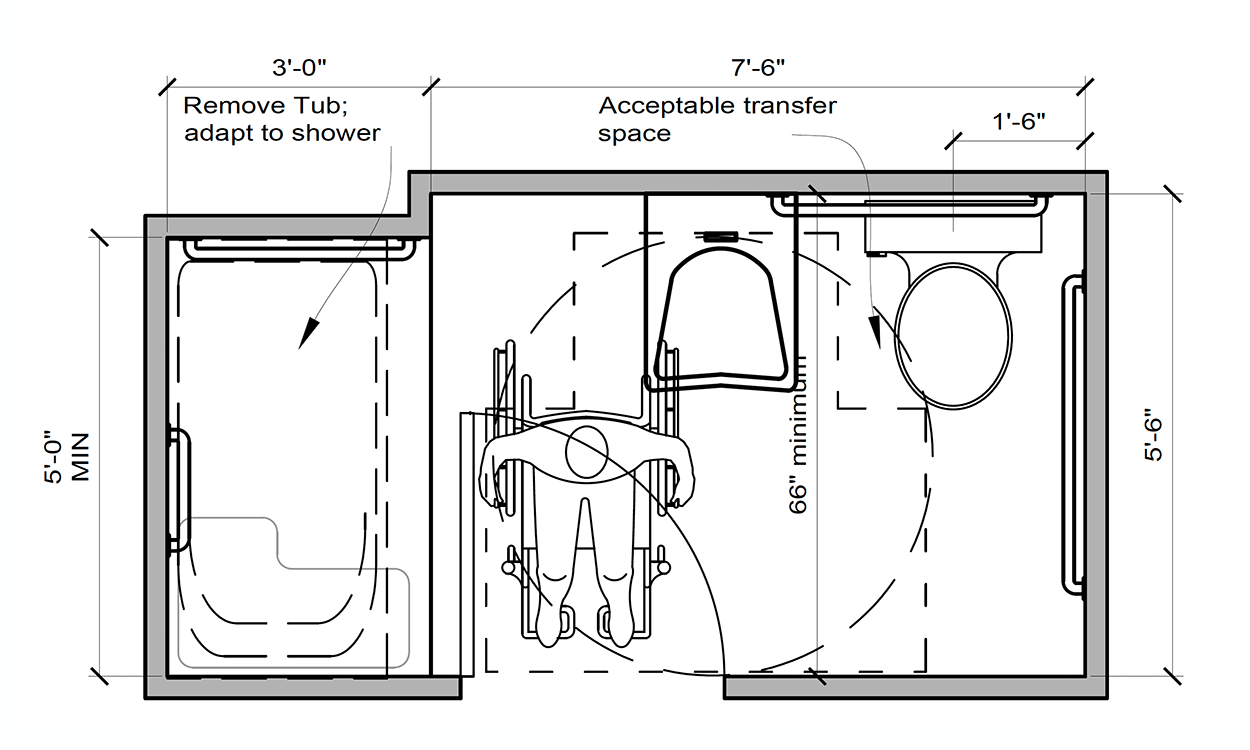 Design Examples
Accessible Bathroom Plan
An accessible bathroom plan should include the following key features:
5' 6" deep x 7' wide
36" door
Blocking in place for grab bars and shower seat.
Minimum 36" x 36" shower with a maximum ½-inch rise beveled threshold.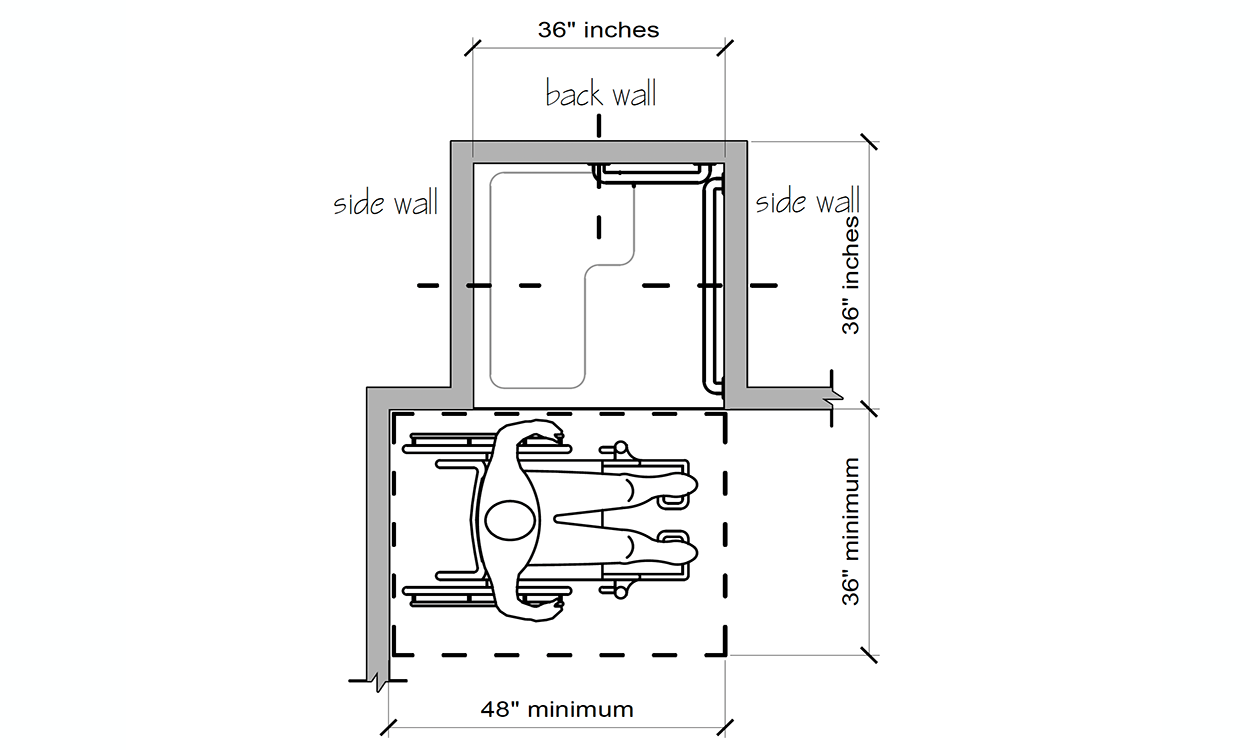 Accessible Bathroom and Shower
Figures 3, 4, 5 and 6 show accessible bathroom and shower designs. A wheelchair user has access to all key functions in the bathroom, including the shower, commode and sink.
Adaptable Bathroom Example
The typical bathroom may have a tub/shower unit, vanity cabinet and commode. Figure 5 gives an example of removing the tub and installing a shower with a seat. Typically, the vanity cabinet would be removed and vanity top/sink supports would be installed to allow knee/toe clearance under the lavatory.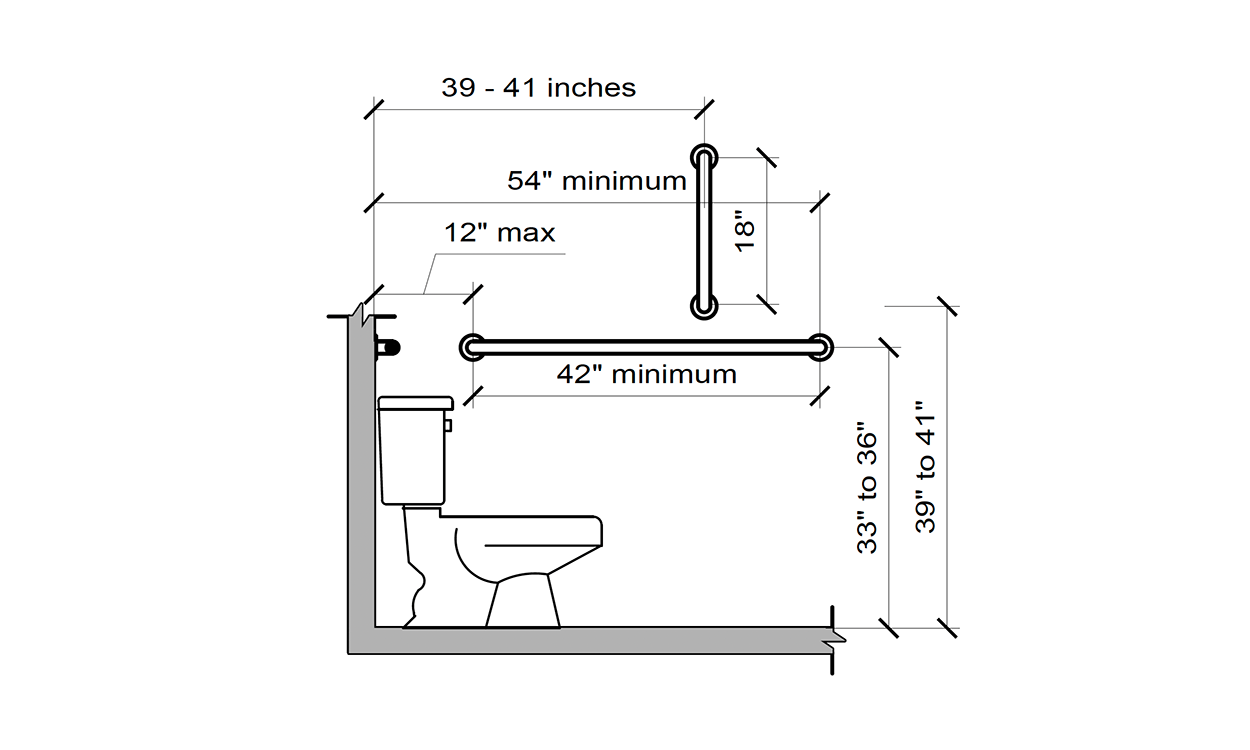 In Conclusion
Many of the existing bathrooms in residential units are inaccessible. It is important to consult a trained building professional about any accessibility modifications you would like to do to your home. Each bathroom is unique in its capacity to be modified to meet the needs of people with disabilities and older adults.
The Adaptable Home Certification series was developed collaboratively by South Dakota State University Extension and Fennel Design, Inc.