Written collaboratively by Leacey Brown and Mary Roduner, former SDSU Extension Consumer Horticulture Field Specialist.
As we enjoy the first full week of May, many people are preparing to plant their gardens for the season. Their gardens and the harvest that follows are the highlight of the summer season. Unfortunately, some folks are not able to experience the joys of gardening due to physical or spatial limitations. For example, a physical limitation might be the inability to kneel after knee replacement surgery, or a spatial limitation might be a yard with a large slope, hill or excess shade.
Raised Bed Project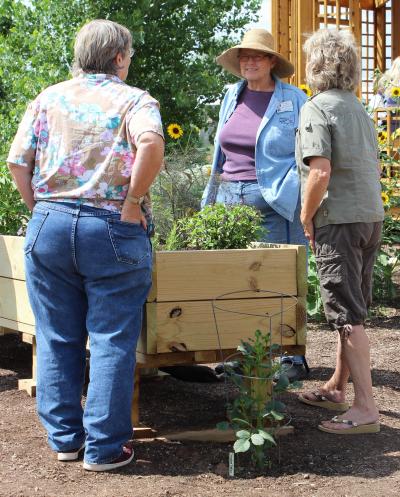 The good news is that these limitations don't have to prevent you or a loved one from experiencing the joys of gardening. The SDSU Extension Master Gardeners are a wealth of information about gardening in South Dakota. Mel and Tammy Glover, SDSU Extension Master Gardeners in Rapid City, were motivated to apply for a grant to build a demonstration model of an "30" high raised bed at the Canyon Lake Senior Center Education Garden. They lovingly call them "bunkers." Mel indicated these beds are great for people of all ages and abilities. He even suggested these beds work well on slopes. Mel said the legs on one side of the bed can be shortened to keep it level. This is a great option when confronted with physical and spatial limitations.
The bunkers are half filled with yard waste compost from Rapid City's Solid Waste facility. The remainder of the soil can be bagged potting mix or good quality top soil mixed half and half with compost to keep it light and loose. The bunkers are easy to water and can be covered to prevent pest problems.
To learn more about gardening modifications you can visit the Black Hills Gardens or SDSU Extension Master Gardener website.