Written collaboratively by Hector Menendez, Krista Ehlert, Jamie Brennan, and Anna Dagel, SDSU Animal Science Graduate Research Assistant.
Training the First Generation of Extensive Rangeland Precision Ruminant Nutritionists
Anna Dagel is a first-year Master's student from Watertown, South Dakota, aspiring to be a ruminant nutrition consultant. She is conducting her research at the South Dakota State University (SDSU) Cottonwood Field Station, under the supervision of Doctors Brennan, Ehlert, Olson and Menendez and assisted by SDSU Extension specialists Adele Harty and Robin Salverson. During this process, Anna will develop fundamental skills, like ration balancing, data analysis and interpersonal communication skills, while maintaining the heart of South Dakota ranching culture.
SDSU Cottonwood Field Station Winter Supplementation Trial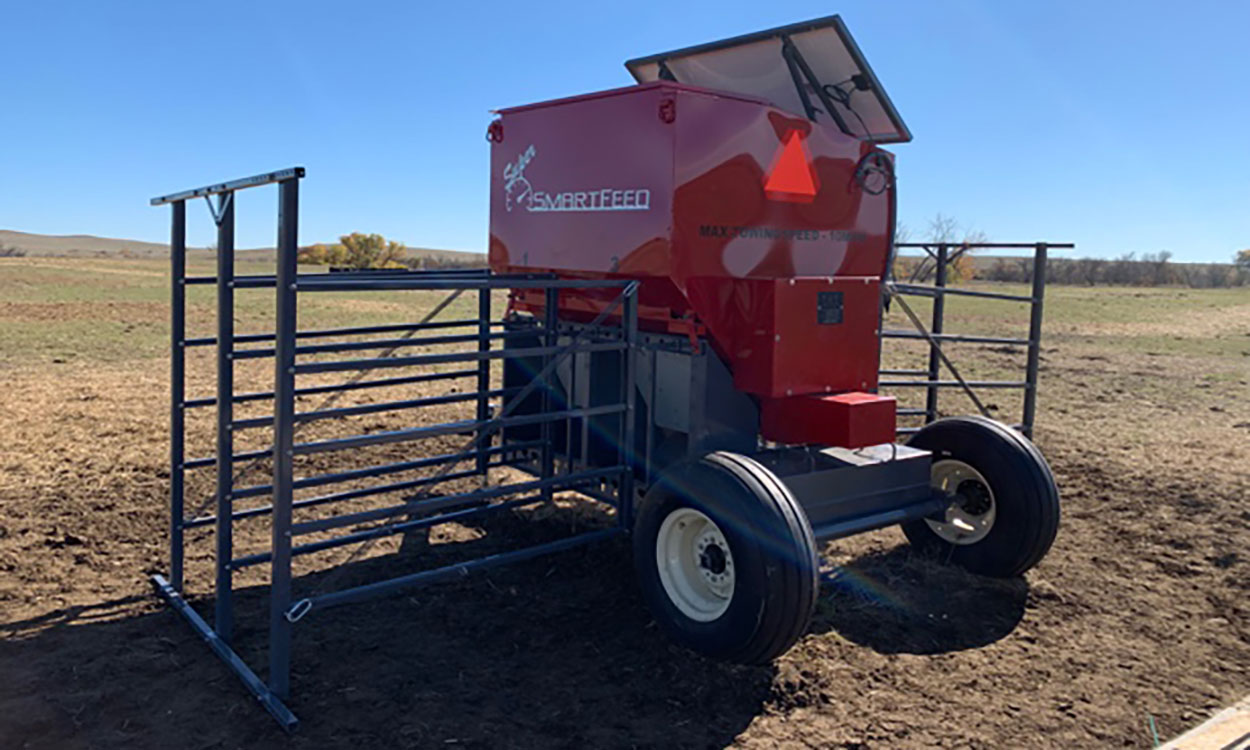 During the past fall and winter (2021-2022) the Super SmartFeed Producer has been used in conjunction with two SmartScales for a precision supplementation heifer development project. The objective of the study was to 1) measure real-time individual cattle performance, 2) supplement cattle on an individual basis and 3) perform an economic analysis to determine return on investment.
As a general management tool, heifers were supplemented to reach 65% of their mature body weight (MBW) by breeding and will reach 85% MBW by calving. Sixty heifers were split into two groups shortly after fall weaning. Half of the heifers were supplemented in the traditional fashion and the other half were supplemented individually using the precision feeder (Figure 1).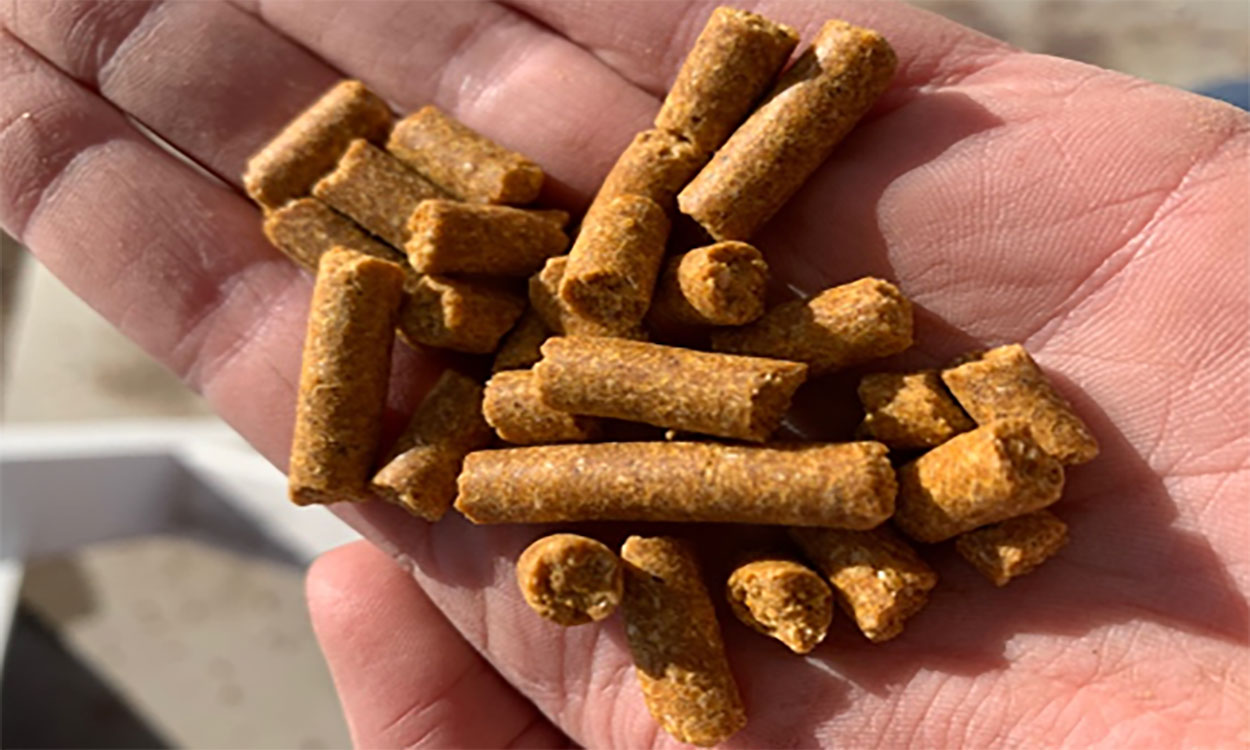 Animals were given time to acclimate to the feeder. All heifers grazed native rangeland while being supplemented pelleted dried distiller grains (DDGS; Figure 2). The control group was bunk fed at a rate of 5 pounds of feed per head, per day, with all heifers having access to the feed bunk at the same time. The precision group was fed individually, each animal was limited to 5 pounds of feed per head per day. The first year allowed us to evaluate the feasibility of precision supplementation versus bunk fed, including animal adaptation, time and labor commitments, and animal production differences (i.e. average daily gain).
Super SmartFeed Producer
The Super SmartFeed Producer (C-Lock Inc. Rapid City, South Dakota) is an automated supplemental cattle feeder that delivers a specified amount of feed to animals on an individual basis. The feeder is designed for any size, age or class of cattle or sheep and can handle 100 animals, depending on animal class, feed quantity and livestock performance goals (average daily gain). The feeder can be plugged into an electrical source or utilize solar energy.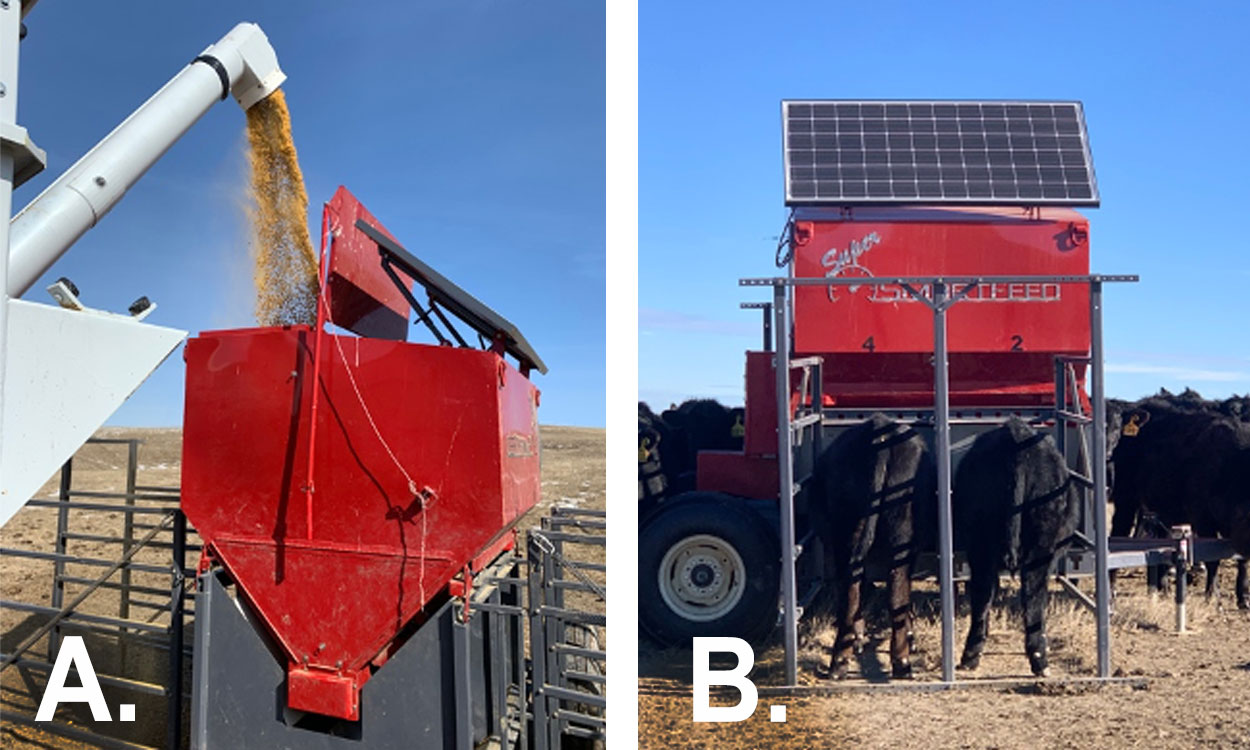 Filling the Super SmartFeed Producer can be accomplished in the pasture with a truck or wagon that has an auger, however, because the device has an off-center lid design and solar panels mounted on top, filling under a feed bin may be a challenge if there is not adequate overhead clearance (Figure 3-A). The Super SmartFeed Producer is very versatile, having tremendous potential to be used on cow-calf, stocker or bull/heifer development operations (Figure 3-B).
SmartScales
SmartScales (C-Lock Inc. Rapid City, South Dakota) are also being used at the Cottonwood Field Station (Figure 4). The SmartScales are customizable to almost any existing water source (e.g. pasture or feedlot) (Figure 5, Figure 6). The scales provide daily weight on an individual basis, which can be used to calculate average daily gain (pounds gain/day). When an animal goes to drink water and steps on the scale, the animal's front-end weight (partial weight) is recorded and converted to full body weight through an algorithm. SDSU research has indicated that this predicted front-end weight is very precise, and, therefore, dependable. Animals can go on the scale several times a day, and the online interface averages the weights from the visits to calculate an average daily weight; this helps to reduce error from sudden changes in cattle body weight from activities like eating and drinking (rumen fill).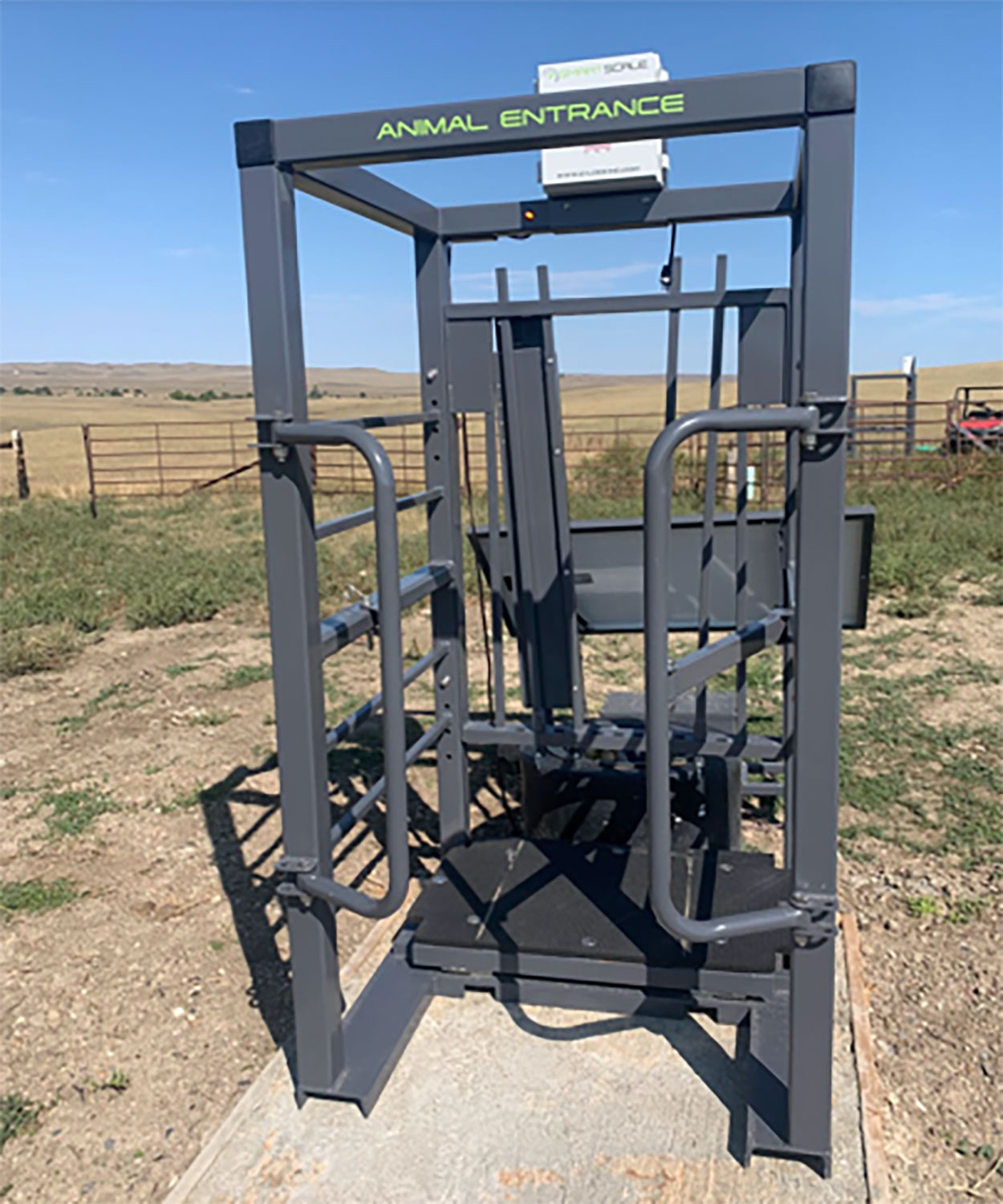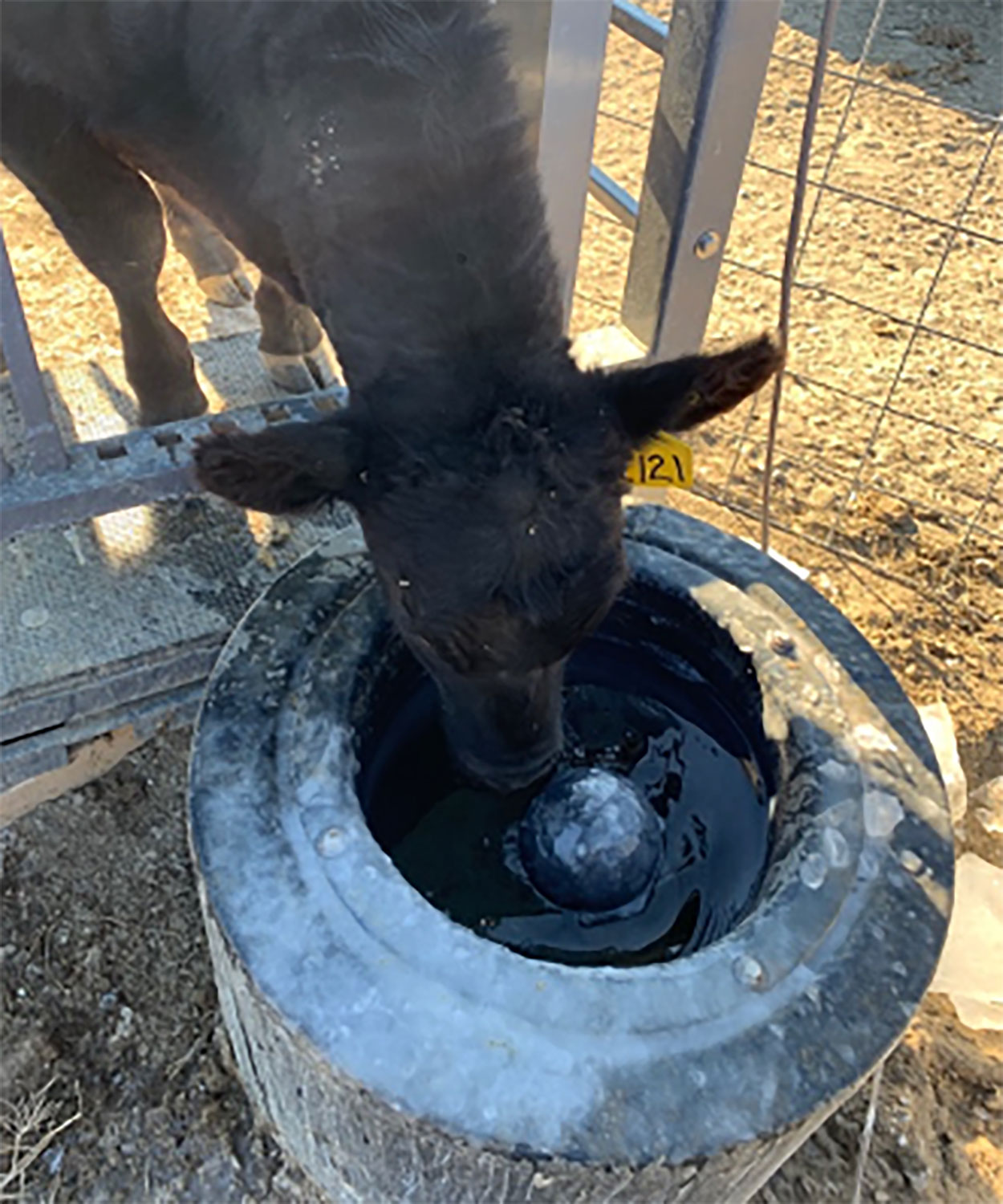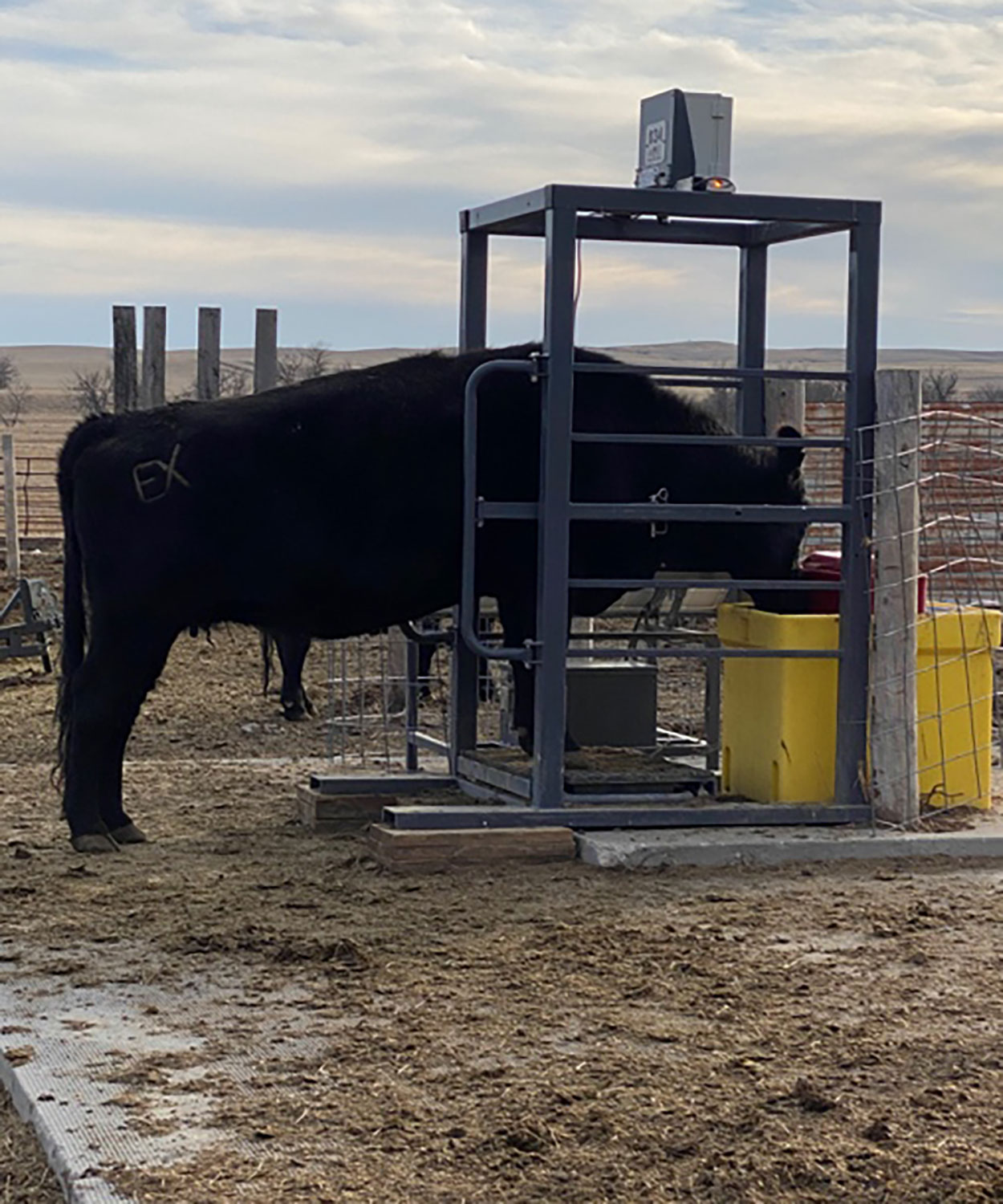 Next Steps
The project will be repeated in the fall of 2022, with the aim to optimize individual supplementation using a precision system model (PSM; Menendez et al., 2022) being developed by the M.S. student. This PSM will inform the precision individual daily supplementation needs of each heifer in the precision group. By supplementing on an individual basis, we anticipate that heifers will be more uniform at time of breeding and calving, have higher conception rates and reduce supplemental waste compared to the control group. Consequently, return on investment will be calculated to determine if potential cost reductions can exceed the purchasing and maintenance costs of the precision technology. This will answer the questions: does it work, and is it viable for rancher implementation?
Reference
Menendez, H. M., Brennan, J. R., Gaillard, C., Ehlert, K., Quintana, J., Neethirajan, S., Remus, A., Jacobs, M. Teixeira, I.A.M.A., Turner, B.L, and Tedeschi, L. O. 2022. ASAS-NANP SYMPOSIUM: MATHEMATICAL MODELING IN ANIMAL NUTRITION: Opportunities and Challenges of Confined and Extensive Precision Livestock Production. Journal of Animal Science, skac160.