Written collaboratively by Krista Ehlert and Lori Brown.
Overview
This article will serve as the first in a "Range Roundup" series, where the South Dakota State University (SDSU) Extension Range Team discusses past, current and future range projects that are occurring throughout South Dakota with results and updates that producers might find interesting.
Range Roundup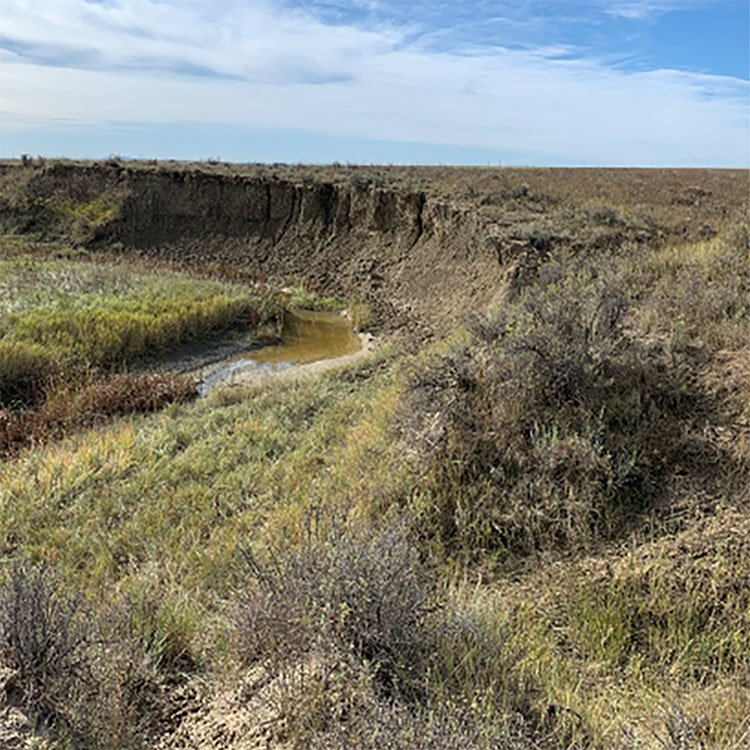 Riparian health is critical to prairie systems found throughout the West and Northern Great Plains. These riparian systems act as veins that feed the prairie. Over the last five years, federal, state, NGO, and university partners, and producers in Northwest S.D. were involved in a needs assessment that identified riparian health as an area of significant resource concern across Western S.D. This is due to several reasons.
First, riparian and mesic systems are critical for sage-grouse brood rearing habitat. Second, biodiversity on the prairie is driven by habitat and landscape connectivity, which is important for antelope, grassland birds, bats, and pollinators. Third, riparian areas provide critical water and forage for livestock. This is underscored by healthy riparian systems, that produce significant forage for a ranch and help maintain high crude protein levels, tying directly into an operation's economic vitality. Lastly, the prairie stream systems in Western S.D. are predominately ephemeral and intermittent, with the majority functionally impaired. As a result, many systems are void of riparian vegetation and cannot slow and hold water on the landscape, are vulnerable to soil erosion during intense rainfall events, have extreme head cutting (Figure 1), and lack water retention capacity during prolonged drought.
The advantages of restoration include improved soil health, water quality, wildlife habitat, increased sustainable grazing practices, and improved economic performance of working lands.
Typical stream restoration has focused on high-tech engineering feats that involve heavy machinery, concrete, or metal. The cost is enormous and the level of planning needed can be immense. In contrast, low-tech, low-input (LCLI) restoration tools (such as BDAs) are simple structures that kickstart nature's recovery process, by slowing down water.
Structures can be constructed of weaving branches through posts placed in the stream channel (i.e. mimicking beaver dams, hence "beaver dam analogs") or rocks can be interlocked to form steps that create pools (Figure 2).
The purpose of slowing down water is that the structures spread water across the floodplain where the soil will store it underground (Figure 3). This creates systems that are better equipped to handle droughts and floods, from both a water capacity and a forage production standpoint.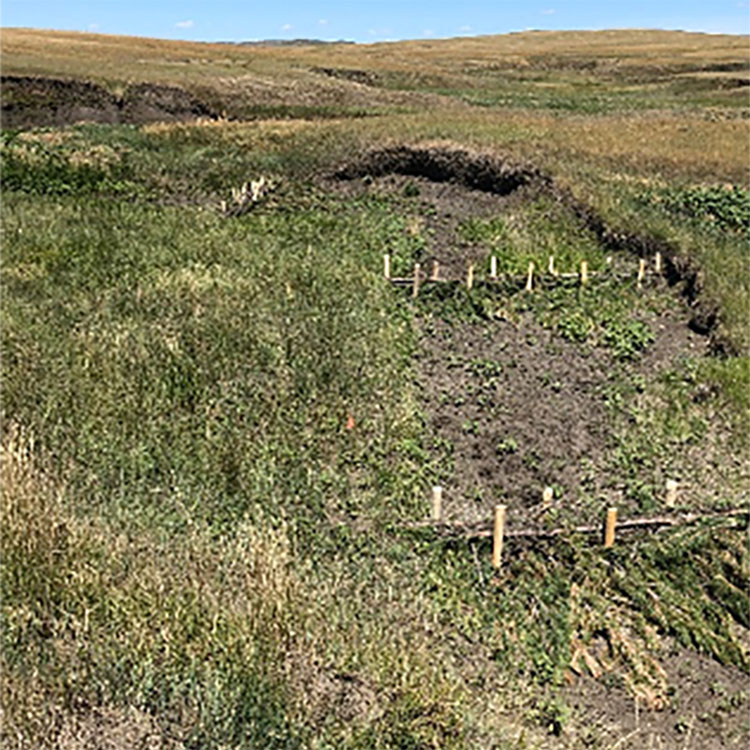 Despite the success of BDAs in other western states such as Colorado and Wyoming, they have yet to be adopted in S.D.. To that end, the first BDAs were installed in Butte County, S.D. through a partnership with The Nature Conservancy (TNC) and the NRCS through a CCGA. South Dakota State University is supporting this project with technical support and expertise, and Extension will be involved in the project's outreach.
The goal of the project is to improve riparian health by using BDAs to reduce the velocity of water in streams that results in stream bank erosion. Approximately 30 BDAs were successfully built this summer with support from Montana Conservation Corp volunteers. The low-cost aspect of BDAs is that they are built using natural, low-cost materials such as those that can be found on-site including pine trees, rocks, sod, and prairie cord grass.
Over the next few years, these sites will be monitored for changes in grass species composition and reduction in stream incisions. Demonstrations, workdays, and educational workshops will be hosted in the future for both producers and partners (NGOs, university, federal, state). I'll provide another update down the road to hopefully share the success of this project on a landscape scale!