BROOKINGS, S.D. - While portions of South Dakota saw some reprieve from the drought last week, with heavy rainfall making minor improvements to soil moisture levels, the climate outlook for September through November is leaning towards drier than average conditions and warmer than average temperatures. According to South Dakota State University (SDSU) Extension State Climatologist Laura Edwards, this combination can contribute to further drought conditions, with warm temperatures evaporating surface water and increasing water demand from plants, crops and the environment.
"It is possible that there will be some ups and downs in drought severity, as local rains could bring some short-term improvement in drought conditions, where other areas could get worse. Overall, however, drought conditions are expected to linger through the rest of the year," Edwards says. "Given that the wettest time of year is behind us, it is rare to have substantial improvement in drought in the fall and winter season."
This September, SDSU Extension will continue its virtual educational program series, Drought Hour. From 11 a.m. to noon CDT, participants are invited to join the online conversation and stay ahead of drought impacts with climate updates, business insights and the latest research-tested management tips for farms, ranches and properties of all sizes.
Drought Hour will be featured on the following Mondays during the month and will cover a variety of production topics:
Sept. 13
Sept. 20
Sept. 27
There is no fee to attend, but participants will need to register for the weekly webinars on the SDSU Extension Events page. Confirmation Zoom links and reminders will be emailed to attendees.
In addition to the weekly webinar series, SDSU Extension has devoted an entire page on the Extension website to addressing drought concerns. To receive regular updates and the latest resources on drought conditions, South Dakotans are also encouraged to subscribe to Extension's newsletters.
Upcoming Events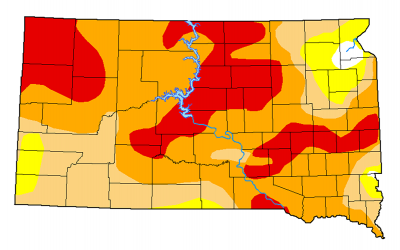 This September, SDSU Extension will continue its virtual educational program series, Drought Hour on Mondays from 11 a.m. to noon CDT.
The latest monthly and seasonal climate outlooks were released Sept. 16, 2021 by National Oceanic and Atmospheric Administration's Climate Prediction Center. Forecasters are pointing towards a warmer than average October, with odds leaning towards drier conditions for the last few months of the year.
In September 2021, the U.S. Climate Resilience Toolkit announced the publication of a new Northern Great Plains Region section. The new section can help producers recognize climate hazards, assess vulnerabilities and confront risks.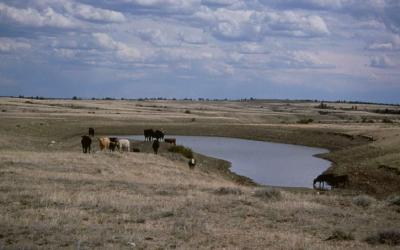 Fact sheet with general drought planning tips from the range and natural resource perspective.