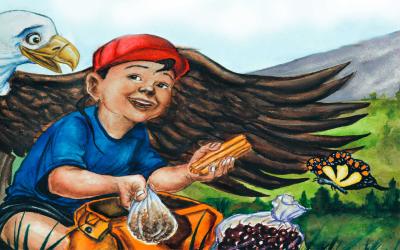 The Eagle Books are a series of four books written by Georgia Perez with illustrations by Patrick Rolo and Lisa A. Fifield. These books follow Rain That Dances and his friends, Thunder Cloud, Little Hummingbird, and Simon, as they learn about traditional ways of being healthy from a wise eagle and his animal friends. The books promote type 2 diabetes prevention by encouraging young readers to be physically active and eat healthy foods.
SDSU Extension has created a series of read-aloud videos for each story translated in both Lakota and Dakota.
Contact Samantha Dvorak to request printed or electronic copies of the books.
Read-Aloud Videos
Wanbdi Ista Kin Ogna: Through the Eyes of the Eagle
Lakota Dakota
Illustrations courtesy of the U.S. Centers for Disease Control and Prevention.