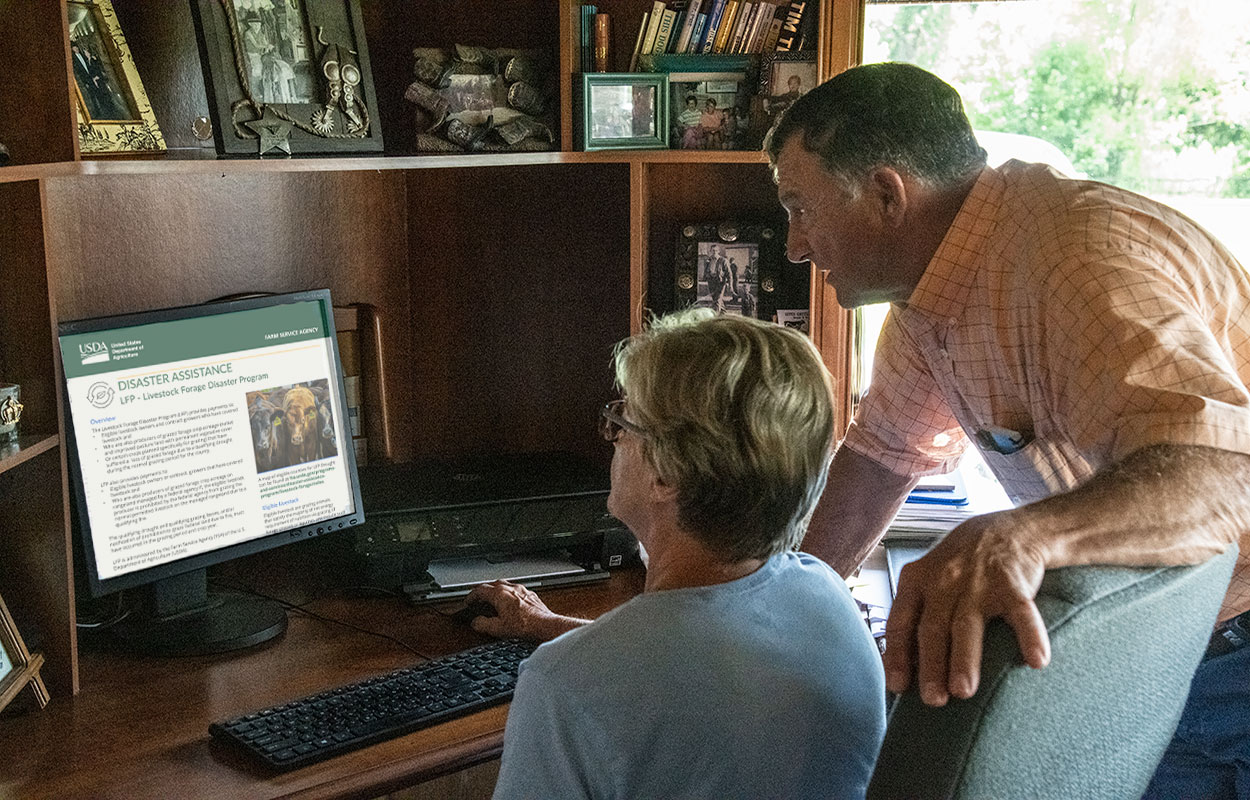 Dry conditions persist across the state, and many new questions are being asked regarding the federal assistance programs available from the U.S. Department of Agriculture Farm Service Agency (USDA FSA) office.
Available Programs
Livestock Forage Program
A D2 designation triggers the Livestock Forage Program (LFP) assistance for eight consecutive weeks or a one-time D3 designation. This program is for livestock producers with grazing livestock and provides a payment to offset the cost of purchasing forages. Learn more at the USDA FSA Livestock Forage Program website.
Emergency Hay and Grazing of CRP Acres
Producers with Conservation Reserve Program (CRP) land in counties designated as D2 qualify for emergency haying and grazing of eligible CRP acres. The timing of the harvest practice depends on the last day of the primary nesting season (Aug. 1, 2021), with no haying allowed before that date. If the county has qualified for LFP payments, grazing is limited to 50% stocking rate, and haying is limited to 50% of the acreage.
Producers could also consider their CRP acres as non-emergency hay or grazing acres. If this option is chosen, grazing cannot occur more than once every other year unless the producer is a beginning farmer. Haying may not occur more than once every three years. Depending on the activity used to remove the grass, non-emergency haying and grazing may reduce the payment rate from zero to 25%.
Producers that do not own CRP-enrolled acres can lease the acres for haying or grazing purposes or purchase the hay from the CRP landowner.
Haying or grazing plans must be created with the USDA FSA office before any activity on the designated acres. They should be finalized as soon as possible for the earliest grazing and haying activities to occur. For more information, view this CRP Haying and Grazing Emergency and Non-Emergency Use factsheet.
Emergency Assistance for Livestock, Honeybees and Farm-Raised Fish Program
A provision in the Emergency Assistance for Livestock, Honeybees and Farm-Raised Fish Program (ELAP) provides funding for producers that need to haul water to grazing livestock. The rates have been identified and are dependent on who is hauling the water. Funds from ELAP can help cover the cost of transporting feed to eligible animals. The feed needs to be above usually purchased feed usage. For more information, visit the Emergency Assistance for Livestock, Honeybees and Farm-Raised Fish Program website.
Emergency Loan Program
As of July 6, 2021, 16 South Dakota counties were designated as primary natural disaster areas. With this designation, those counties and an additional 27 South Dakota counties (and 13 out-of-state counties) qualify for emergency credit via the USDA-FSA.
This program is triggered when a natural disaster is designated by the secretary of agriculture or the president.
These loans may help cover production or family living costs during the disaster, reorganize the farm operation, or refinance certain debts. Producers need to be in a county designated as a primary disaster area or contiguous county to apply. For more information, visit the Emergency Loan Program website.
Best-Fit Bundle
While producers would prefer to graze and bale their regular pasture and hay lands, the drought is causing many to change their routine operating procedures. The 2018 Farm Bill provides the programs discussed here, and they are available to producers who need assistance feeding and watering their livestock. However, these programs, combined with best management production practices for haying and grazing and livestock management, may need to be bundled to ensure the operation continues into 2022.
Contact your local USDA FSA office for an appointment to discuss the programs available for your operation.