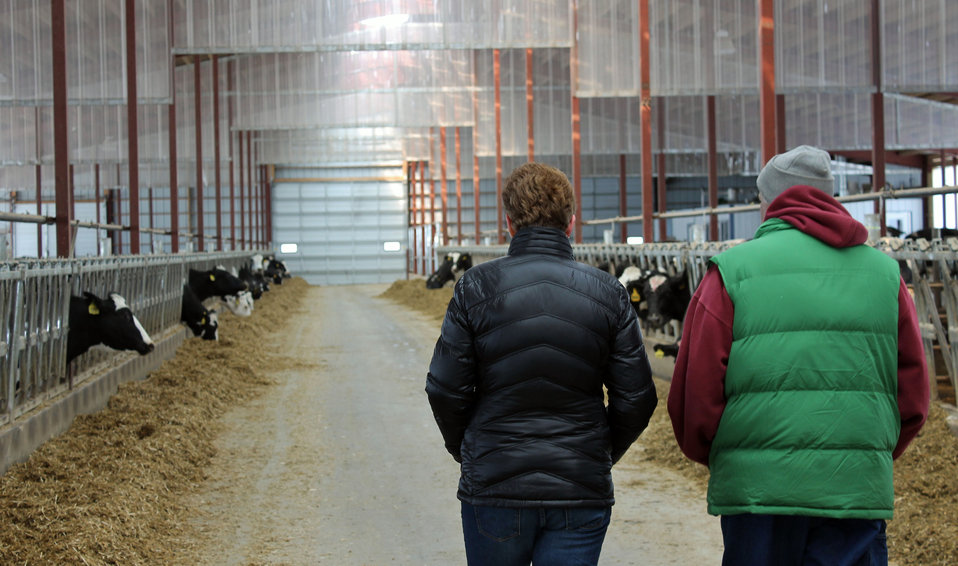 Originally written by Tracey Erickson, former SDSU Extension Dairy Field Specialist. 
Weather this time of year can change in a hurry. So how many of you as dairy producers have heeded the warning and taken the time to prepare for the upcoming winter?
Barn and Facilities
Let's start with some basic areas such as in and around the barn. First, take the time to pick up any items from the yard that may become buried under a snowbank or entangled in the snow blower. Next, put up an appropriate snow fence or snow breaks in yards for protection and minimizing drifts in areas where they are not wanted. Consider bringing in any necessary fill or mounding in areas that become muddy or troublesome spots in the spring. Take a look at your barn maintenance list noting areas that sometimes get pushed off on the "oh...I'll do it tomorrow list". Examples of such are the following:
Check curtains on barns to make sure they are operating properly and repair any holes or tears, this also applies to metal siding.
Check and maintain ventilation fans including tightening belts and keeping blades and louvers clean.
Look upward, inspect and repair building roofs and rafters, making sure there is no loose tin or cracked rafters present.
Maintain and repair any doors | garage doors in buildings that may not open or close properly.
Check and clean barn heaters to make sure they are operating properly.
Outside the facilities, do preventative trimming of trees around barns, driveways and fences.
Equipment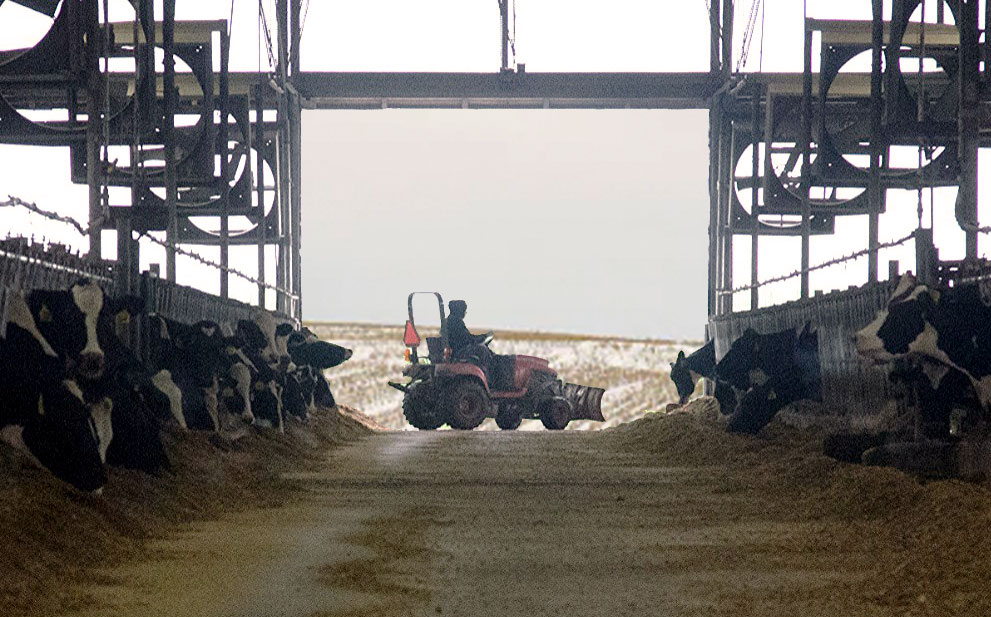 It never fails that in winter, Murphy's Law prevails and equipment will break down or have problems on one of those extremely cold days, making repair work miserable. So what are some things to consider regarding winter equipment maintenance and preparation?
First, test and service your generator(s) and make sure there is adequate fuel on hand to run them.
Second, winterize and service farm equipment such as tractors, semi's, skid loaders, pay loaders, feed mixing wagons, manure pumps, etc. Producers will want to take time to check anti-freeze levels, batteries and fuel filters as these items routinely cause issues in cold weather.
Third, examine snow blowers or other snow removal equipment and make sure it is in proper working order.
Fourth, obtain and store enough fuel (No. 1 Diesel or 50:50 blend of Diesel or Gasoline) to run equipment for an extended period of time. (A two-week supply is suggested.)
Food, Water and Shelter
As we examine livestock production systems we need to think about Food, Water & Shelter and what is necessary to keep the animals healthy and protected?
Clean and check heating elements in all water drinking fountains.
Repair any water fountains or water lines that may be leaking. Ice buildup is a hazard to livestock and humans. Access to enough clean, fresh water is vital to maintaining animal performance.
Have adequate feed supplies moved in for easy access to the farm. It is recommended to have a two-week supply of purchased feedstuffs.
Move calf hutches to areas that are easily accessible in the winter and provide wind protection for young livestock.
Start utilizing calf coats on newborn calves till they are weaned.
Provide adequate bedding for all livestock making sure it is deep enough for them to nest in to help maintain body heat.
Have a two-week supply of veterinary supplies commonly used on the dairy such as intra-mammary mastitis treatments, antibiotics, electrolytes, calcium solutions, antiseptics, bandages, unused needles, and syringes.
Examine body condition and hair coat of various groups of livestock, adjust rations appropriately for cold weather.
Evaluate housing for livestock in open lots, making sure there is adequate wind protection and the ability to get bedding pack built up for them prior to poor weather.
Other Considerations
Lastly some other miscellaneous items to consider include the following:
Develop a plan with milk haulers and milk buyers for options if milk is unable to be picked up for an extended period of time. Ask yourself "What type of coverage do I have if my milk has to be dumped and is unable to be picked up due to weather considerations?"
Partner with neighbors and develop a plan if it is necessary to do your own snow removal on public access roads.
Think through a few additional "what if's"… "What would I do if my barn roof collapsed?" "What, How and Where can I temporarily move livestock until repairs are made?"
Determine insurance coverage is adequate regarding snow load on buildings?
Obviously, there may be things that you will need to add to this list as each farm is unique, but it will serve as a starting point. It is my hope that this check list will help you prepare your dairy for the winter season ahead and be beneficial as you put your winter preparedness plan into action, while simultaneously making those cold winter mornings less stressful.