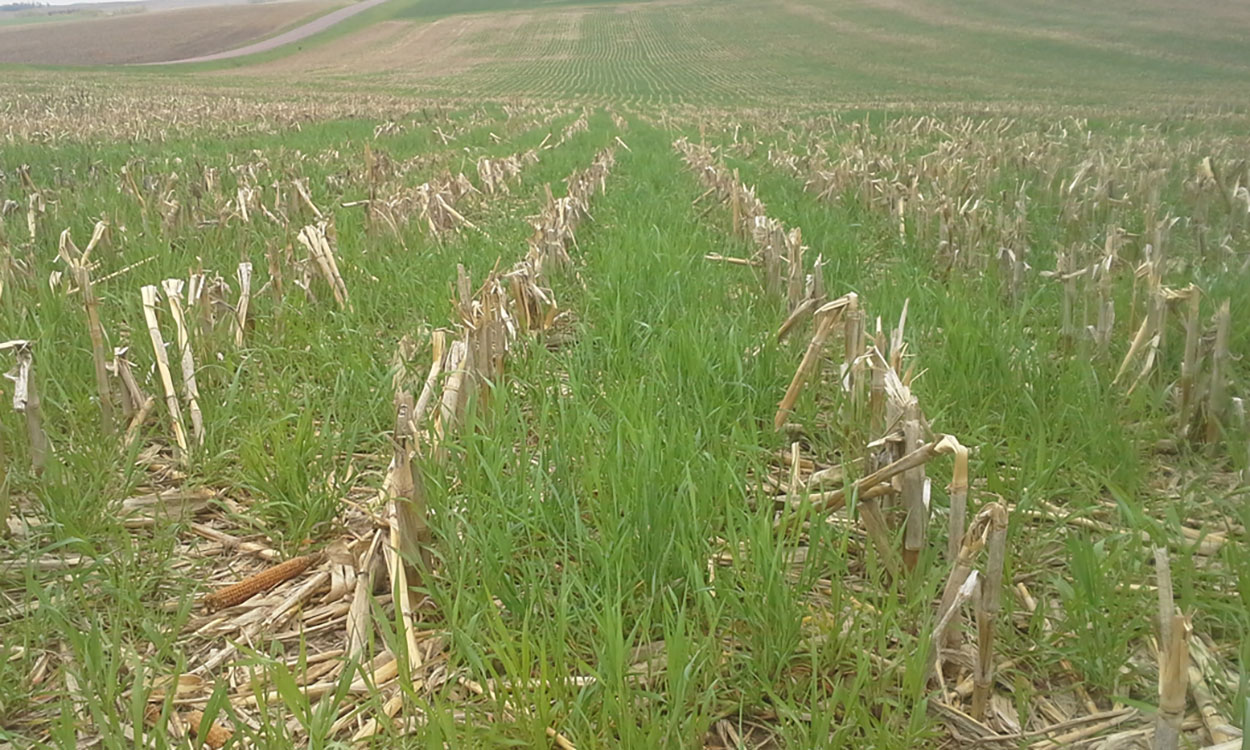 With much interest in soil health and crop diversity, interest in cover crops has increased greatly in recent times. Although the 2021 growing season in South Dakota has been impacted by widespread drought and record-high temperatures, especially in June and July, the recent rain events have brought the cover crop thoughts back into producers' minds. Generally, following small grains (harvest or early season hay crop), a wide range of cover crops species can be selected due to the ample seasonal window for good growth and establishment. However, for the row crop growers who like to practice a strict corn-soybean rotation, the species selection is limited. Winter rye or cereal rye has been a go-to cover crop choice among many row crop growers in the Midwest, including South Dakota.
One of the most important attributes that winter rye possesses over other winter cereals, like winter wheat or triticale, is its tolerance to extreme cold temperatures. Further, rapid early spring growth and allelopathetic characteristics (ability to suppress growth of other plant species) to suppress tough weeds have also been favored by producers.
Crop Diversity and Rotation
Cereal rye is a cool-season grass species that provides much-needed diversity to the corn-soybean system that consists of two warm-season crops. Planting rye after corn and ahead of soybean is a better fit, because soybeans can tolerate later plating in the spring better than corn, which allows rye to accumulate more spring biomass. Studies conducted in southeast South Dakota have not shown any negative impact in soybean yields when planted in late May to early June in fields with preceding rye cover crops. Also, soybeans generally do not show negative impact on yield due to preceding rye cover crop. The sequence of winter rye within the cropping sequence is very important to maintain the agronomic performance of both cash crops. Rye, when planted after soybean and terminated close to corn planting, has shown negative effects on corn in South Dakota environments. However, when rye was terminated at least two weeks prior to corn planting, it has negated those detrimental effects. More studies are needed to examine the true effects of rye cover crops on subsequent corn crop.
Planting Method and Spring Biomass
Rye in the fall is generally planted by two different methods: 1) Broadcast at corn physiological maturity, and 2) Drill seeded after corn harvest. Another important aspect of the rye cover crop is spring biomass that can not only provide soil residue to enhance overall soil health but also supplemental forage. One question that arises frequently is the spring biomass differences between broadcast and drill-seeded methods. Studies conducted at the South Dakota State University (SDSU) Southeast Research Farm for several years have shown biomass from broadcast seeded to be 70 to 90% of the drill-seeded biomass. The difference in the range is largely due to the seeding time and precipitation following the broadcast seeding. For example, a study conducted in 2012-2013 reported 2,892 pounds and 3,267 pounds of dry matter per-acre for broadcast and drill-seeded rye respectively. The same study continued in the next season (2013-2014) reported the spring biomass of 1,950 pounds and 2,575 pounds dry matter per-acre. These studies sampled rye at heading stage in the spring.
Effects on Soybean Yields
Several studies done at the SDSU Southeast Research farm have shown no negative effects on soybean yields when grown after a rye cover crop. Yield estimates from the rye planting method and biomass study conducted in 2013 and 2014 had almost identical soybean yields for 'control' plots that did not have rye, broadcast seeded plots and drill-seeded plots. Another study conducted at the same farm in the 2018-2019 growing season showed no significant effects in soybean yields for five spring rye termination dates April 19, April 29, May 13, May 23 and May 31. The corresponding soybean yields were 70, 67, 67, 67 and 72 bushels per-acre.
Important Considerations
Seeding Rate: 40 pounds per-acre as cover crop; 70-75 pounds per-acre if weed suppression is the goal.
Best fit seems to be in a corn/soybean rotation, planting after corn.
Growth in the spring is usually good, even if the fall is dry.
If the spring is dry, spray out by early May. Rye grows rapidly in mid to late May– do not let it get away unless you are in dire need of biomass.
Soybean plants grown after late-terminated rye may show some sulfur deficiency in plant tissues, but yields have not been impacted by it.
Suggested Reading