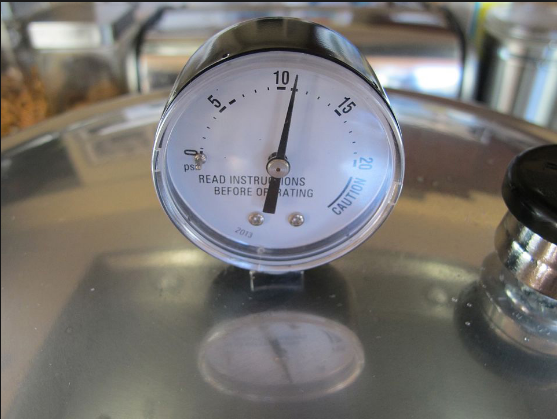 Written with contributions by Megan Erickson, former SDSU Extension Nutrition Field Specialist.
From gardens to pantries, home canning is a healthy mainstay in American lives. Canning allows an economical way to preserve important vitamins and nutrients from fresh quality, locally grown fruits and vegetables while maintaining control over food additives such as sugar and salt. Pressure canning is used to can foods with low acid levels such as red meats, seafood, poultry, and low acid vegetables. The USDA endorses pressure canning as the only safe method for canning these low acid foods.
Two types of pressure canners exist, weighted gauge pressure canners and dial gauge pressure canners. Weighted gauge canners will either keep rocking gently or make a frequent jiggling noise to indicate if the correct pressure is being maintained. Read the manufacturer's instructions to know how a particular weighted gauge should rock or jiggle. Weighted gauges do not require testing.
Dial gauge pressure canners use dial gauges to indicate if the correct pressure is being maintained. For accuracy before use, it is recommended that dial gauges get tested each year. Gauges that read high cause under-processing and may result in unsafe food. Low readings cause over-processing. Pressure adjustments can be made if the gauge reads up to 2 pounds high or low. Replace gauges that differ by more than 2 pounds.
To learn more about safe pressure canning practices, watch our How to Use a Pressure Canner video. Also, see the information below to learn more about available dial gauge testing services, and check our events calendar for upcoming SDSU Extension Dial Guage Testing Clinics, coming to a community near you in 2024!
2024 Dial Gauge Testing Clinics
SDSU Extension will be traveling around South Dakota during the Spring and Summer of 2024 to provide dial gauge testing services. Use the yellow button below to take part in a survey to let us know what communities we need to visit!
Take Survey
Dial Gauge Testing Services
Presto
Brands Tested
Presto will test gauges at no charge. Just follow the included mailing instructions. Presto will only test gauges from these brands:
Magic Seal
National
Maid of Honor
Kook-Kwick
Presto
Mailing Address
National Presto Industries Inc.; 3925 North Hastings Way; Eau Claire, WI 54703-3703; Phone: 1.715.839.2121
Mailing Instructions
Steps to send in your pressure gauge:
Carefully remove dial gauge from canner and package in foam, bubble wrap or newspaper to avoid shipping damage.
Ship gauge only to the Presto's mailing address. If you cannot remove the gauge from the canner lid, send canner lid with the gauge attached.
Gauges are checked within three working days of receipt and shipped for return.
Customer Service
For questions regarding Presto's testing services, contact Presto Customer Service at 1.715.839.2121 or 1.800.877.0441
NOTE: Only the above mentioned gauges can be checked by Presto. For specifics on other models of pressure canner gauges, please check with the manufacturer. All American for example, has been selling their pressure canners with both a dial and weighted gauge for each unit. Weighted gauges do not need to be tested.
Replacement Gauges & Parts
Replacement gauges and other parts (e.g. gasket, safety plugs) for canner are often found at stores that sell food preservation equipment or from canner manufacturers. When ordering parts, be sure to provide your canner model number and describe the parts you need. Here are additional resources where you can find replacement gauges and other parts:
Reference