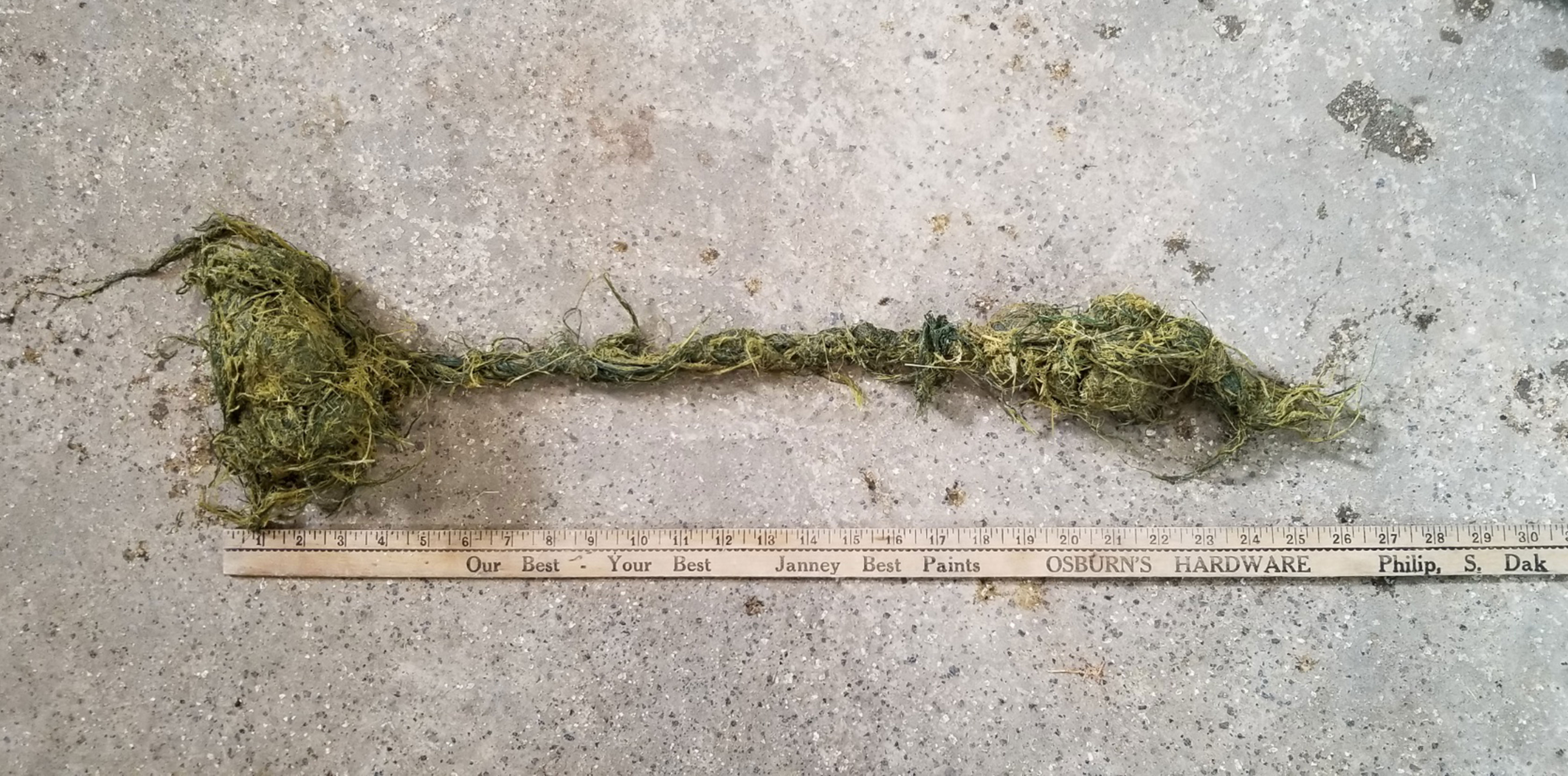 Written collaboratively by former SDSU Extension staff: Adele Harty, Taylor Grussing and Joe Darrington.
Recently, cattle producers and veterinarians have become more concerned with the possible ingestion of net wrap or twine from hay bales and the negative impacts it could have on cattle health and performance. Numerous reports have indicated that cows lose weight rapidly, may have diarrhea or are found dead with few symptoms. A veterinarian reached out to me recently with a case of multiple cows of the same age group exhibiting the symptoms outlined above. He had ruled out Johne's; when he did an exploratory on one cow, he discovered a large wad of net wrap in her rumen (Figure 1). He has termed this condition "net wraposis" and I have heard others call it "plastic disease" or even "software disease." Net wrap and other plastic hay binding materials are not digestible in the rumen, so a treatment for is not available. The best plan is prevention.
2017 Forage Binding Survey Summary
In 2017, two former colleagues at SDSU, Taylor Grussing and Joe Darrington, developed a survey to better understand common practices in regard to the removal of hay binding materials prior to feeding or grinding. To begin answering this question, a needs assessment survey of livestock producers and allied industry personnel was conducted to evaluate the presence and impact of forage binding preferences and feeding methods on livestock production. Survey respondents (n = 548 started, 393 completed) were made up of primarily beef cow/calf producers (80%). The preferred methods reported for binding baled forage were net wrap (67%), twine (26%) or both (6%) depending on crop or livestock target.
Removal of twine or net wrap varied based on feeding method (whole bales versus grinding hay). For feeding whole bales, 54% of producers removed net wrap or twine and 6% did not. For grinding bales, 11% of producers removed net wrap or twine and 18% did not. Of the producers who do not remove net wrap or twine – regardless of feeding method – 46% have observed livestock eating binding material that remained on the ground after feeding. In cases with livestock mortality, 26% of respondents had a veterinarian conduct postmortem exams and 30% of those reported having recovered net wrap from within the animal.
Overall, the survey indicated that 86% of respondents would be interested in purchasing a digestible forage binding material to replace traditional net wrap or twine if this alternative was cost effective and environmentally stable. It was also indicated that more than half of the respondents would like SDSU Extension to provide more education on forage binding materials, hay processing methods and how to best remove binding prior to feeding bound forages to livestock.
Current Net Wrap Research
Consequently, I am conducting a research project at the Cottonwood Field Station to determine how rapidly net wrap accumulation occurs in the rumen when hay is ground without net wrap removal. Our overall goal is to determine if these issues can be prevented by removing net wrap prior to grinding and feeding forage. Another longer-term question and potential area of study is if accumulation of net wrap affects cow longevity.
This project is utilizing six ruminally cannulated cows that are individually fed a ground hay diet. At the end of a 5-month feeding period (approximately equivalent to winter feeding), rumen evacuations will be completed and all net wrap will be removed and weighed to determine how it accumulates over a period of time. Because the cows in this study are being fed individually, we can calculate approximately how much net wrap they could consume over a period of time. During the first 3 months of the project, they have each been fed approximately 0.95 to 1.16 lbs of net wrap. I am interested to see what the accumulation of the net wrap is and how it may "ball up" in the rumen.
If you have experiences with "net wraposis" or "plastic disease," I would appreciate hearing about your experience. Feel free to contact me as well with any questions about her research project.