Most of the Midwest grasslands are managed under continuous grazing practice, under which livestock graze the entire pasture season long without any grass recovery period. When livestock graze large pastures, they tend to repeatedly graze preferred areas. As a result, some preferred areas are frequently under heavy grazing pressure with no time to recuperate, while less preferred patches are lightly used. Over time, such selective grazing will change the mixture of plants, causing the amount of weed and bare ground to increase, which further lead to low pasture yields and serious erosion problems (Undersander et al., 2002).
What is Rotational Grazing?
An alternative practice is rotational grazing, under which the pastures are divided into smaller areas called paddocks, and animals graze one paddock at a time while giving plants in other paddocks sufficient time to re-grow. Depending on the number of pastures, grazing days and recovery days, rotational grazing can be further categorized into simple rotational and intensive rotational grazing (USDA, 2015). Under rotational grazing, due to the high stocking density on the paddock being grazed, selective grazing behavior is reduced and livestock will graze a higher proportion of the less preferred patches after they rapidly deplete the preferred grasses. Well-managed rotational grazing system will see an increase in desirable grass and pasture yield, prolonged grazing days, and a reduction in hay feeding cost. Other benefits also include decrease in runoff and erosion, faster drought recovery and increase in stocking rate capacity and long-term economic profit (Park et al., 2017; Wang et al., 2016, 2018).
Despite of the benefits of rotational grazing, its adoption rate is still low. To better understand South Dakota producers' perceptions on benefits of rotational grazing practice, we sent out 1,500 surveys to South Dakota ranchers in 2018, inquiring them about their adoption status and perceptions of rotational grazing. Among 1,500 survey addresses, 96 were ineligible due to reasons such as no longer operating cattle enterprises or undeliverable mailing addresses. Together we received 315 completed questionnaires, which accounts for 22.7% of the eligible survey samples.
Grazing vs. Hay Feeding Days Under Different Grazing Management Practices
Rotational grazing help producers cut hay costs by increasing grazing days (Drovers, 2017). Our survey inquired producers of their grazing and hay feeding days in a typical year. Figure 1 demonstrates average grazing and hay feeding days reported by survey respondents under different grazing management practices. One can easily discern from Figure 1 that the ratio of grazing days to hay feeding days is the highest for intensive rotational, followed by simple rotational, and then continuous grazing. Compared to 182 grazing days under continuous grazing, simple rotational increased grazing days to 197 days, while users of intensive rotational grazing reported an average grazing season of 235 days, which is significantly longer than grazing days reported by producers under the other two practices. Corresponding to the longer grazing days, hay feeding days were reported as 164, 138 and 122 days per year on an average year by continuous, simple rotational and intensive rotational grazing users. Shorter hay feeding days by rotational grazing users compared to their continuous grazing counterparts indicates that cost saving from reduced hay purchase is very common among rotational grazing users in South Dakota.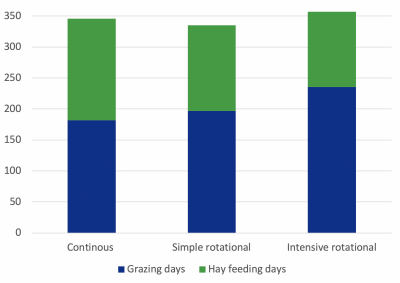 Perception of Rotational Grazing Benefits: Non-Users vs. Users
Figure 2 shows the perceptions by non-users and users of rotational grazing practice on four potential rotational grazing benefits, namely 1) increased percentage of desirable grass, 2) decreased runoff and erosion, 3) increased drought resilience or faster drought recovery, and 4) increased stocking rate capacity. Among the four benefits listed, faster drought recovery was most highly rated by users, in that nearly 50% of the users perceived significant benefit of rotational grazing when it comes to the increased resilience of grassland to drought. The second most highly rated advantage is an increase in desirable grass, as about 45% of the users believe rotational grazing is significantly beneficial in weeds control. Except for the decreased runoff and erosion, we can see that a majority of producers, both non-users and users, perceived that rotational grazing have either medium or significant benefits.
One discernable trend in Figure 2 is that for all of the four benefits listed, much higher proportions of users perceived significant benefits when compared with non-users. On the contrary, proportions of non-users who rated rotational grazing as not beneficial or slightly beneficial in these four areas were higher than those of users. Overall, Figure 2 indicates that while most producers perceive the benefits of rotational grazing, users generally have more favorable perceptions towards the benefits of rotational grazing when compared to non-users. Most likely a majority of users experienced some of those benefits on their ranches already, which are only concepts for many non-users.
The Bottom Line
Overall, we find rotational grazing users, especially intensive rotational grazing users in South Dakota have experienced prolonged grazing season when compared to continuous grazing users, which in return could reduce hay feeding days by over a month in a typical year. Even though the majority of producers, even non-users believe rotational grazing will generate benefits, our survey findings indicate that the non-users generally do not perceive rotational grazing as significantly beneficial as users do. Perception differences between users and non-users suggest that to help more producers adopt optimal grazing practices and to improve the overall health and productivity of SD grassland, more research and education efforts could be made to improve the understanding of rotational grazing benefits in South Dakota.
Acknowledgements: This article is based upon research work that is financially supported by the National Institute of Food and Agriculture, U.S. Department of Agriculture, under award number 2017-67024-26279.
References:
Drovers. A high-production grazing plan. May 5, 2017.
Park, J. Y., Ale, S., & Teague, W. R. (2017). Simulated water quality effects of alternate grazing management practices at the ranch and watershed scales. Ecological Modelling, 360, 1-13.
Undersander, D. J., Albert, B., Cosgrove, D., Johnson, D., & Peterson, P. (2002). Pastures for profit: A guide to rotational grazing. Cooperative Extensiton Publications, University of Wisconsin-Extension.
United States Department of Agriculture. Grazing Management. April 2015.
Wang, T., Teague, W. R., & Park, S. C. (2016). Evaluation of Continuous and Multipaddock Grazing on Vegetation and Livestock Performance—a Modeling Approach. Rangeland ecology & management, 69(6), 457-464.
Wang, T., Teague, W. R., Park, S. C., & Bevers, S. (2018). Evaluating long-term economic and ecological consequences of continuous and multi-paddock grazing-a modeling approach. Agricultural Systems, 165, 197-207.