Written by Cindy Schnabel, South Dakota State University (SDSU) Extension Horticulture Assistant and Master Gardener, and Kristine Lang, Assistant Professor and SDSU Extension Consumer Horticulture Specialist.
The snow has melted, birds are singing and it's time to get out into the garden. But what tasks should be tackled in the spring? All gardeners ponder this question when winter is gone and spring is upon us, but spring clean-up does not need to be an overwhelming task.
Inspect Your Garden and Landscaping
If you are just itching to get out, even if there is still a winter chill in the air, start with a top to bottom inspection of your lawn and garden. Head outside to assess the damage that winter caused. Look at the hardscape elements in your landscape. Items like fences, benches, sheds, steppingstones and trellises may be showing some wear. Locate any boards that need replacing, steppingstones that need to be repositioned and trellises in need of repair or replacing. Take the time to clean bird feeders and baths and refill them for the spring migration. Remove debris from fountains and water features.
Prepare Garden Tools
Check out your gardening tools. They need attention before you begin to use them. Tools with wooden handles need to be clean of dirt. If the handle feels rough, use some sandpaper to smooth it out. You can apply linseed oil to the handles to preserve the wood. Pruners should be checked to see if they need to be sharpened. If they seem sticky, you may want to disassemble pieces to clean with hot, soapy water and let dry completely before reassembling. Then use lubricating oil or spray to keep pieces functioning properly. Remove any rust from all tools. Leaf blowers and lawn mowers need spring tune-ups and blades sharpened.
Clean-up Flower Beds
Remove trash, matted leaves, fallen branches and debris that has accumulated in annual and perennial flower beds. Once perennials begin to peek through the soil, it is time to remove dried foliage and old stems by pulling them or cutting them down close to the soil line. Make note of any gaps in your beds, so you can think about new plants for those locations, but remember some perennials are slow to emerge from cool soils.
As temperatures begin to warm, remove mulch that was used for bedding in and around your strawberries, roses and other tender plants. Also check roses for any signs of rodent damage on woody rose stems and roots – they too love the cozy mulch bed around the plants! When uncovering tender plants in the spring, keep on eye on the extended forecast, as late-spring freezes could cause damage to uncovered foliage.
Divide Perennials
Spring is a great time to divide and move many garden perennials. Bee balm, Catmint, Coneflower, Daylilies, Garden Mums, hardy Geranium and Hostas are a few examples of perennials that do well when divided and moved this time of year. Dividing overcrowded and aging perennials gives you more of your favorite plants to fill in gaps elsewhere in the garden, keeps the plants vigorous, improves the health of the foliage, and increases the number of potential blooms once the new divisions are established. The University of Minnesota has created an excellent guide that details when and how to divide many common garden perennials.
Care for Your Soil
Have you tested your garden soil recently? If you have not done a soil test in the past five to seven years, you may want to consider doing one again. This is especially helpful if you are starting a new garden. SDSU Extension has a list of public and private soil testing labs that can assist you.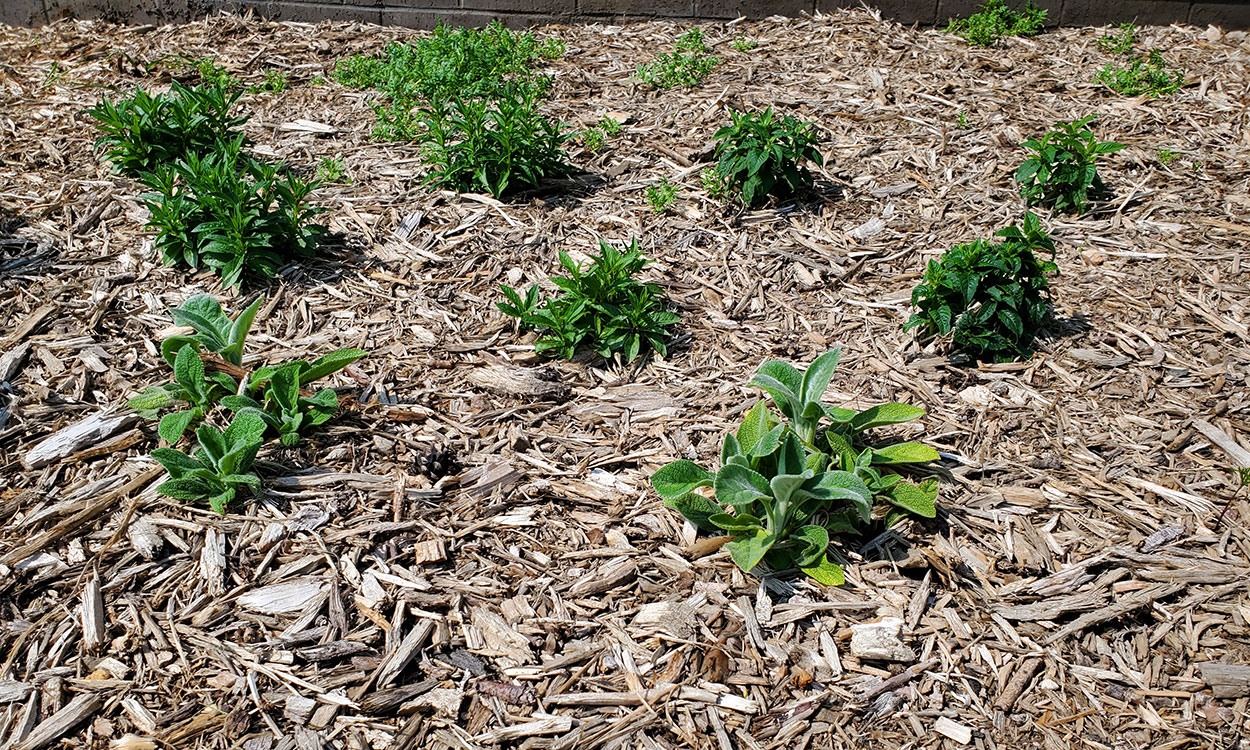 Established annual and perennial flower beds can benefit from the addition of compost applied as a top dress one to two inches thick across the surface of the garden soil. You could also use a pelletized, slow-release fertilizer following the label recommendations for an annual or perennial flower bed. More information on garden fertility is available in our resource, Fertilizing Gardens in South Dakota.
Prevent Weeds
The best way to manage weeds early in the spring is to prevent them. If you prefer to use non-chemical means, early spring is an excellent time to install new mulch or add an additional layer of mulch to your garden. Organic garden mulches also conserve water and can cool the soil surface, which is especially helpful during hot, dry summers. You can read more about garden mulch options in our article, Organic Garden Mulches To Conserve Moisture and Prevent Weeds.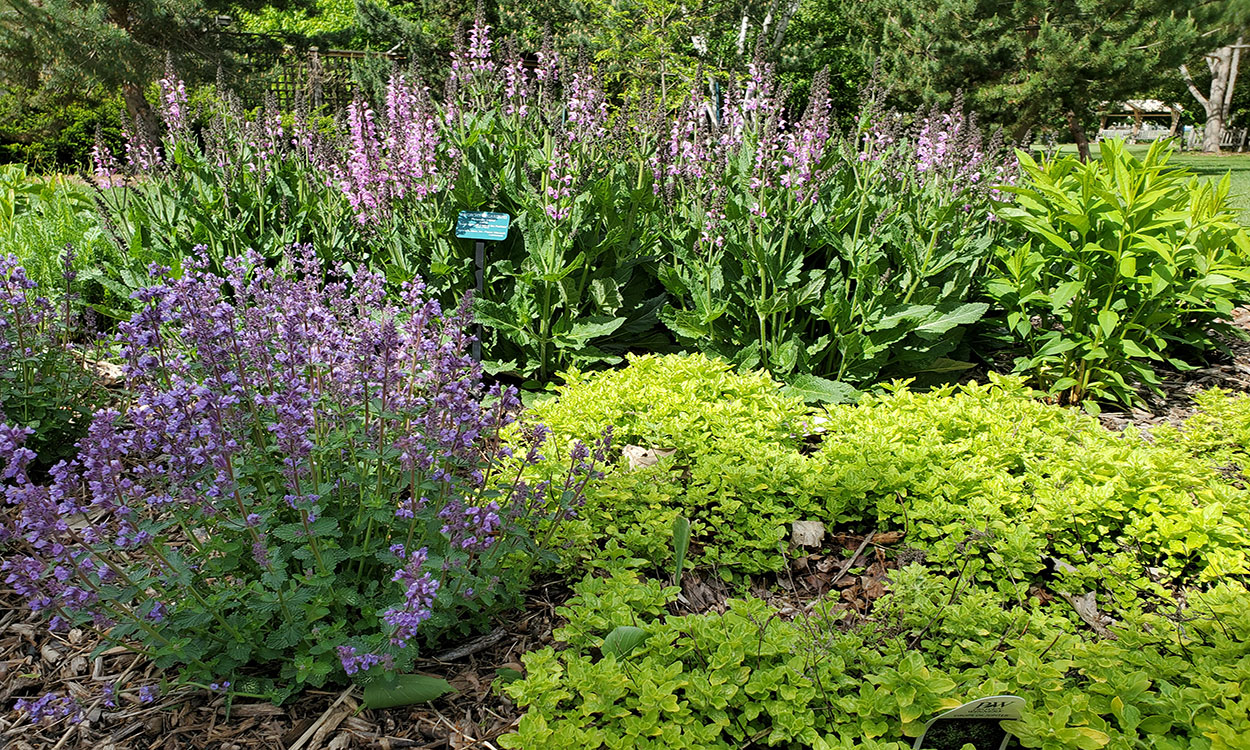 Pre-emergent herbicides are another option to prevent weeds and should be spread on warming garden soils ahead of a rainfall event or watered in to be most effective. If you are going to be direct-seeding vegetables or flowers in your garden, do not use a pre-emergent herbicide in that area. Always follow all label instructions when using any herbicide in the garden to prevent unintended damage to sensitive plants.
Following these spring garden maintenance steps ensures that you are ready for the growing season. Spring garden preparations can be a manageable task that allows you to enjoy working outside while waiting on warmer days for planting. You'll be rewarded shortly with a flush of beautiful foliage and blooms to enjoy all season long.
Special thanks to SDSU Extension Horticulture Assistant Tess Wagner for editing this article.