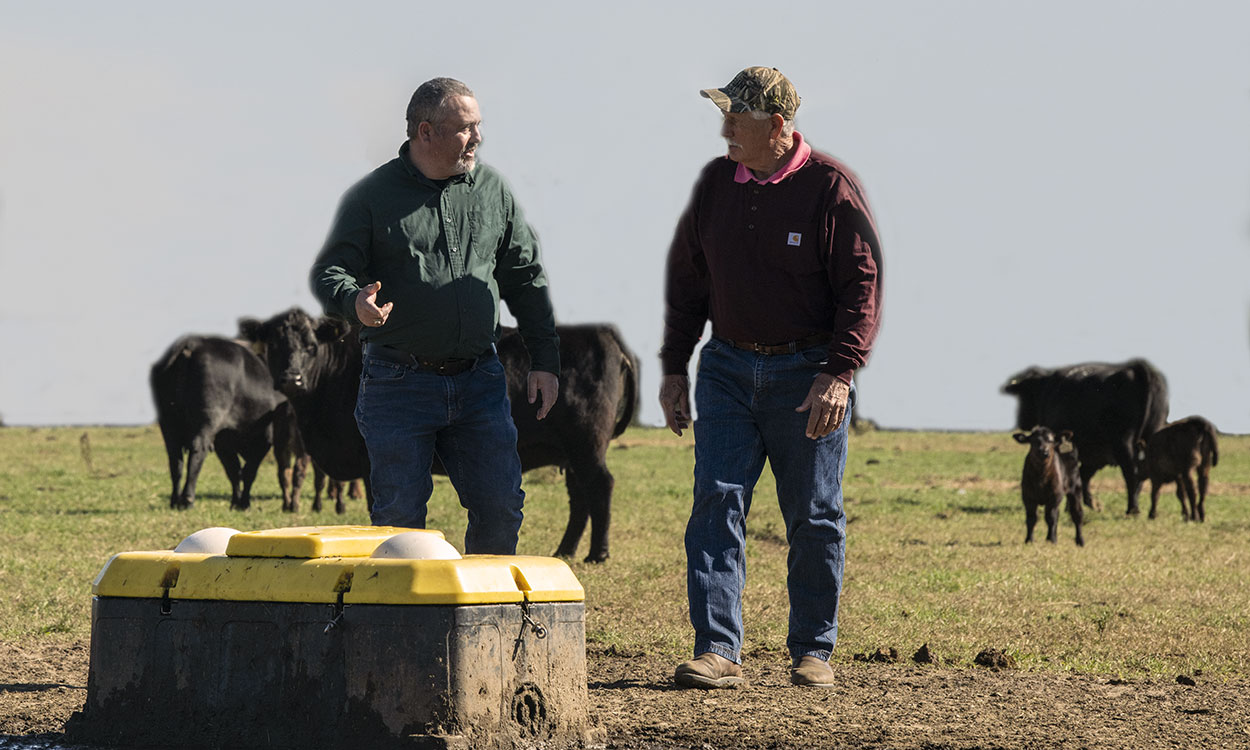 Introduction
An essential daily task of livestock producers is ensuring that animals have access to water. This often requires frequent checking of water tanks to make sure they are free of ice and filling properly. Depending on the location of animals relative to the producer's home, checking water tanks can require hours of labor and significant fuel costs for remote pastures. Research has indicated that livestock producers may spend over $1,500 a year on fuel checking water sources. Numerous issues can occur that prevent animals from accessing water, including equipment failure and tanks freezing over. The consequences of livestock not having access to water can be severe, ranging from animals escaping from pasture boundaries in search of a water source to declines in animal performance and death, potentially costing tens of thousands of dollars. Checking stock tanks, tire tanks, or stock dams in person on a daily basis is not always an option. Through the use of water monitoring systems and other pieces of technology, you can check the status of the water source remotely throughout the day.
Trail Cameras
Cellular based trail cameras can serve as a cost-effective option to remotely view your stock tanks. These cameras can range in costs from as little as $50 to several hundred dollars and can be found at many online retail sites (Figure 1). One of the greatest advantages this can serve is providing visual confirmation of available water. These cameras can also be set up to send you a picture at regular schedules, such as during the morning and evening. These are also quick and easy to install and take down, providing greater flexibility than other monitoring systems for water sources. One consideration to make is whether you have strong cellular service reception at the watering location, which is required to transmit images.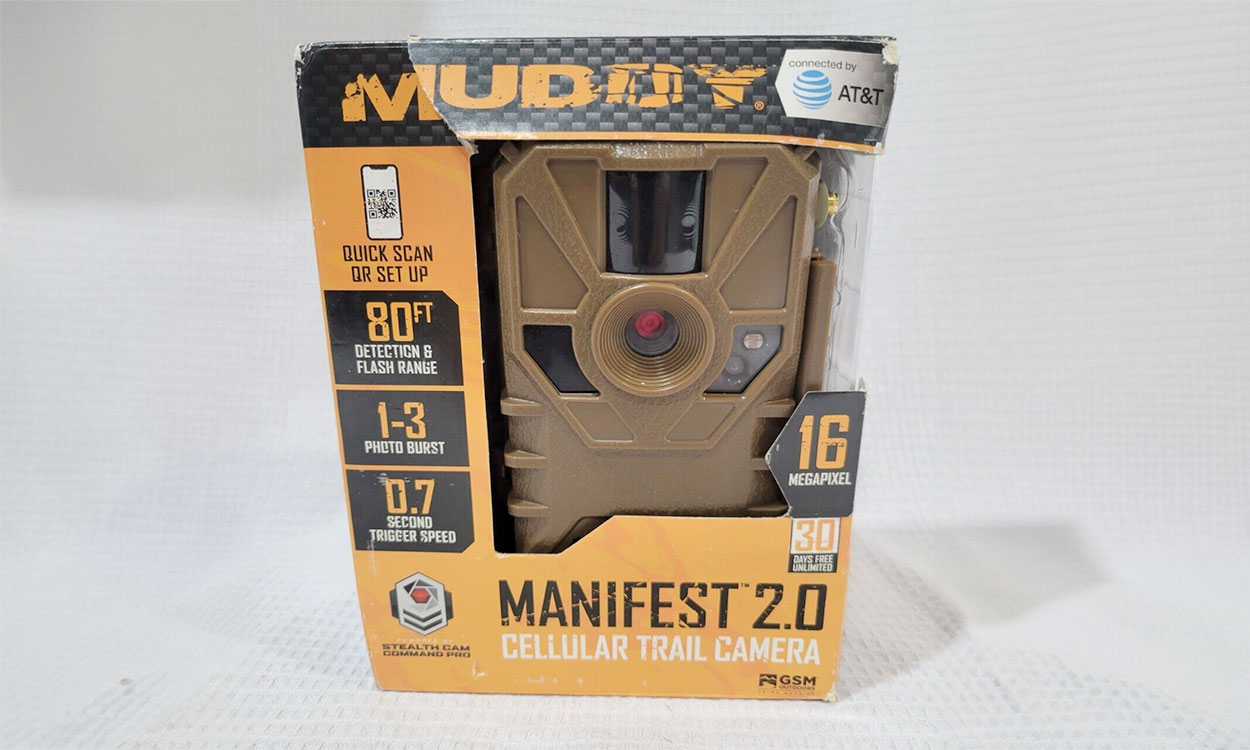 Pros
Affordable technology for adoption.
Readily available at many retailers.
Visual confirmation.
Cons
No metrics or additional data collection available besides images.
Reliant on cellular service.
Stock Tank Monitors
There are a few options on the market intended to measure stock tanks. This technology can be quite insightful in the amount of data that they can collect. These systems are typically solar powered and communicate through satellites (Figure 2). They are relatively quick and easy to install, however, they will require more work than trail cameras, which were previously mentioned. Commercial water monitoring systems can range from $500 and up; the increase in cost typically correlates to increased data and monitoring functionality. The biggest drawback is that they fail to include a camera to provide visual confirmation of the water source.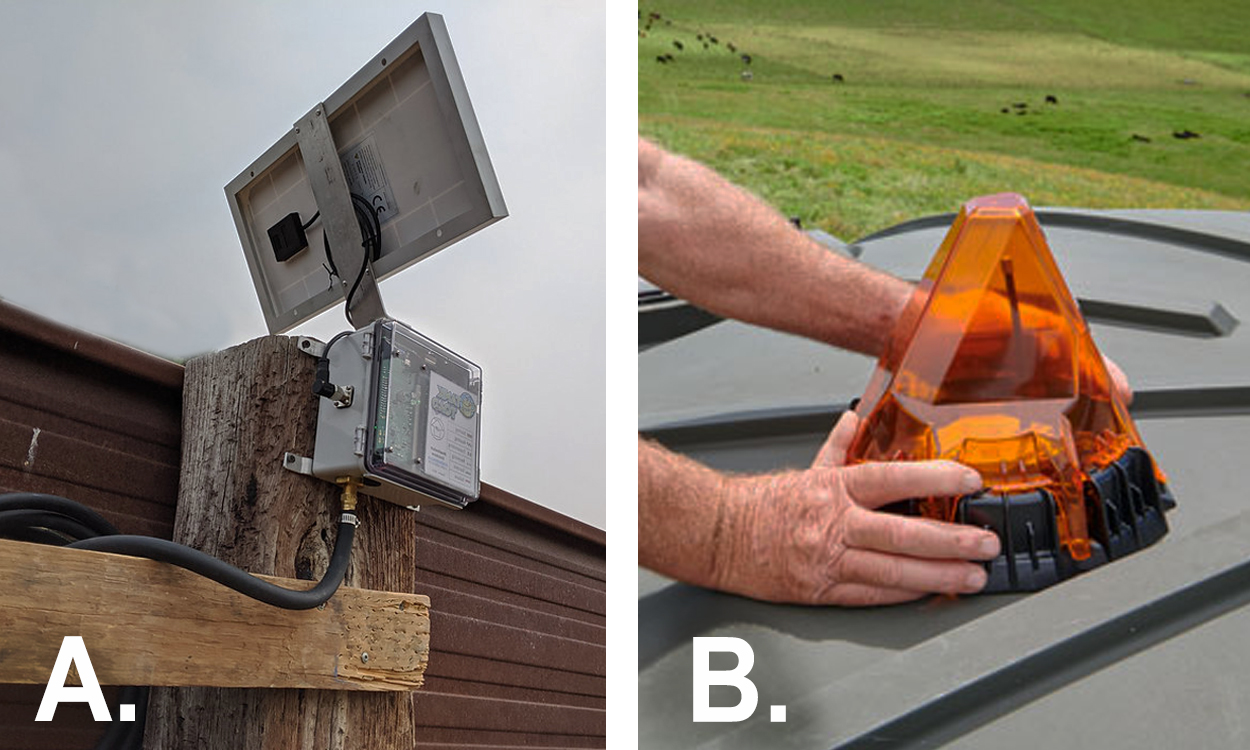 Pros
Turn-key product.
Warranty associated with product.
Collects metrics for water disappearance.
Satellite communication allows data to be transmitted anywhere.
Cons
Increased cost to entry barrier.
Takeaway
The big question with implementing any technology on ranch is, "Does this make sense (or cents) on my operation?" This technology depends upon the user to learn how to use it and trust that it is monitoring the water source accurately. In many cases water monitoring systems will provide added value to most operations through either time saved checking water sources or fuel savings. Before purchasing a unit, several factors should be considered to find the right system for your operation, including: 1) cellular connectivity, 2) monthly or yearly subscription fees, and 3) the ability to mount units in a location where cattle can't rub or scratch them. Please contact Logan Vandermark, Hector Menendez, or Jameson Brennan with SDSU Extension if you have any questions about this technology.
Reference
Using Remote Sensing Technology to Monitor Stock Tanks, Utah State University Extension.