Last fall was cold and wetter than normal, leading to late soybean harvesting. Due to the limited window and also due these conditions, soil sampling for soybean cyst nematode (SCN) may not have been done before the ground froze too hard for soil samples to be taken. Fields that were not tested for SCN last year can still be sampled this spring to determine the presence of SCN and/or SCN population changes if SCN testing was done in the past.
The soybean cyst nematode is a major soybean pathogen that causes significant yield loss. The nematode feeds inside the roots robbing the plant of nutrients (Figure 1). Low soil SCN populations do not cause obvious above ground symptoms yet these populations can still cause yield loss. High SCN populations may cause plants to be stunted and yellow and these plants will have more than 30% yield loss.
Soil Testing for SCN
In order to confirm the presence of SCN in a field, a soil test for SCN should be done. The SDSU Plant Diagnostic Clinic performs the SCN test free of charge to South Dakota producers, courtesy of the South Dakota Soybean Research and Promotion Council. Growers should take advantage of this service to get a better picture of the current SCN status of a field before planting soybeans. Knowing the SCN population numbers can help growers make appropriate management decisions. Presence of SCN in the field would require starting to plant SCN resistant varieties. High SCN populations in a soil would require a combination of resistant varieties and use of nematicide seed treatments to manage SCN.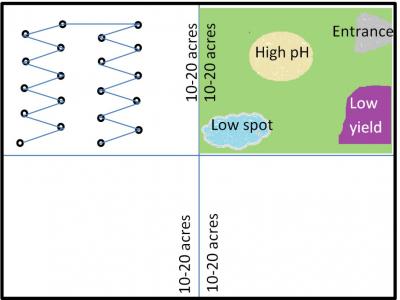 Sample Collection and Analysis
Sampling for SCN can be done any time provided the soil is not too wet (forms a paste when rubbed between the fingers) and not frozen. To sample soil for SCN, use a soil probe or shovel and obtain 20 soil cores 0-8" deep ensuring areas such as field entrances, low yielding areas, and/or along the fence line are included (Figure 2). Larger fields should be divided into 10-20 acre sections. When sampling in the fall, probing at angle into the soybean row, in areas where plants did not produce as well is also a good option. Mix the 20 soil cores well and send (mail or drop off) a minimum of a pint of soil to:
SDSU Plant Diagnostic Clinic
SPSB 153, Box 2108
Jackrabbit Drive
Brookings, SD 57007
Phone: 605-688-5545
Email
Submission Form
A SCN sample submission form can be found at the SDSU Plant Diagnostic Clinic website. Only the first page of this form needs to be sent with the samples.
A Caution About SCN Resistance to PI88788
Although SCN can be managed through the use of SCN resistant varieties, most of the SCN resistant varieties have their source of resistance derived from PI88788. For growers who have used SCN resistant varieties in the past and are seeing an increase in the SCN population within a field, a switch in the source of resistance is recommended. A few SCN resistant cultivars with resistance derived from other sources such as PI 548402, commonly known as Peking source of resistance, are available. South Dakota State is part of the concerted efforts in the region to continue to educate soybean producers about the importance of knowing their SCN numbers and resistance development on the common source of SCN resistance gene, PI88788. Visit the new SCN Coalition website for more information.