April in Review
April 2022 brought cool temperatures with a lot of variation in precipitation. Some areas saw drought recovery, where others experienced worsening conditions.
The northern tier, far west and some central South Dakota locations received above-average precipitation in April. These areas measured 130 to over 300 percent of the average monthly precipitation. Areas in the northeast continue to battle saturated, cool soils this spring season. Drought conditions are slowly improving in the northwest and central regions due to recent snow and rainfall.
The southwest and southeast are still much drier than average. Many locations in the central Black Hills and southeastern South Dakota measured less than 50 percent of average precipitation in the last month. These areas have experienced degrading conditions in what is often our wet season. Drought impacts have included dry soils for spring crops and planting, slow emergence of oats and other small grains and grasses, and little-to-no surface water available for livestock following last year's drought.
May Outlook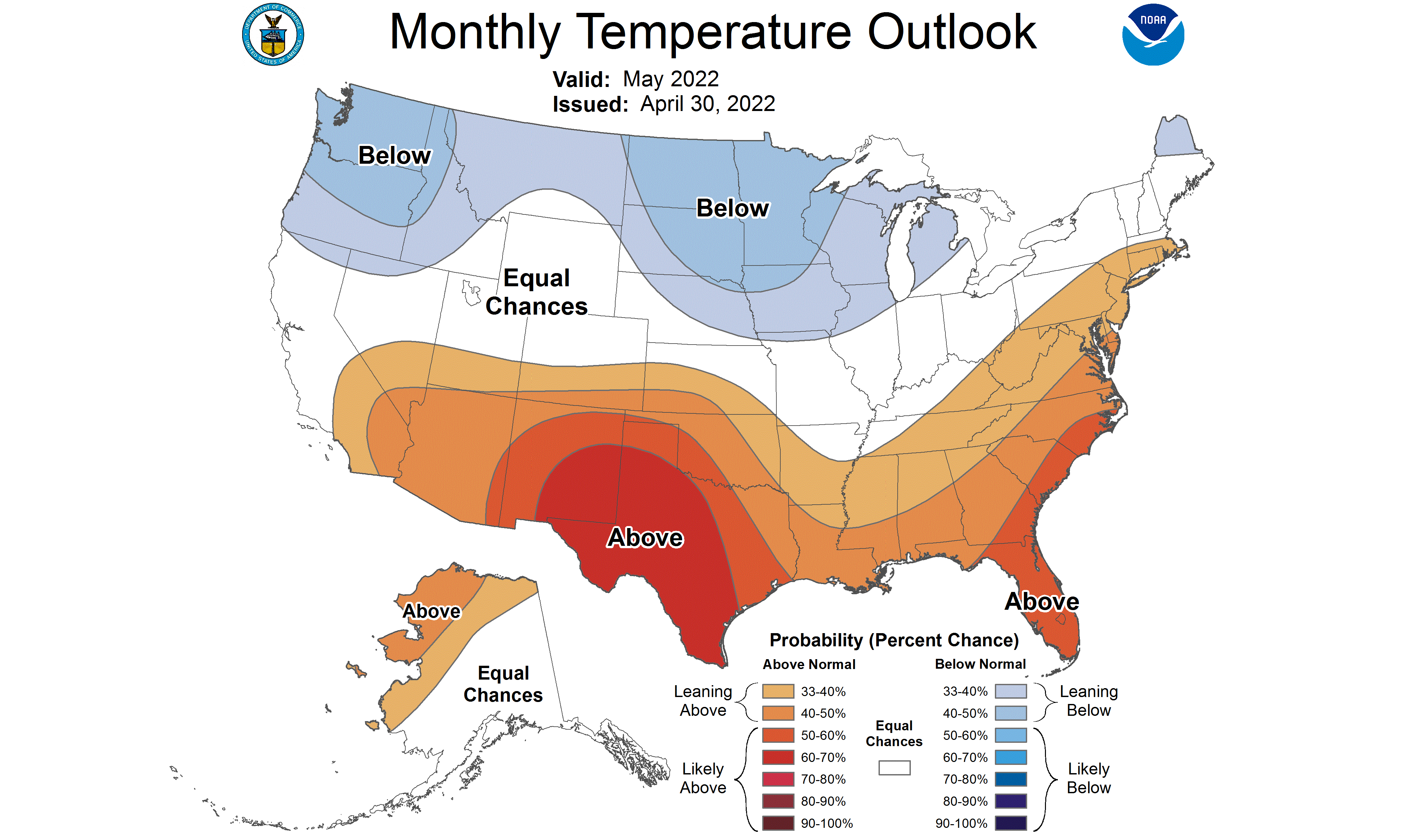 For May 2022, the climate outlook favors cooler and wetter than average conditions for South Dakota. There is more confidence early in the month than later in the month for this pattern to hold. Although this is good news for the 70 percent of the state that is currently experiencing drought conditions, the saturated soils of north central and northeastern regions do not need any more rainfall at this time. Cool air and soil temperatures have stalled the planting for corn and soybeans, as frost did not come out of the soils until the last week of April. As temperatures increase in May, soil temperatures will respond quickly, and it is expected that a lot of spring planting will happen rapidly in the drier and moderate moisture soils.
Although some improvements in drought severity have materialized, in part due to cool temperatures reducing water demand and slowing plant growth, a majority of the state is still experiencing drier-than-average conditions. The current drought began in June 2020, and pasture, range and water resources could take some time to recover fully.
A cautious approach to drought recovery and a return to "normal" operations is advised, as the summer climate outlook favors warmer and drier conditions. It is possible that farmers and ranchers could experience some drought relief in the short-term, with a return to drought or re-intensifying in the mid-summer season. The current climate outlook hints at a similarity with 2021, where May was cool and June and July were very hot and dry.
For more drought information and resources from SDSU Extension, visit our drought page.