Written by Alexis Barnes, Graduate Research Assistant, under the direction and review of Kristine Lang and Rhoda Burrows.
South Dakota specialty crop producers, master gardeners and home gardeners have expressed a need for cover crop research to reduce tillage, build up soil nitrogen and attract native pollinators to farms and gardens. Cover crops are expanding across the Midwest for many agricultural uses, which means more research will support farm communities and encourage farm profitability, cover crop integration, and improve soil health conditions.
Clover Varieties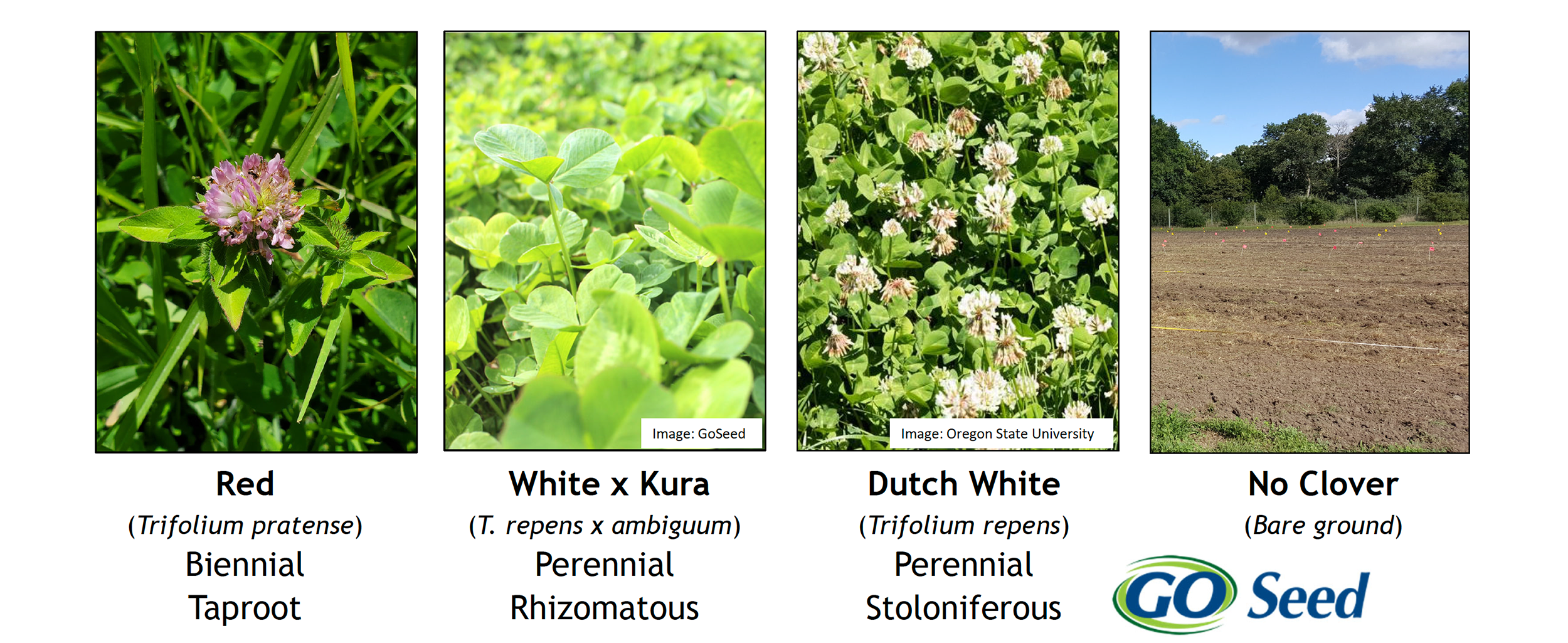 Research Overview
The goal of this research project is to analyze early-season clover cover crop planting effects on vegetable crop production. Four different field conditions are being used to understand the different clover and cash crop interactions with soil management techniques. Treatments are randomized and replicated in four sets. Three different clover varieties were planted with an oat nurse crop, and a bare ground treatment is used as a control practice. Clovers were planted on April 26, 2022, using a 5-foot-wide, no-till drill pulled by a tractor. 'Dynamite' Red Clover was planted at a rate of 9.8 lbs./A, with a target population of 53 plants per square foot. 'Domino' White Clover was planted at 6.1 lbs/A and 'Aberlasting' White x Kura Clover cross had a planting rate of 9.5 lbs./A. The target population for both the 'Domino' and 'Aberlasting' was 75 plants per square foot. The 'Jerry' Oat nurse crop was planted at a rate of 35 lbs./A. Each clover treatment and bare ground plot is divided into four separate 12-foot row management systems, which consist of no-till fabric, tilled fabric, no-till (no fabric) and tilled (no fabric, bare ground) treatments. Each 12-foot tilled treatment row received two tillage passes with a walk behind BCS 739 tiller prior to vegetable planting. 36-inch-wide woven, black landscape fabric was used for all fabric treatments and required a propane torch to burn 20 holes, in double rows spaced 18-inches apart between the rows and 12-inches apart within the rows; a 6-inch stagger was used between the two rows. 'Red Knight' bell peppers were seeded on April 5 and transplanted into the field on June 3, and 'Imperial' broccoli was seeded on June 7 and transplanted into the field on July 18. Broccoli was covered with a woven ProtekNet row cover on August 15 to deter deer and grasshopper damage.
Data Collection Procedures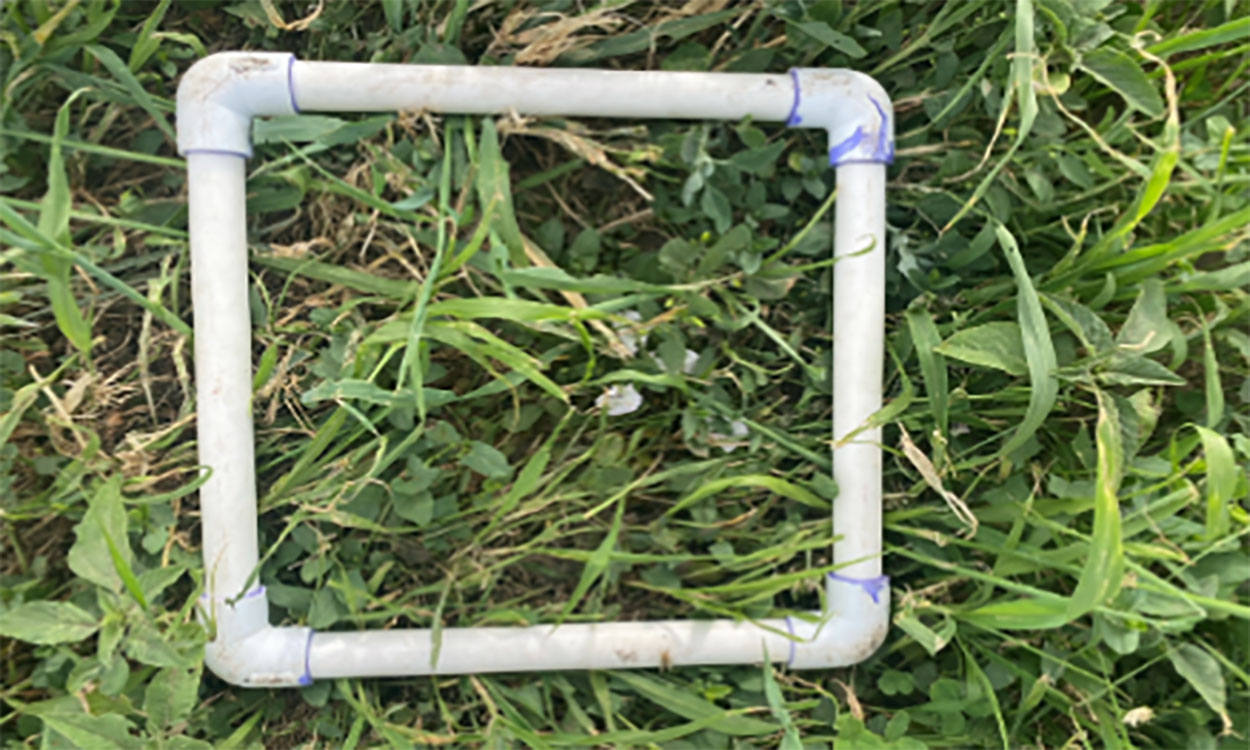 Anytime a mowing or weeding event is necessary, data must be collected before these events occur. Data collection consists of two 25 by 25 cm quadrats randomly tossed in each subplot to measure weed, oat and clover height to note competition and clover growth. Once data is collected, clover, oat and weed biomass are cut and dried in 140 degrees Fahrenheit for approximately five days. In the meantime, each bare ground condition is hand cultivated using a stirrup or collinear hoe, and each clover treatment is mowed at a 4 to 6 inch height. Cultivation, mowing and weeding events are all timed in order to understand the potential labor associated with each management practice.
Harvest
Peppers and broccoli are graded into multiple categories to define crop growth. Peppers are sorted into three marketable categories as defined by the USDA: U.S. Fancy (diameter of 3 inches and length of 3-1/2"), U.S. 1 (diameter and length of 2-1/2") and U.S. 2 (anything under 2-1/2"). Non-marketable pepper categories include sunscald, insect damage, disfigurement, disease and blossom end rot. Broccoli is also broken into two marketable categories as defined by the USDA : U.S. 1 (diameter of 4" and above) and U.S. 2 (diameter of 3" and below). Non-marketable broccoli categories include disfigurement, discoloration, hollow stem, pith, insect damage and disease control. Harvest of peppers began on August 17 and has occurred approximately every two weeks. Broccoli harvest is anticipated to start the week of September 19.
Vegetable Cultivars
Imperial Broccoli
(Brassica oleracea)
Red Knight Pepper
(Capsicum annuum)
Acknowledgements
This trial would not be possible without the Lang Lab research team undergraduate research assistants: Jacob Koch, Ellie Fitzpatrick, Serena White, and Anne Knofczynski. Thank you to the USDA Specialty Crop Block Grant Program administered by the South Dakota Department of Agriculture and Natural Resources for funding this project. Thank you to the Agronomy, Horticulture, and Plant Science Department for support in allocating field space and expanding horticultural research at South Dakota State University.