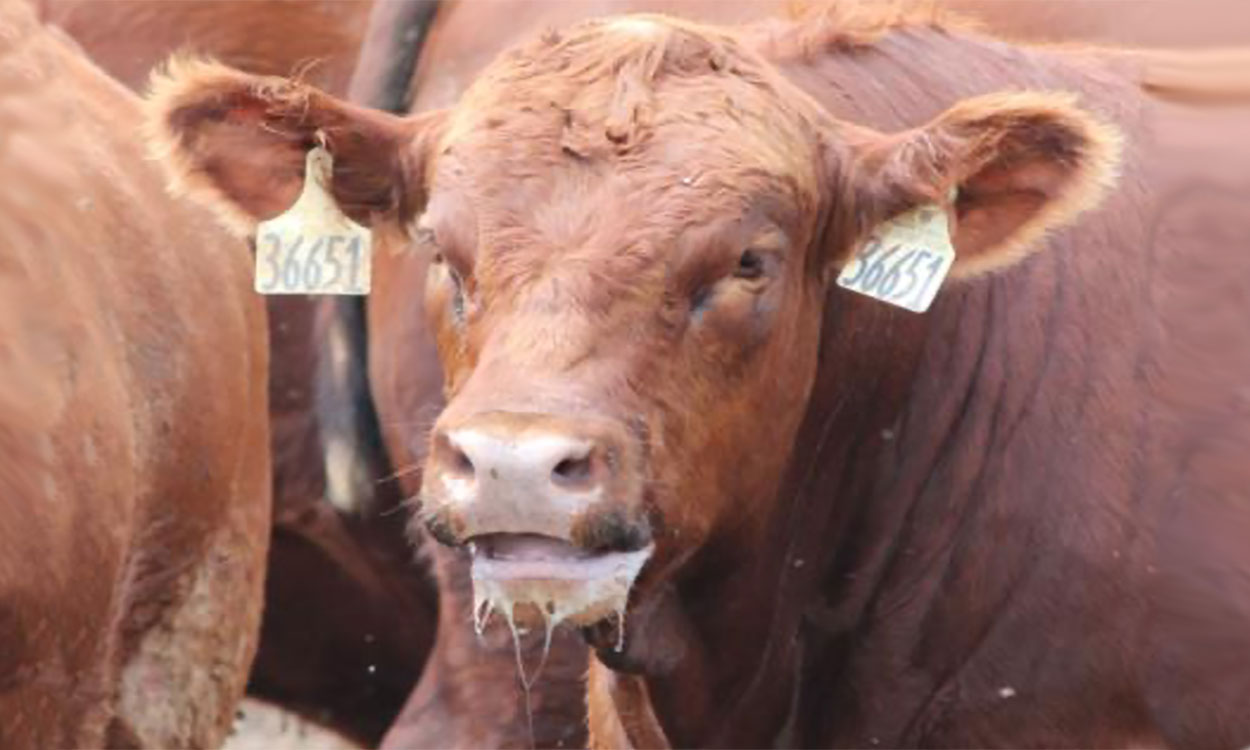 The transition from spring to summer often happens seemingly overnight; cold, cloudy conditions one day followed by sunny conditions with warm (or even hot) temperatures the next. Those rapid transitions can trigger heat stress responses in cattle, even if the actual weather conditions do not appear to be that severe.
The biggest cause of early summer heat stress in feedlot cattle is rapid changes in temperature and humidity before cattle become acclimated to warmer conditions. Cattle can and do become accustomed to warmer temperatures, but that adjustment takes time. Also, many cattle in late spring have not slicked off their hair coat. Finally, late spring is very often associated with wet conditions, leading to increased humidity and mud, both of which increase the risk of losses caused by heat stress.
Cattle are not the only ones who get "fooled" by the weather. Hot weather conditions can also catch cattle feeders off guard. Researchers from SDSU, University of Minnesota and the University of Nebraska surveyed feedlot managers in those respective states about the strategies they followed to handle heat stress in their cattle Heat Stress Mitigation Strategy Survey. They found that most managers used observed weather conditions or cattle behavior as a trigger to take steps to alleviate heat stress. Relying on actual weather conditions or cattle observations tells us what we need to do today, but it is less useful as a tool to begin planning and being proactive. Only about one-fourth of the respondents used some form of a heat stress alert system.
Livestock Stress Tool
© South Dakota Board of Regents
SDSU Extension worked with Mesonet at SDState to develop the Livestock Stress Tool – providing producers with current climate conditions and different measures of livestock environmental stress.
To help cattle feeders proactively manage their livestock, SDSU Extension and the South Dakota Mesonet have teamed up to provide the Livestock Stress Tool. This resource uses data collected from Mesonet weather stations located across South Dakota to provide real-time and forecasted measures of environmental risk to livestock.
The Livestock Stress Tool reports three indexes to measure heat stress: Heat Index (HI), Temperature Humidity Index (THI) and Comprehensive Climate Index (CCI). Dr. Terry Mader, retired University of Nebraska researcher, developed the CCI using temperature, relative humidity, solar radiation and wind speed data.
Users can follow the link below to view the tool or watch the included video for additional details about using it.
Shades
© South Dakota Board of Regents
Learn how to reduce heat stress on cattle by constructing auxiliary cattle shades and water troughs. Commentary by Extension Cow/Calf Field Specialist Jim Krantz & Ag Engineer Steve Pohl.
Proactively addressing heat stress reduces the risk of performance loss and animal mortality. One of the key findings from the Heat Stress Mitigation survey project was that shades or buildings were the most-desirable mitigation measures.
Shades offer a number of appealing attributes, particularly the fact that once set out, no further decisions are necessary, unlike sprinklers.
The included video, featuring Steve Pohl, retired SDSU Extension Ag Engineer, and Jim Krantz, retired SDSU Extension Cow/Calf Field Specialist, provides real-world examples of successful use of shades to reduce heat stress on cattle.
Management Tips
Deploying shades is often not an option if heat stress events are imminent. There are though various management strategies that can be put into place to reduce risk. As with most aspects of livestock production, some approaches are more feasible than other in certain circumstances. Potential ideas include:
© South Dakota Board of Regents
SDSU Extension Cow/Calf Field Specialist Warren Rusche presents critical tips for cattle producers to deal with heat stress including water requirements, handling considerations and feed management.
Be ready early.
Starting mitigation measures before the situation reaches emergency status will better help cattle adapt to changing environment.

Provide additional water capacity.
Making certain that sufficient water capacity is available is critically important for the health and welfare of the cattle. Cattle can require twenty gallons or more of water per day when the temperature exceeds 80°F, with at least half that demand occurring during a short timeframe in the afternoon. Two to four inches of water space per head (or 1000 pounds live weight) is required to ensure cattle can access enough water. If these conditions are not met by existing facilities, providing additional water tanks may be required.

Sprinkler application.
Using water application to reduce the effects of heat stress is well-proven. Applying water early in the day provides opportunities to create a cooler pen surface and dissipate heat before peak temperatures. The downside is the potential for creating muddier pen surfaces, particularly during high-precipitation summers or in poorly drained pens.

Reduce energy intake from feed.
Lessening the amount of dietary energy consumed by cattle, either by slightly reducing feed intake or decreasing the energy density of the diet, has been shown to help cattle cope with heat events. In addition, feeding a greater proportion of the diet later in the day shifts peak metabolic heat load a time when temperatures are not at their peak.