Written by Kayla Paszek under the direction and review of Megan Erickson.
Spring and warmer weather is here, which means it's time to dig the grill out and start cooking! Some might think grilled food can be only enjoyed in the warm months, but grilling can be done any time of the year. Grilling offers a delicious, healthy way to cook food!
Safety Reminders
The warmer weather can make us eager to fire up the grill, but there are still some safety concerns that could potentially put us in danger.
Read instructions carefully. Before you start any type of grill, make sure you have read and understand the instructions in the User's Manual.
Keep a fire extinguisher handy. Always ensure you have a fire extinguisher within arm's reach in case of an "out of control" fire.
Use long utensils. The use of long utensils such as a spatula, tongs, or a meat fork can prevent hands and arms from getting too close to the open grill.
Know Your Food Safety
Different types of protein have been found most popular on the grill. No matter what your favorite grilling protein might be, always ensure the food has been cooked to the proper internal temperature before consuming. Most meat thermometers recommend inserting the point 1/2 inch into the thickest part of the meat ensuring not to touch any bones or fat, this ensures thorough cooking in the center of the meat as well as giving an accurate read of the actual meat temperature instead of the bones, fat, or gristle.
Seafood: shrimp, fish = 145°F minimum internal temperature
Whole Cuts of Meat: pork chops, steak, ribs = 145°F minimum internal temperature (let rest for 3 minutes)
Ground Meat: ground beef, ground pork = 160°F minimum internal temperature
Poultry: turkey, chicken, wild game = 165°F minimum internal temperature
Aim for Half Your Plate Fruits & Veggies
Fruits & veggies are especially good on the grill. Many vitamins and minerals can be consumed, such as Vitamin C, biotin, folic acid, multiple B vitamins, Vitamin A, Vitamin E, Vitamin K, iodine, and iron. The sweet flavor of certain juicy fruits combats the rich, savory flavor of other grilled food items. Larger pieces of fruit on the grill are recommended to ensure that fragile pieces will not break. Below is a list of common fruits and vegetables for grilling:
Vegetables
bell peppers
tomatoes
onions
zucchini
sweet potatoes
eggplant
mushrooms
broccoli
carrots
potatoes
sweet corn
brussel sprouts
asparagus
Fruits
pineapple
watermelon
apples
bananas
peaches
pears
mangos
cantaloupe
Kabobs/Skewers
A fun twist on traditional grilling can include making a variety of different kabobs on wooden, bamboo, or metal skewers. If using wooden or bamboo skewers, you have the option to soak them in water prior to adding the food just to ensure they do not burn on the grill. Some recipes recommend soaking skewers in water and others do not. Kabobs can be created to include solely meats, solely vegetables, solely fruits, or a mixture of all varieties and colors. It is important to remember food safety on cross contamination if handling raw meat, especially with other foods. Being cautious during preparation can prevent foodborne illness in the future.
Always wash hands between tasks, especially before and after handling raw meat.
Use a separate cutting board and knife for meats, vegetables, and other foods.
Always rinse fruits and vegetable before cutting.
Always separate raw meat from cooked meat.
Grilled Fruit Recipe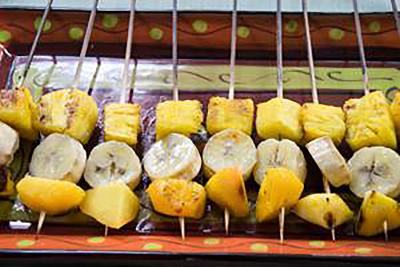 Courtesy: What's Cooking? USDA Mixing Bowl
Ingredients:
1 cup pineapple chunks
1 peach (cubed)
1 banana (sliced)
Directions:
Place fruit chunks on a skewer to make kabobs.
Grill or broil on low heat until the fruit is hot and slightly golden.
Notes:
Makes 3 servings.
If using wooden skewers, thoroughly soak skewers in water prior to using to prevent burning (approximately 30 minutes).
Nutrition Information (per serving): Calories: 104, Fat: 0g, Carbohydrates: 27g, Fiber: 2g, Protein: 1g, Sodium: 1mg, Cholesterol: 0mg.
References: