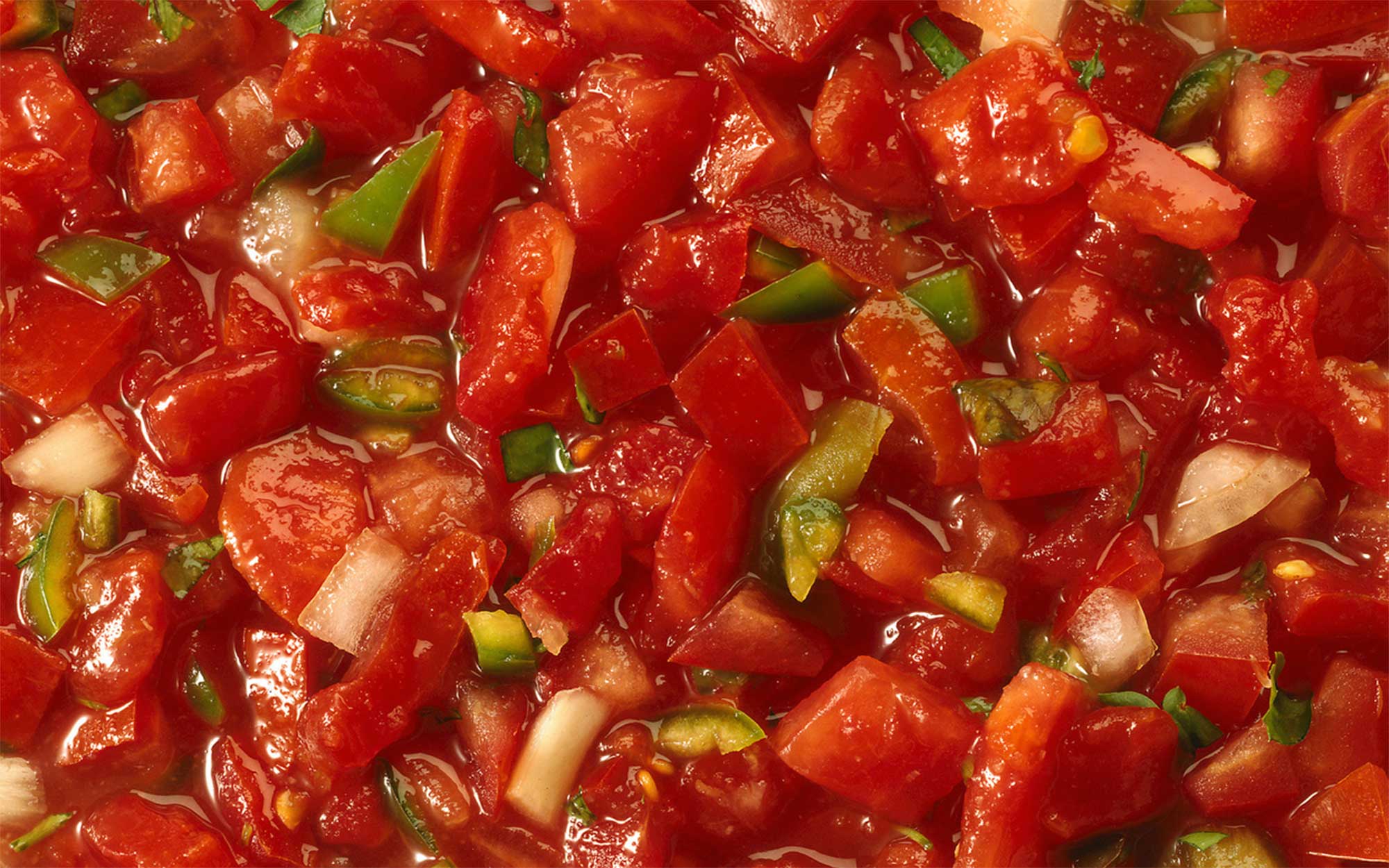 Originally shared by Megan Erickson, former SDSU Extension Nutrition Field Specialist.
Try this research-tested recipe for canned choice salsa courtesy of the National Center for Home Food Preservation.
Ingredients
6 cups, Peeled, cored, seeded and chopped ripe tomatoes
9 cups, Diced onions and/or peppers of any variety
1 ½ cups, Bottle lemon or lime juice
3 teaspoons, Canning or pickling salt
Yield: Makes about 6 pints.
Directions
To Prepare
Dip washed tomatoes in boiling water for 30 to 60 seconds, or until the skins split. Submerge in cold water; peel off loosened skins and remove cores. Remove seeds and chop (¼ to ½ inch pieces).
Peel, wash, core and dice onions (¼ inch pieces).
Wash and core bell peppers. Remove the seeds and membranes before dicing (¼ inch pieces).
Wash and remove stems of hot peppers. Keep or remove as much of the seeds and membrane as you wish. Dice peppers (¼ inch pieces).
Salsa
Combine prepared ingredients in a large pot; add lemon juice and salt.
Bring to a boil over medium heat while stirring. Continue stirring, reduce heat, and simmer for 3 minutes.
Fill the hot salsa into prepared hot jars, leaving ½ inch of headspace. Remove air bubbles and wipe the rims of the jars with a clean towel.
Secure lids and process in a water bath canner for 15 minutes (Altitudes above 1,000 ft require an increase in processing time).
Canning Tips
Preparation
When preparing the peppers:

The jalapeño peppers do not need to be peeled.
The skin of long, green chiles may be tough and can be removed by heating the peppers.

Instructions on water bath canning can be found in this resource.
Adjusting for Altitude

Altitude (feet)

Water Bath (minutes added)

1,001-2,000

5 minutes

2,001-4,000

5 minutes

4,001-6,000

5 minutes

6,001-8,000

10 minutes

8,001-10,000

10 minutes
SDSU Extension recommends using evidence-based recipes when engaging in food preservation at home. The recipe above has been research-tested and provided by the National Center for Home Food Preservation. Do not modify ingredients.