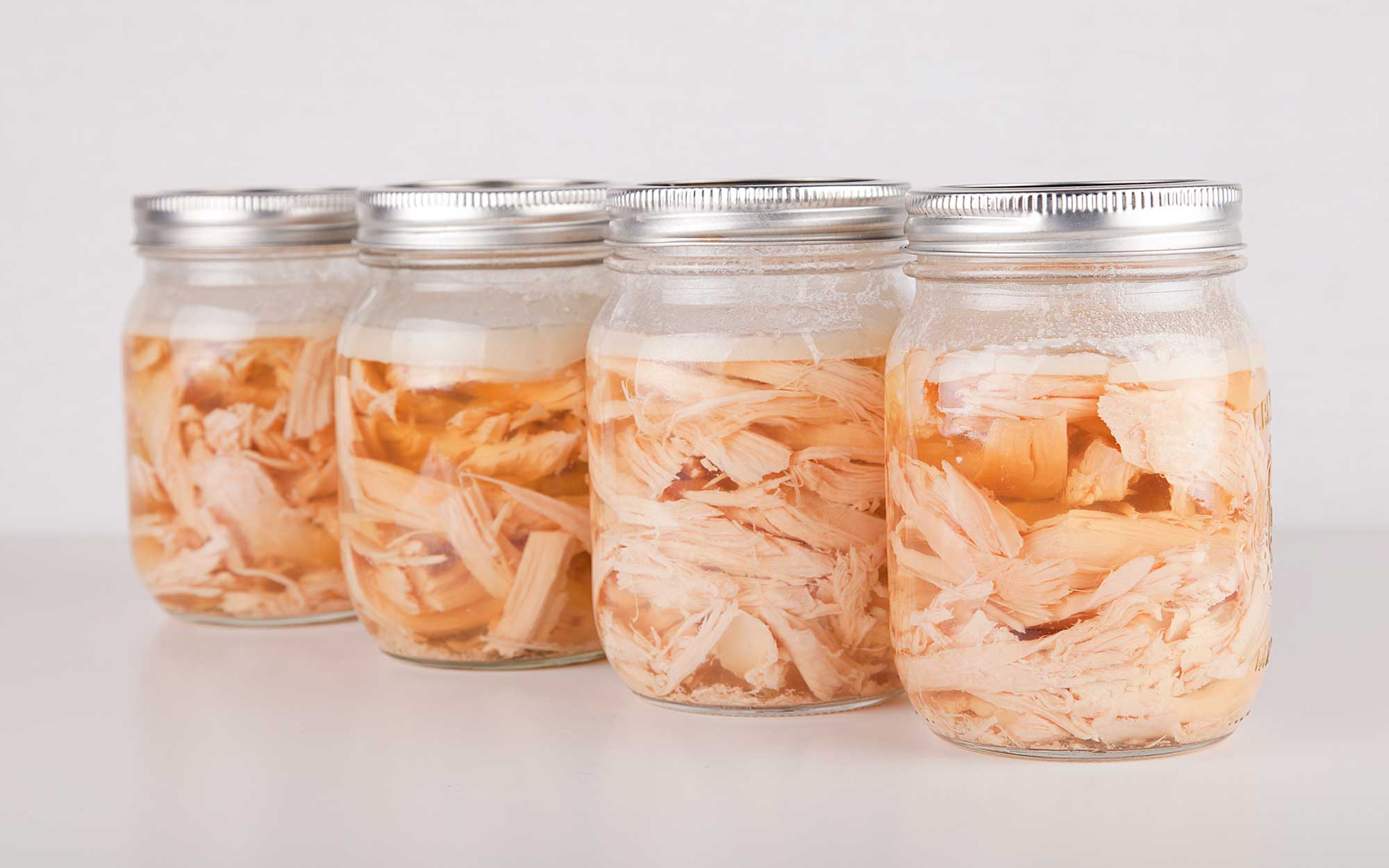 Originally shared by Megan Erickson, former SDSU Extension Nutrition Field Specialist.
Try this research-tested recipe for canned, boneless chicken courtesy of the National Center for Home Food Preservation.
Ingredients
Chicken or rabbit
Salt (optional)
Yield: Quart jars.
Directions
TO PREPARE
Dressed chicken should be chilled for 6 to 12 hours before canning. Dressed rabbits should be soaked 1 hour in water containing 1 tablespoon of salt per quart, and then rinsed. Remove excess fat. Cut the meat into suitable size to fit in jars.
Canning Chicken
Raw or hot pack with 1 teaspoon salt per quart, if desired.

To raw pack: Fill jars loosely with raw meat pieces, leaving 1 ¼ inch headspace. Do not add liquid.
To hot pack: Boil, bake or steam meat until about two-thirds done. Pack hot meat loosely into hot jars and cover with hot broth, leaving 1 ¼ inch headspace.

Secure lids and process in a pressure canner (90 minutes for quarts) following the recommended pressures below.
Canning Tips
Preparation
Choose freshly slaughtered and dressed healthy animals.
Large chickens are more flavorful.
Use only good-quality poultry.
Instructions on pressure canning can be found in this resource.
Adjusting Pressure for Altitude

Altitude

Dial-Gauge
(Lbs. Pressure)

Weighted-Gauge
(Lbs. Pressure)

0-1,000

11

10

1,001-2,000

11

15

2,001-4,000

12

15

4,001-6,000

13

15

6,001-8,000

14

15

8,001-10,000

14

15
SDSU Extension recommends using evidence-based recipes when engaging in food preservation at home. The recipe above has been research-tested and provided by the National Center for Home Food Preservation. Do not modify ingredients.