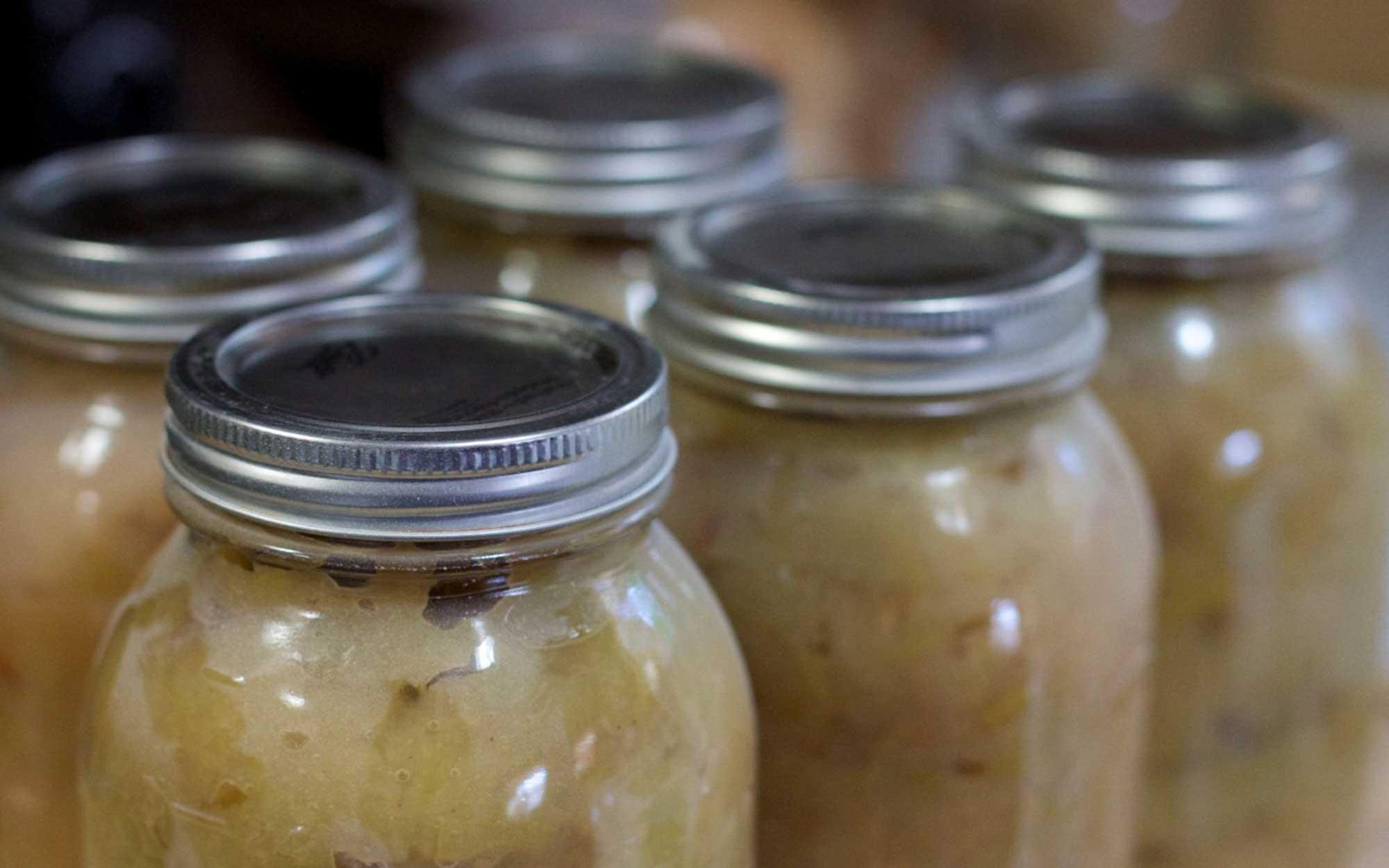 Originally shared by Megan Erickson, former SDSU Extension Nutrition Field Specialist.
Try this research-tested recipe for canned applesauce courtesy of the National Center for Home Food Preservation.
Ingredients
21 pounds, Apples, sweet
3 grams, Ascorbic acid (optional)
1/8 cup, Sugar (optional)
Yield: Makes about 7 quarts.
Directions
To Prepare
Wash, peel, and core apples. If desired, slice apples into 1 gallon of water containing 3 grams of ascorbic acid to prevent browning.
Applesauce
Place drained slices and ½ cup water in a 8-to-10-quart pot. Stirring occasionally to prevent burning, heat quickly until tender; about 5 to 20 minutes.
Press through a sieve or food mill, or skip the pressing if a chunk-style sauce is preferred.
Sauce may be packed without sugar, but if desired, add 1/8 cup sugar per quart of sauce. Reheat sauce to boiling.
Fill jars with hot sauce, leaving ½-inch headspace. Secure lids and process using a water bath for 20 minutes (Altitudes above 1,000 ft require an increase in processing time).
Canning Tips
 Selection & Preparation
If a tart flavor is preferred, add 1 to 2 pounds of tart apples to each 3 pounds of sweet apples.
More sugar can be added to taste during step 3.
Can purchase commercially prepared ascorbic acid mixture. Follow directions on package.
Instructions on water bath canning can be found in this resource.
Adjusting for Altitude

Altitude (feet)

Water Bath (minutes added)

1,001-2,000

5 minutes

2,001-4,000

5 minutes

4,001-6,000

5 minutes

6,001-8,000

10 minutes

8,001-10,000

10 minutes
SDSU Extension recommends using evidence-based recipes when engaging in food preservation at home. The recipe above has been research-tested and provided by the National Center for Home Food Preservation. Do not modify ingredients.