Written by Kayli Bucholz and Alyssa Kauffman under the direction and review of Nikki Prosch.
Good news! You can use your own body weight to help build strong muscles and bones, no equipment needed! Bodyweight training is a type of muscle-strengthening exercise in which your own weight provides resistance against gravity during movements. Movements that include pushing, pulling, bending, twisting, balancing, and squatting can all help provide that resistance.
There are several ways incorporate bodyweight training in your regular movements, some include squats, pilates, yoga, push-ups, and doing different forms of ab workouts. A little physical activity can go a long way, and you don't have to spend hours for training to be beneficial. Adults should aim to incoroporate muscle-strengthening exercises on 2 or more days each week.
Start slow and at a low intensity. Work to complete 8-12 repititions, repeating each exercise 2-3 times. Take about a one minute break between reps. If that becomes easy, try to add weights, reps or equipment like resistance bands or dumbbells to continue to progress. As with any exercise, be sure to listen to your body.
Body Weight Exercises to Try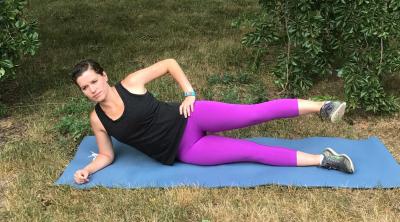 Reclined Side Leg Raise
Lay on your side, with one forearm on the ground.
Keep toes pointing forward and extend both legs out straight.
Raise the top leg up, slowly, and then bring it back down to meet the other.
Arm Pump Twists
Start in a seated position and gently lean back to engage the core.
Avoid putting pressure on your lower back.
Open your arms wide at shoulder level.
Slowly twist tordo from side to side.
Wall Push-Ups
Stand an arm's length in front of a wall that doesn't have any paintings, decorations, windows or doors.
Lean forward slightly and put your palms flat on the wall at the height and width of your shoulders.
Keep your feet planted as you slowly bring your body towards the wall.
Gently push yourself back so that your arms are straight.
Core-Strengthening Exercises
View Building a Strong Core for step-by-step instructions on a variety of body weight exercises, including:
Planks
Bridges
Superman Pull