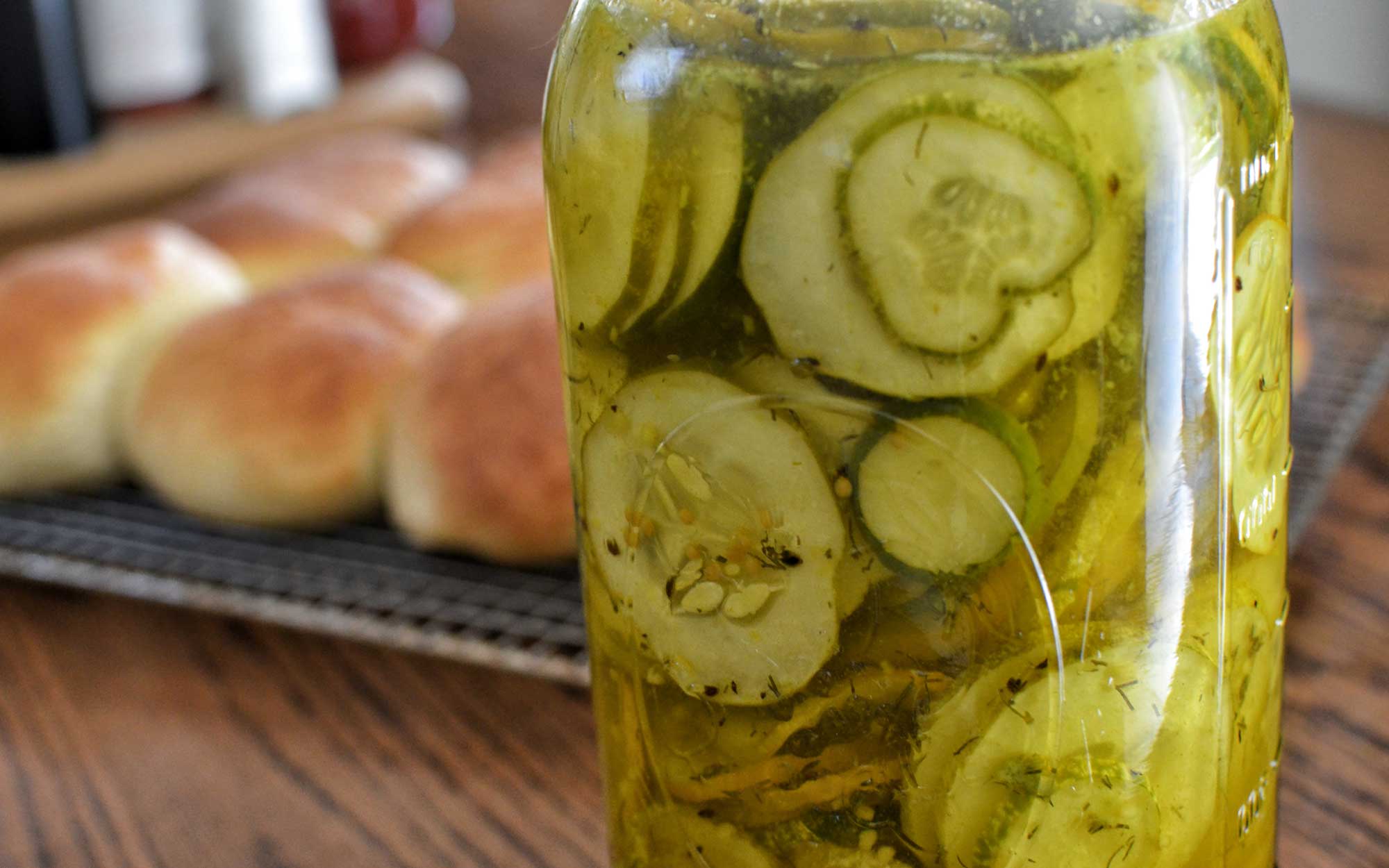 Originally shared by Megan Erickson, former SDSU Extension Nutrition Field Specialist.
Try this research-tested recipe for bread-and-butter pickles courtesy of the National Center for Home Food Preservation.
Ingredients
6 pounds, Pickling cucumbers (4 to 5 inch)  
8 cups, Onions, thinly sliced (about 3 lbs)
½ cup, Canning or pickling salt
4 cups, Vinegar (5%)
4 ½ cups, Sugar
2 tablespoons, Mustard seed
1 ½ tablespoons, Celery seed
1 tablespoon, Ground turmeric
1 cup, Pickling lime (optional – makes firmer pickles)
Yield: Makes about 8 pints.
Directions
To Prepare
Wash cucumbers. Cut 1/16-inch off blossom end and discard. Cut into 3/16-inch slices.
Pickles
Combine cucumbers, onions, and salt in a large bowl. Cover with 2 inches of ice. Refrigerate 3 to 4 hours, adding more ice as needed.
Combine remaining ingredients in a large pot and boil 10 minutes. Drain and add cucumbers and onions; slowly reheat to boiling.
Fill jars with slices and cooking syrup, leaving ½-inch headspace.
Secure lids and process in a water bath canner for 10 minutes (Altitudes above 1,000 ft require an increase in processing time).
For firmer pickles
Complete the "to prepare" step.
Mix 1 cup pickling lime and ½ cup salt to 1-gallon water in a 2-to-3-gallon crock or enamelware container.
Soak cucumber slices in lime water for 12 to 24 hours, stirring occasionally.
Remove from lime solution, rinse and re-soak one hour in fresh, cold water.
Repeat the rinsing and soaking steps two more times. Drain well.*
Continue with steps 3 and 4 listed in the first method above.
*In this option, onions are not limed.
Canning Tips
Adjusting for Altitude

Altitude (feet)

Water Bath (minutes added)

1,001-2,000

5 minutes

2,001-4,000

5 minutes

4,001-6,000

5 minutes

6,001-8,000

10 minutes

8,001-10,000

10 minutes
SDSU Extension recommends using evidence-based recipes when engaging in food preservation at home. The recipe above has been research-tested and provided by the National Center for Home Food Preservation. Do not modify ingredients.