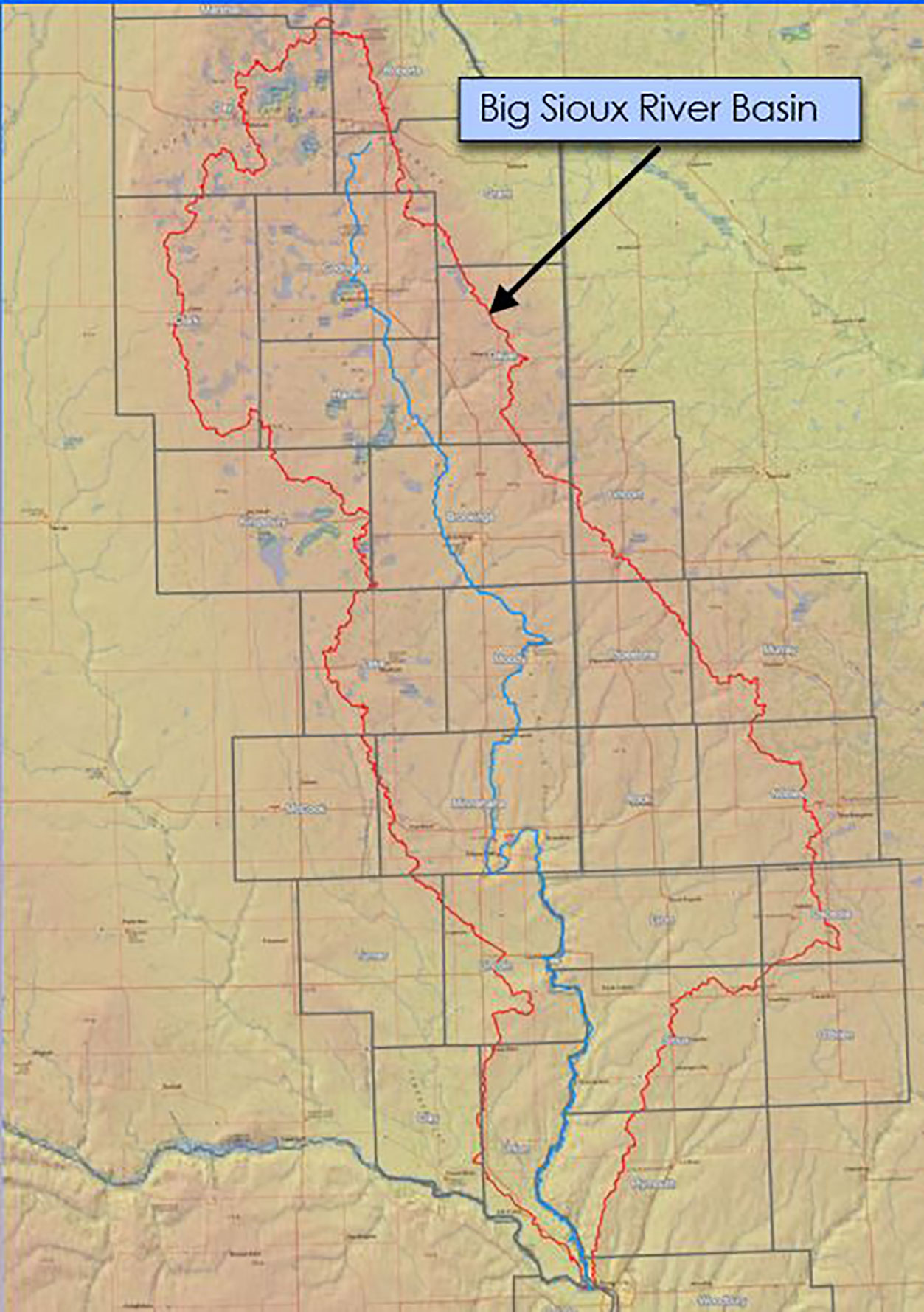 Written collaboratively by David Kringen and Tim Cowman.
The Big Sioux River Flood Information System (BSRFIS) is the result of a combined effort between the SD Department of Environment and Natural Resources, local governments, and private industry, to create a product that can be used to predict the impact of flood events in the Big Sioux River Basin. New hydrologic and hydraulic models that more accurately reflect the hydrology of the Big Sioux River Basin are the foundation of the BSRFIS. Using model information and LiDAR, thousands of inundation maps have been created and stored in a map library for retrieval on demand by users of the BSRFIS. The model runs include various scenarios that may be encountered during a flood event, such as breaching of levees and debris plugged bridges. New streamgages have been installed on the Big Sioux River and key tributaries to help monitor real time river stages and predict maximum stages during a flood.
Unique to the BSRFIS is its ability to explore different flood scenarios by manipulating peak flows on the Big Sioux River or other key tributaries such as Six Mile Creek near Brookings or Skunk Creek near Sioux Falls. By manipulating flows, users can view different inundation maps.
The new modeling and streamgages helps the National Weather Service and state and local officials more accurately predict river stages in a flood event. This flood information system can be used by local, state, and federal entities to evaluate flood conditions and determine appropriate response actions. In addition to enabling better response to flood events, the outcome of this project will help local governments and their citizens evaluate options for future development and changes in infrastructure.
The BSRFIS was used extensively by local, state, and federal government officials, as well as citizens to predict the impact of floods in the basin in 2018 and 2019. The BSRFIS was especially beneficial in the Watertown, Dell Rapids, Sioux Falls, and North Sioux City areas during the flooding created by the bomb cyclone weather events of March 2019. Local officials were able to use the BSRFIS to determine where flood preparing efforts needed to be concentrated and how high flood protection structures needed to be built.
The BSRFIS can be accessed online. For more information about the BSRFIS, contact Tim Cowman with the SD Department of Environment and Natural Resources.