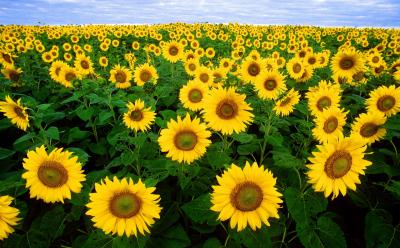 A visitor from Japan takes pictures of a field of sunflowers in full bloom. A visitor from San Francisco rides on a hay wagon through a pasture and views the cattle grazing nearby. A visitor from Chicago stays at a country bed and breakfast and gathers eggs and pets the goats in a nearby pen. What do all those activities have in common for the visitors? They are taking part in activities that could be a part of an agritourism enterprise on a nearby farm or ranch or maybe even on your operation.
According to Webster's dictionary, agritourism is the practice of touring agricultural areas to see farms and often to participate in farm activities. It is a niche in the tourist industry that allows connects visitors to agriculture. While we might thing the chores we do to maintain our operations are not too exciting, but for many people, all those chores are something new.
Is agritourism a good fit for South Dakota? Agriculture is our top industry. According to the SD Department of Agriculture website, agriculture generates 20% of our state's economic activity, with an economic impact of $25.6 billion each year. The SD Department of Tourism website shares that visitor spending generated $6.2 billion in total business sales in 2017. For our state, those are big numbers and it might make sense to find opportunities to combine the two industries.
We might think that most of our visitors to agritourism enterprises would come from urban areas but I think we would also draw those who work in agriculture in other states of countries as visitors too. For those who work the land, agriculture is a not only a career, but a passion and a way of life. Those people often enjoy the chance to see agricultural enterprises that are operated in a way different from their own.
A couple of months ago, I had the opportunity to visit with two groups of farm and ranch operators participating in beefSD. beefSD is an intensive 2- year educational program for beginning producers to increase knowledge and understanding of all aspects of the beef industry and develop the skills needed to be successful. During our discussion, I asked participants why an agritourism enterprise might a good fit for a farm or ranch operation. It was mentioned how far removed so many people are from agriculture and this is a way to teach them how important agriculture is in our lives and build relationships with them. Other reasons included the opportunity to diversify an operation, bring in additional income and involve additional family members.
In a very short brainstorming session, nearly thirty potential agritourism opportunities were identified, including everything from star gazing, bird watching and geocaching to event venues and corporate retreats.
What are your ideas? What could adding an agritourism enterprise contribute to your operation? What resources do you need to make it happen?
Recently a South Dakota Agritourism Work Group was formed with members from SD Dept. of Tourism, SD Dept. of Agriculture and representatives of several other entities. We are working to explore opportunities to encourage, promote and support agritourism across South Dakota.
While you are visiting Dakotafest, please stop by the SDSU booth and locate the SD Agritourism Workgroup booth. We would appreciate your ideas and input as we explore opportunities to encourage, promote and support agritourism across South Dakota. And don't forget that free SDSU ice cream provided each day at noon. We will also have a booth at the Value Added Tent at the SD State Fair on Thursday, August 30.
If you aren't able to connect with us at Dakotafest or the State Fair and would like to learn more about efforts to promote agritourism in South Dakota, please feel free to contact me.