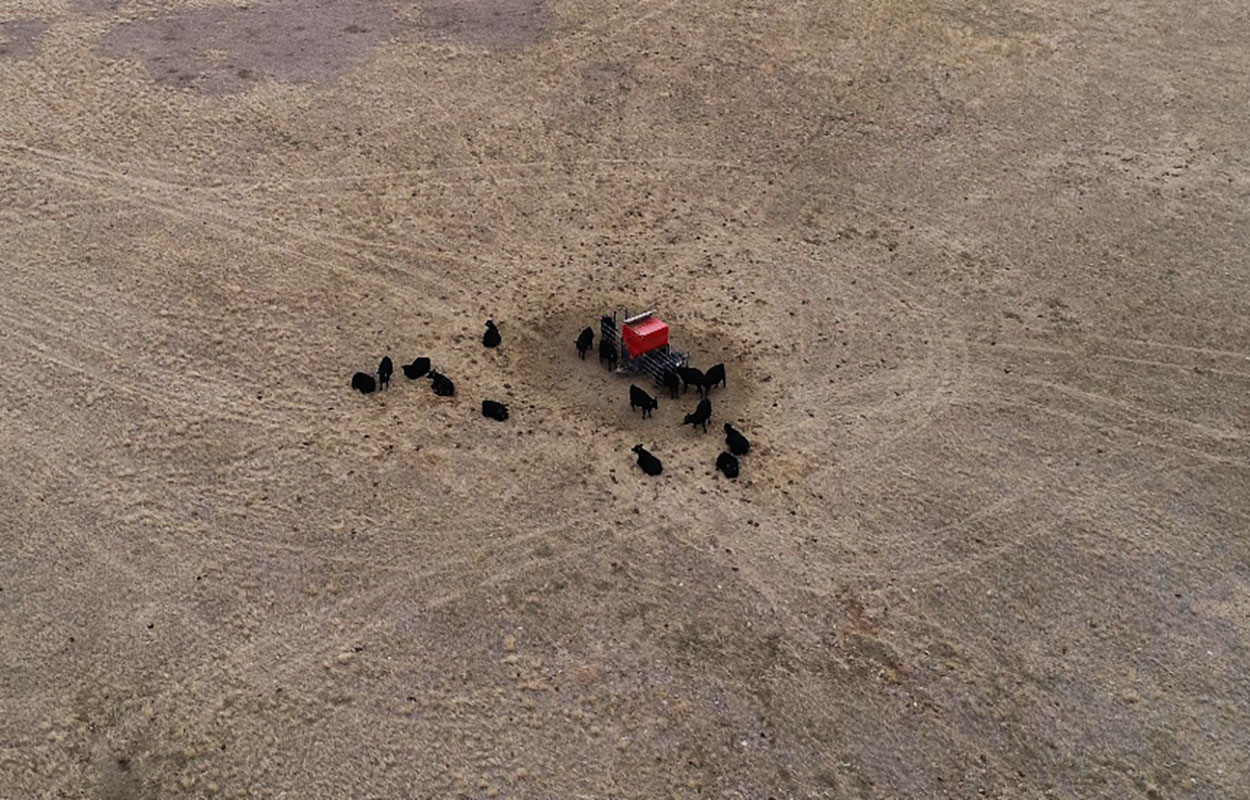 Written collaboratively by Jameson Brennan, Krista Ehlert and James Bolyard.
Unmanned aerial vehicles (drones or UAVs) have been used widely for precision agriculture within cropping systems. More recently, livestock producers have been interested in utilizing drones as a tool for monitoring grasslands, checking cattle, inspecting fences, and monitoring water sources. A considerable amount of information is out there about the current and potential uses for drones, but if you are interested in integrating drones into your operation, there are a few things to know.
Drone Pilot License Requirements
The use of drones is regulated by the Federal Aviation Administration (FAA). Drone regulations can differ depending on the intended use, recreational or commercial. For those wishing to fly their drone recreationally, The Recreational UAS Safety Test is required and is available for free online on the FAA website. Commercial drone pilots fall under the Code of Federal Regulations Part 107 and are required to be a licensed remote pilot. Though flying a drone over your pasture to view a water tank may seem like a recreational activity, because it is being used on a commercial operation, it is best to err on the side of caution and obtain a remote pilot license.
Part 107 licensure does not require that you take a training course, and free test prep materials are available online through the FAA website. In addition, many third-party Part 107 test prep programs exists, and often times may contain more up-to-date information regarding drone regulations. Topics covered on the test range from understanding airspace classification and regulations, to impacts of weather on aircraft performance. Once you are ready to test, you will start by creating an account on the FAA's Integrated Airman Certification Rating Application (IACRA) site. From there, you will create an account with a company called PSI, the third-party contractor that the FAA utilizes to run their testing, and schedule a test at an authorized testing center. The cost of the exam is $175, and a minimum passing score of 70% is required. Upon successful completion of the exam, you can formally apply for a remote pilot license, which requires a background check and typically takes 1 to 2 months to receive. Your license is good for 2 years, and a renewal course can be done online for free.
Flying Your Drone
Drones can be registered online before you have a remote pilot's license by creating an account with the FAADroneZone site. Registration costs $5 per drone and is valid for 3 years. Drones that weigh between 0.55 and 55 pounds are required to be registered with the FAA if they are flown recreationally, and all drones, regardless of weight, must be registered if used for commercial purposes. No matter what purpose you are using your drone for, registered drones must be visibly marked with their registration number on the outside of the drone.
During flight, drones must be kept within the visual line of sight at all times of the drone pilot or a designated visual observer, must yield to other aircraft, and must be under the control of the pilot at all times. Airports, hospitals, major sporting events, areas with military operations, and many other things can affect airspace regulation, so be sure to use up-to-date sectional charts when planning flights and check the FAA's B4UFLY app before takeoff to make sure you are in approved airspace.
While they cannot replace eyes on the ground and do require jumping through a few hoops to fly legally, drones could be a worthwhile investment for incorporating technology into your ranching operation. For the safety of your operation and for liability purposes, producers looking to utilize drones on their operation should be familiar with the regulations surrounding drone flights.