Originally written by Nikki Prosch, former SDSU Extension Health & Physical Activity Field Specialist.
Regular outdoor activity and exercise are proven to benefit both physical and mental health. Through a collaborative partnership between the South Dakota Department of Health, South Dakota Game Fish & Parks and SDSU Extension, healthcare professionals are encouraged to sign up and prescribe exercise to their patients through the Park Prescription (Park Rx) program. When participating providers prescribe exercise, their patients fill the prescription by visiting any South Dakota State Park and receive a free day in the park or a discounted annual pass.
Find a state park near you 
The South Dakota Park Rx project aligns with the vision of the Exercise is Medicine® initiative. Park Rx is a great way to encourage physical activity for patients, and our goal with this program is to further increase physical activity assessment and prescription in the healthcare setting.
Adults should aim for 150+ minutes of aerobic (walking, biking, hiking) physical activity each week and at least 2 days of muscle-strengthening (weight training, resistance training) activity per week. Additionally, youth aged 6-17 should engage in 60 minutes or more of physical activity per day. Any Activity Counts.
If you are a healthcare provider and want to learn more about prescribing exercise to your patients, click the blue box below!
visit the Park Rx page
Get Active with Winter Activities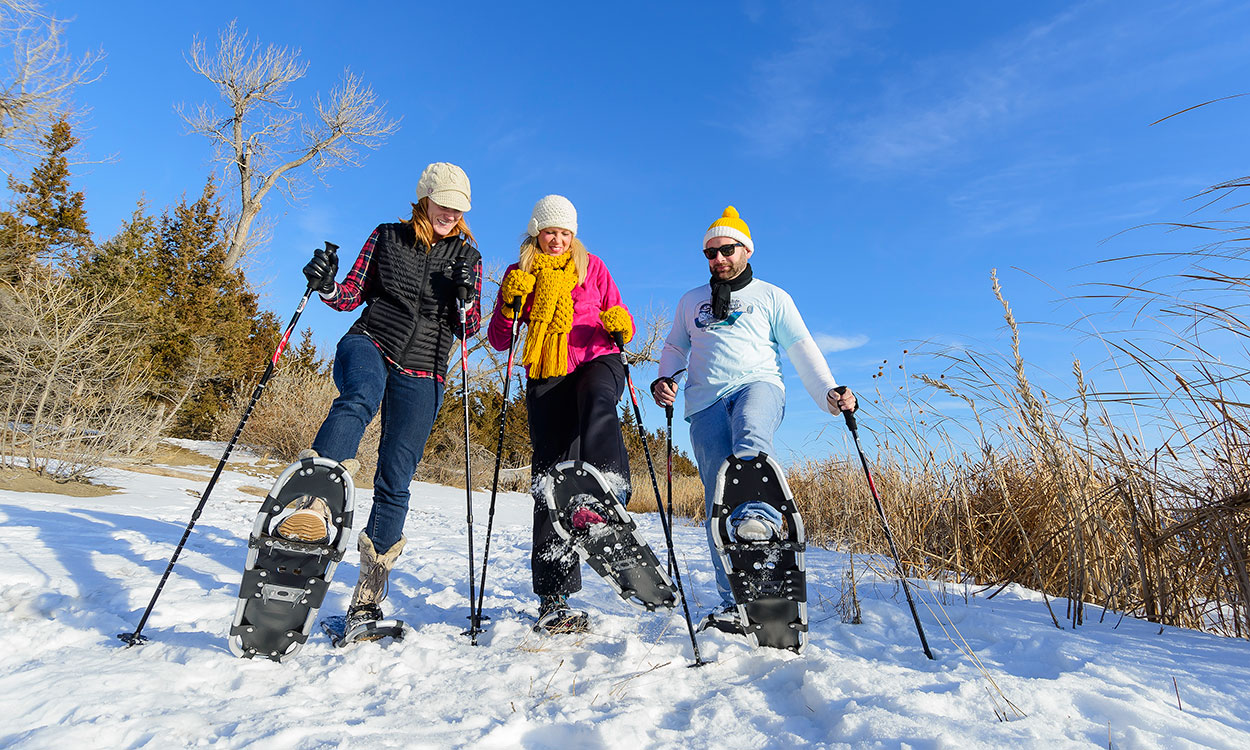 Don't let snow on the ground stop you from moving. Explore the South Dakota state parks and the gorgeous winter scenery with snowshoeing, cross-country skiing, or a wintery hike. Parks host snowshoeing programs throughout the winter, and you can even borrow some to go out on your own for free. Several parks maintain groomed trails for cross-country skiers. A winter hike can be done nearly anywhere, and it showcases even your favorite places in a new light.
Get Active with Low-Impact Activities
Choosing low-impact activities can help keep excessive stress off your joints when getting active. Low impact exercises are ones that don't put high stress on your joints when performing the activity and the movement is fluid and gentle. These include walking, yoga, stationary cycling and swimming. 
Walking is a great aerobic, weight bearing activity that helps maintain bone density and is easy on your joints, especially on accessible trails. Add a fun twist by searching for geocaches or spotting new birds along your walking path. Swimming is another great low-impact activity to try, individuals of any-age can improve cardiovascular fitness, muscle strength and endurance through this activity. Lawn games, like horseshoes and ladder golf, are fun activities you can do with your friends or family and several parks have a variety of games you can check out for free.
Get Active with Group Activities
Bring your balls, frisbees or bats and play a friendly group activity at several parks across the state. With minimal equipment, these activities can be a great small or large group physical activity. The parks make it even easier, several offer equipment checkouts free of cost. Grab your friends, family or pets and enjoy a fun-filled group activity. Several parks have a variety of games you can check out for free as well.
Get Active with Water Activities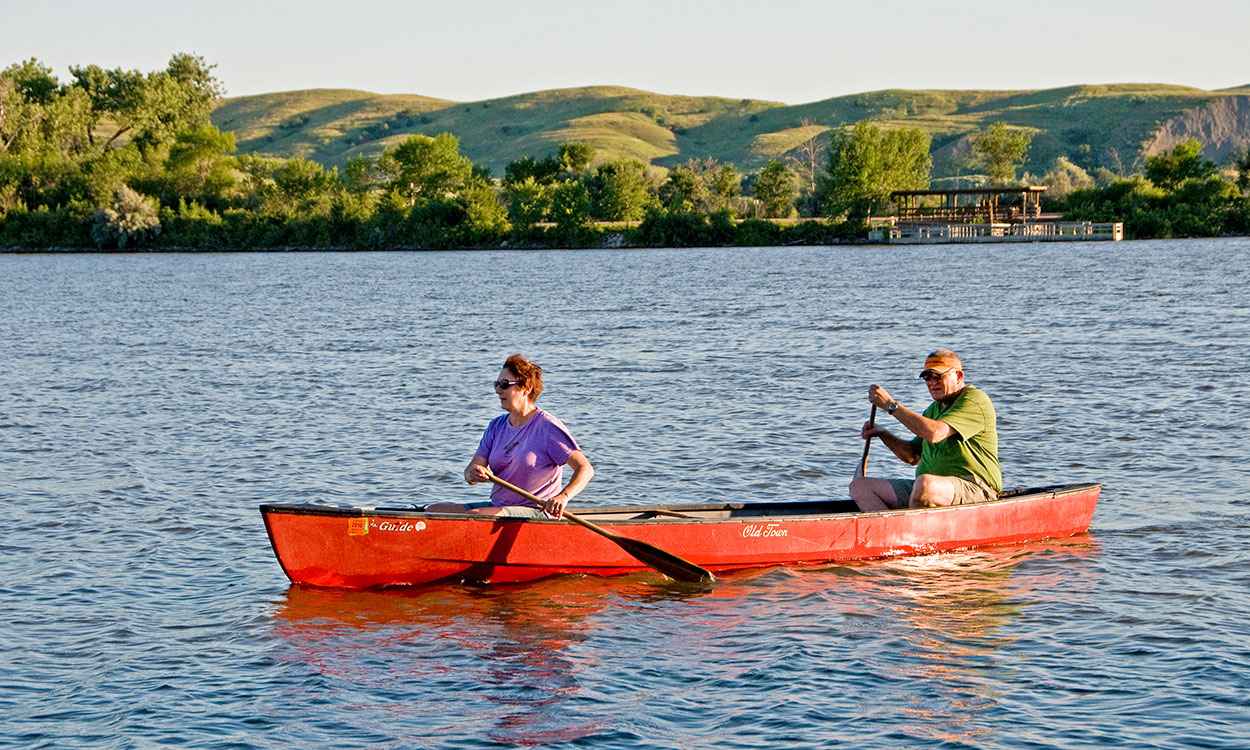 Many of the South Dakota State Parks and Recreation Areas offer swimming, which is a great activity to get your heart beating, cool off and burn some calories. Water activities are a great low-impact option for individuals to keep things gentle on the joints. Canoeing, kayaking and paddle boarding are fun ways to strengthen your muscles and explore the parks. 
Please be mindful of water levels when choosing your water activity. Too high or too low levels can cause extra concern and safety precautions. Here are some additional safety tips from Game, Fish and Parks for fun out on the water:
Do not take canoes, kayaks or paddleboards out in windy and/or stormy conditions.
Make certain there is at least one adult in the canoe or kayak with minors.
Make certain that all lifejackets fit properly and are zipped/hooked correctly.
Do not stand in a canoe or kayak.
Stay out of the swimming area if using paddleboards, kayaks, canoes or other water equipment.
Stay close to shore, especially when just learning to use new equipment.
Get Active with Trail Activities
All you need is a good pair of shoes to head out on your favorite trail. Enjoy this sightseeing physical activity, while taking care of your heart, in any South Dakota state park. Walking, running, hiking and biking are all great aerobic physical activities that you can do just about anywhere. If you are up for some biking, bring along your two-wheeled friend for a spin. If archery is more your thing, grab your equipment and head to one of the state parks with archery trails and target ranges.
Trail Games
Use and expand on some of these ideas (www.outdoors.org) to create a whole new experience, even on a trail you take regularly:
Close-up – Have someone walk ahead on the trail and take a super close-up photo of an object along the trail, like a crack in a rock, a vein in a leaf or a knot in a tree. When the rest of the group catches up, the photographer tells them which 10-foot section along the trail the picture was taken, and everyone tries to find it first!
Hike and Seek – Make a list of common (and some not-as-common) features in nature. The first one to find everything on their list wins! But you have to be sharp – if somebody spots it before you, you can't use the same item to mark it off your list.
Tree Huggers – Similar to musical chairs, if you're left standing, you're out. However, instead of chairs, use trees. As you're hiking, the hike leader calls out a type of tree. Everyone then has to run and hug that kind of tree. Last one to hug a tree is out, until the winner is found. The first several rounds of this one might be slow-going, until you learn the types of trees in your area and their characteristics.
Alphabet Hike/Alphabet Bike – Great for younger kids, you have to find something that begins with each letter of the alphabet in order. You can challenge everyone to find something staring with that letter before moving on, or you can give each person their own letter. This is a fun game to play while biking along a trail as well.