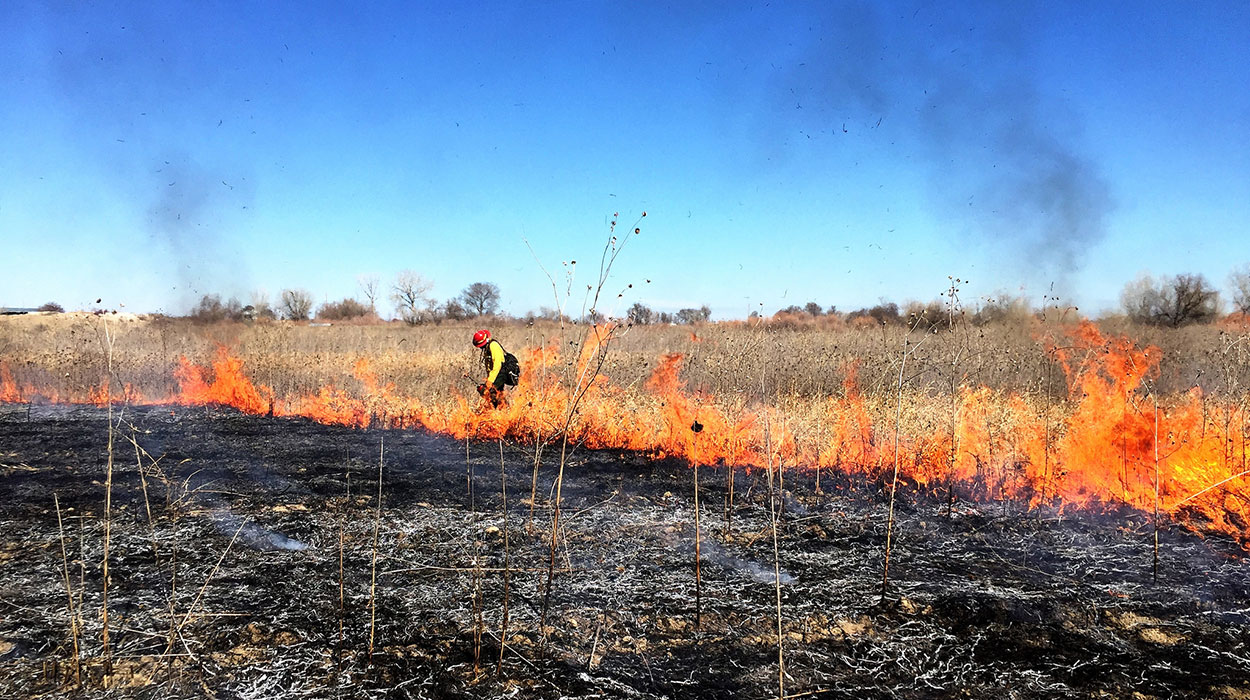 South Dakota has an imminent woody plant encroachment problem. 
In other words, trees are taking over the grasslands. To meet that threat, SDSU Extension recently received a $1 million contribution agreement from the Natural Resources Conservation Service to combat the spread.
Sandy Smart, SDSU Extension Agriculture and Natural Resources Senior Program Leader, said most of the contribution agreement will fund a new field specialist who will work with landowners to identify where there is a threat and to preserve their own land. 
It will build on the work already being done through SDSU Extension and partner organizations, including SDSU Extension Natural Resources and Wildlife Field Specialist Pete Bauman's work with the South Dakota Grasslands Coalition and its annual prescribed fire trainings; and Sean Kelly, SDSU Extension Range Management Field Specialist, with the Mid-Missouri River Prescribed Burn Association in south-central South Dakota.
Along the Missouri River corridor, many landowners and public officials already see the issue as trees creep across the grasslands, choking what used to be open pastures. But beyond, it's still not widely seen as an issue. Even those who recognize the issue are wary of using fire to fight it. 
Smart said the priorities are to educate people on the issue, and then to de-stigmatize the use of fire as a way to manage that issue. Eventually, the goal is to create a burn association modeled after the Mid-Missouri River Prescribed Burn Association. But the first thing is to raise awareness among South Dakotans before additional grasslands are lost.
"Without fire, we see grasslands collapsing."
— Dirac Twidwell, rangeland and fire ecology professor at the University of Nebraska-Lincoln
'You will lose your horizons' 
A "woody plant" is anything with a hard stem. The most common examples are trees and shrubs or bushes, with some vines included. While eastern redcedars are among the most invasive, other species encroaching the grasslands include pine, cottonwood, dogwood, Russian olive, Siberian elm and buckthorn. 
To kick start the awareness campaign, Smart helped organize a Woody Plant Control Summit in December 2022 in Oacoma, South Dakota. The meeting gathered SDSU Extension experts; state, federal, and tribal officials; non-governmental organizations; and landowners to hear research on and first-hand accounts of tree encroachment. 
One of the leading voices calling for the protection of the grasslands is Dirac Twidwell, a rangeland and fire ecology professor at the University of Nebraska-Lincoln. Twidwell has documented the collapse of grasslands across the Great Plains, and has seen the same slow crawl from Texas to Nebraska. Every other state was too slow to respond, and he said South Dakota is next. 
"You will lose your horizons," Twidwell warned. "Unless this group is different. You have a chance to do what the rest of the Great Plains can't." 
Grasslands are under-protected and highly converted, Twidwell said. The top two threats are crop conversion and woody encroachment. 
"We protect forests for the sake of forests. We've viewed grasslands since settlement as something that has no value and needs to be improved," he said of the Great Plains region. 
But losing an entire biome (an area that can be classified by the plants and animals that live there) has consequences. It impacts human health, water quality and endangered species. For ranchers, it means loss of grazing lands, increased wildfire threat, and potential loss of their livelihoods. For wildlife, it's the loss of their habitat. For sportsmen, it's a loss of hunting opportunities as native species get pushed out. In South Dakota, where pheasant hunting is also a major tourist attraction, that has a wider economic impact, as well. 
One of the best ways to combat this encroachment is through prescribed burns, Twidwell said. Fire doesn't just kill existing trees, it also stops their seeds from spreading. Every mature tree can affect an area up to the size of two football fields. Remove the trees before they can seed and spread, he advised.
"Without fire, we see grasslands collapsing," Twidwell told the summit audience. "That's why I'm here. I want to see rangelands actually win somewhere." 
Hausmann and Feltman have been diligently working to reclaim their pastures. At first, Hausmann tried to clear the trees using mechanical methods. Common mechanical equipment includes tree shears and drum mulchers to cut down the trees or rip them out. It's labor intensive and expensive – and in some of the most rugged areas along the river, dangerous.
Another method is "targeted grazing," which uses goats to munch on the invasive plants. They strip the bark and eat it, which kills the trees. One effort demonstrated that boer (non-dairy) goats like cedar trees, but will also eat plum, olive, elm and sumac. 
"We're not saying all the eggs are in one basket of just using prescribed fire," Smart said. "Mechanical works, goats and targeted grazing work, as well." 
Some places may benefit from a multi-method approach, like strategically shearing trees and using them to direct fire toward the densest areas. But for landowners like Hausmann and Feltman, the most affordable and efficient method is prescribed burning. After three prescribed burns, Feltman said the trees where he burned are gone and the grass can return. 
"Burning is a great tool, but you cannot do it once and then forget about it," said Feltman. "You have to do it again, and then again." 
Hausmann and Feltman are now both officers on the Mid-Missouri River Prescribed Burn Association board. As they stand on the front lines of the tree encroachment, they hope to help other landowners see the benefits of prescribed burns.
"It will work for you if you do it right," Feltman said.
Tom Hausmann, who owns ranchland by Bonesteel, said the land that has been in his family for 80 years is now overgrown with trees. Once it was open pasture, used for grazing 45 to 50 head of cattle. Now, it supports fewer than 30 head. It wasn't until his renter could hardly move some bulls through the dense overgrowth that Hausmann realized he had a problem. 
"It's so gradual," Hausmann said. "All of a sudden, it gets away from you." 
Longtime rancher Doug Feltman shared a similar experience on the slow overgrowth. Feltman said about half of his 1,000-acre ranch near Chamberlain is pasture along the breaks of the Missouri River. As the trees have thickened in that area, Feltman said nearly a quarter of the pasture has grown into heavy canopy.
"It's just absolutely taking over," he said of the trees. "It looks just like the Black Hills." 
Large trees limit the grass that grows underneath, and last year's dry conditions exacerbated the issue. Like Hausmann's land, the tree overgrowth on Feltman's ranch is constricting how many cattle he can graze.