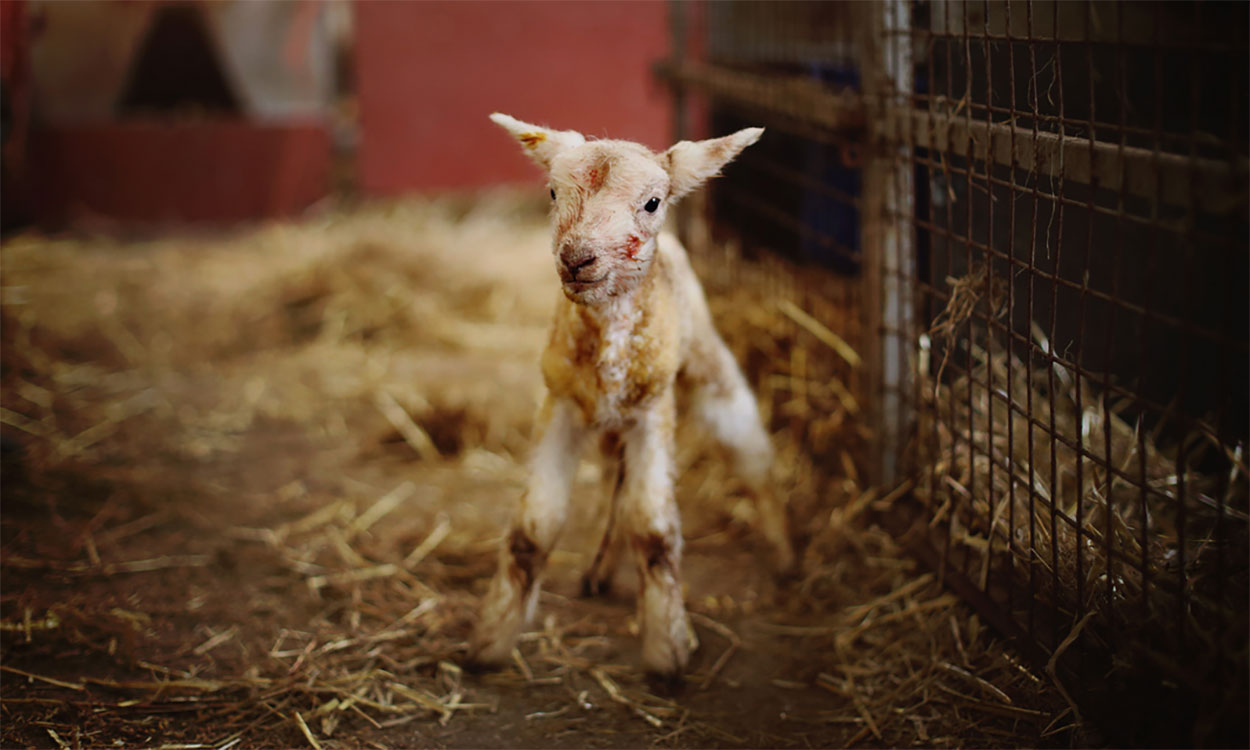 Treating umbilical cords with a navel dip at birth is recommended to ensure a healthy start for lambs and kids and preventing the occurrence of navel (joint) ill. The umbilical cord is important in maintaining a blood supply between the mother's placenta and fetuses prior to birth. However, during parturition this connection is severed, leaving a hollow, wet tube that can serve as a wick for bacteria with direct entry to the liver and vascular system of a newborn. Bacteria can lead to infections, commonly causing naval ill in lambs one to three weeks-of-age. Navel ill causes unthrifty, lame, arthritic lambs with swollen joints. Treatment of navel ill is often unsuccessful and prevention is key in managing control of infections.
Using an effective navel dip to disinfect and dry up navels can be part of a strategy in preventing infections. With many choices and recommendations of navel dips available, what is considered effective? For the longest time, the 'gold standard' was using a 7% iodine or 7% iodine in an alcohol tincture. However, a U.S. Drug Enforcement Agency (DEA) ruling in 2007 increased regulation of 7% iodine, making it unavailable for many producers. Seven percent iodine was and has been an effective navel dip because of its ability to kill most pathogens in a short period of time. Many farm stores currently only carry 1% iodine solutions that have reduced effectiveness at killing pathogens.
Research on alternative navel dips, such as triodine (2.4% titratable iodine), navel guard (contains alcohol but no iodine), and chlorhexidine is limited or nonexistent. However, in calves, use of navel guard, or chlorhexidine in a 2 or 4% concentration, was as effective as using a 7% tincture of iodine. Similarly, using a 50:50 dilution of 4% chlorhexidine mixed with alcohol was comparable to using 7% iodine. No known research has been conducted with the use of triodine.
The practice of mixing at least a 70% alcohol in navel dip products can be beneficial in reducing the cost of a navel dip, and it rapidly kills some bacteria. However, its effects are short-lasting. Although alcohol can kill some bacteria upon contact, it should not be used alone, as it is not effective in preventing colonization of bacteria after navel treatment. One disadvantage is that some studies have shown inclusion of alcohol in iodine or chlorhexidine increases umbilical cord drying time compared to using just iodine or chlorhexidine. Although increased drying time can prolong healing, addition of alcohol did not increase the rate of infections.
No matter what navel dip is used, good hygiene practices at lambing can help reduce infections. Bacteria thrive in moist areas, so keeping lambing areas and jugs clean and dry is important. Furthermore, certain navel dip products (such as iodine) are less-effective in the presence of organic matter (such as blood, feces, etc.). If pens are dirty and damp, risk of infection will be greater even if umbilical cords are treated shortly after birth.
Another important consideration is the cleanliness of the container in which the navel dip is used. If it looks dirty, it probably is and needs to be cleaned. Remember cleanliness can impact the effectiveness of some navel dip products, so it is important to dump, clean and refill your navel cups every couple of days or after treating several lambs. Using a dip cup is preferred over a spray bottle to ensure all areas of the umbilical cord are disinfected.
To compliment navel dipping, umbilical cords can be trimmed to two-to-three inches on lambs to prevent long umbilical cords from touching the ground and wicking up bacteria. Lastly, ensuring lambs and kids receive adequate colostrum is a great defense in building an immune system against fighting any potential pathogens. By refining newborn care and giving extra attention to navel dipping and facility hygiene, you will ensure lamb and kid survival and a healthy start to life.
References:
Fordyce, A. L., L.L. Timms, K.J. Stalder, and H.D. Tyler. 2018. Short communication: The effect of novel antiseptic compounds on umbilical cord healing and incidence of infection in dairy calves. J. Dairy Sci. 101:5444-5448.
Grover, W.M. and S. Godden. 2011. Efficacy of a new navel dip to prevent umbilical infection in dairy calves. Bovine Pract. 45:70-77.
Imdad, A., R.M. Bautista, K. A. Senen, M.E. Uy, J. B Mantaring III, and Z. A. Bhutta. 2013. Umbilical cord antiseptics for preveting sepsis and death among newborns. Cochrane Pregnancy Childbirth Group.
Robinson, A.L., L.L. Timms, K.J. Stalder and H.D. Tyler. 2015. Short communication: The effect of 4 antiseptic compounds on umbilical cord healing and infection rates in the first 24 hours in dairy calves from a commerical herd. J. of Dairy Sci. 98:5726-5728.
Wieland, M., S. Mann, C.L. Guard, and D.V. Nydam. 2017. The influence of 3 different navel dips on calf health, growth performance, and umbilical infection assessed by clincial and ultrasonographic examination. J. of Dairy Sci. 100:513-524.