COVID-19 has affected the market availability for finished cattle and hogs. Some beef and pork processing facilities have closed for cleaning and social distancing of their employees. While some of these facilities have scheduled a date to reopen at reduced capacity, others remain closed with no announced plans to resume operations.
With the decline in commodity prices since the announcement of COVID-19, the reduction in processing capacity for fed cattle and market hogs increases uncertainty in the agricultural sector.
The Coronavirus Aid, Relief and Economic Security (CARES) Act provided stimulus funds to individuals, and support in the form of small business loans and grants. However, family farms and ranches do not usually qualify for loans or grants administered by the Small Business Administration (SBA).
The CARES Act did replenish the Commodity Credit Corporation (CCC) by $14 billion. The CCC is the funding mechanism for agriculture programs like Price Loss Coverage, Dairy Margin Coverage, and the Market Facilitation Program (MFP). The United States Department of Agriculture (USDA) will now have to develop the support programs to assist producers with these funds.
The price situation and market availability situation have left many producers wondering, "Now what?"
There are fed cattle and market hogs ready to go to market. The 2020 calves are being born, and hog facilities have their facility pigflow schedule developed at least six months in advance. Lack of market access leaves many producers in a tight spot as they look for atypical processing facilities for their animals.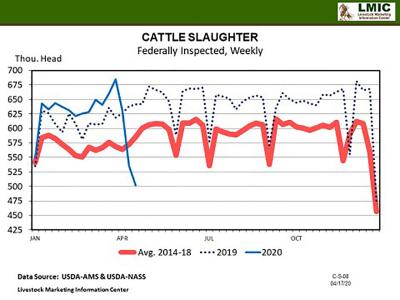 Beef and hog processing has been on a steady decline since the end of March. Beef slaughter has dropped to 502,000 head from an unseasonable high of 684,800 head the last week of March. 2020 cattle slaughter had been above 2019 numbers, and well above the 2014-2018 averages, until the week of April 11 (Figure 1).
Similarily, hog slaughter has been above 2019 and the 2014-2018 average. In the last week of March, 2,777,700 hogs were slaughtered, dropping to 2,236,000 the week ending April 17 (Figure 2).
With the potential for additional processing plants to either slow down the processing pace or go off-line completely, the probability of another week of lower slaughter numbers is likely.
Combined with the reduction in processing plant availability, producers are also dealing with a decrease in prices received for the animals. Despite lower feed costs, the breakeven price to produce the animal has been significantly below current price levels.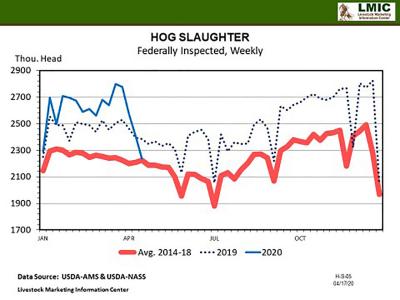 On the average, pork producers are losing approximately $41/pig. Additionally, the volatility in the market prices has made traditional risk management tools, like options (puts and calls) and livestock insurance products, more costly for the amount of coverage they provide.
Production Considerations
Looking forward, producers may need to consider production changes to provide more price stability for their operations, with the assumption that packing plants will be back to peak production in upcoming months.
Production changes may include:
Moving the 2020 breeding season to change weaning dates, which would provide calves for sale to feedlots during non-traditional times of the year, or at different weights than usual.
Backgrounding calves this fall on grass instead of starting them on a growing ration at weaning.
Running yearlings on pasture or hay to slow down growth rates.
Reducing the number of cows bred to calve in 2021.
Changing feedlot rations to slow growth and change the expected harvest month.
Hog producers may need to consider similar changes to feeding rations or the breeding herd. Reducing the number of animals bred this quarter may relieve pressure in the weaning and finishing barns.
Making production changes to the livestock operation will have lasting effects and should not be made without considerable deliberation.
Any change needs to be analyzed from an expected profitability standpoint. These changes will have an economic impact on the operation. The changes may also affect carcass quality, feed efficiency, and workforce timing needs on the farm operation. Producers should work with their lenders, nutritionists, and Extension Specialists to understand the full circle of ramifications the changes to the operation may have.