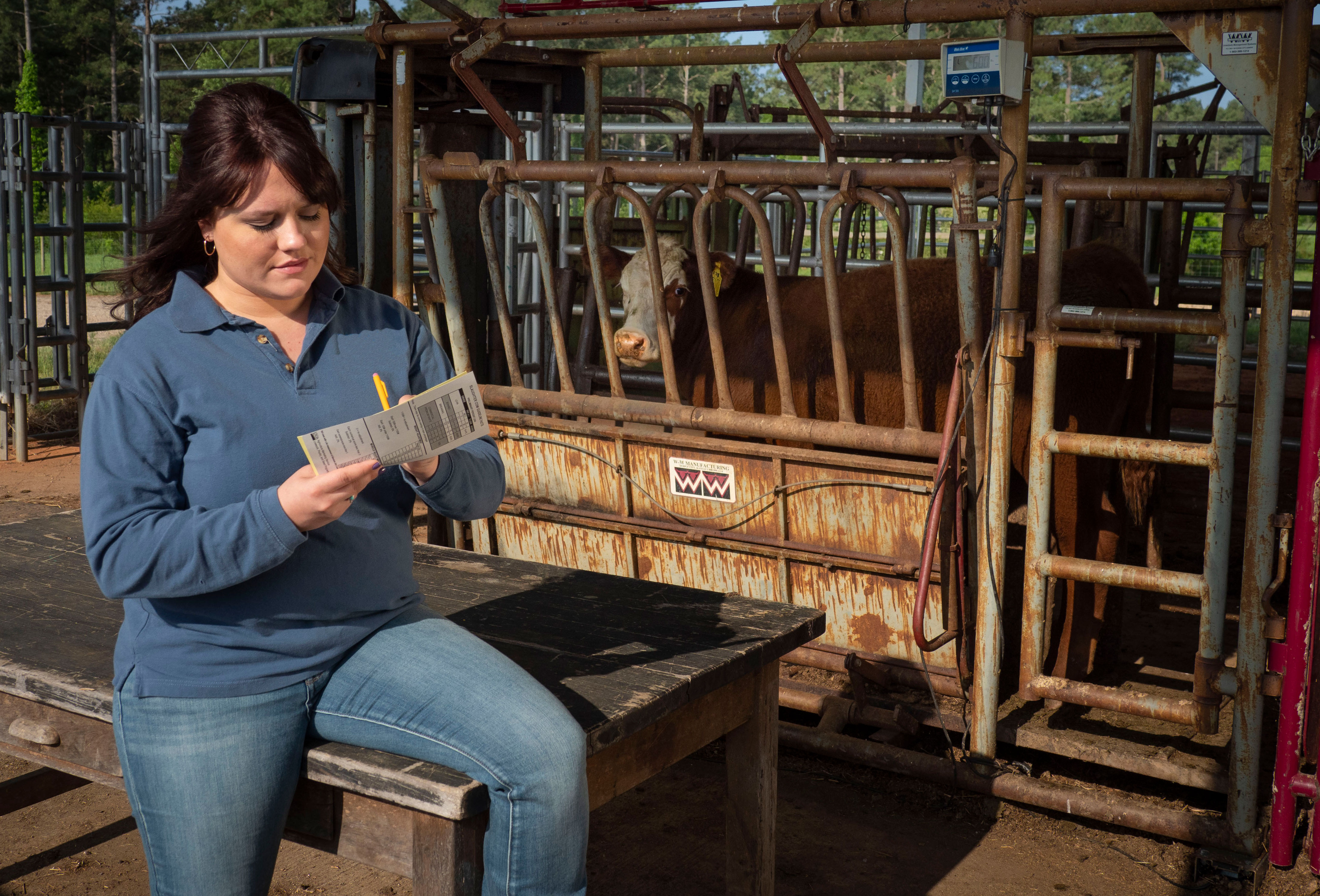 Most cattle feeders measure performance, costs, and returns in terms of live weight, regardless of marketing method. Using live weight as the yardstick has the advantage of being simple to understand and easy to relate to purchase and sale weights. However, more cattle each year are marketed using carcass weight to determine value, sometimes combined with grid premiums and discounts. Can we use the same assumptions for growth and cost of gain when marketing methods differ?
Live weight gain and carcass weight gain are not parallel.
It is tempting to assume that the relationship between carcass gain and live weight gain is equivalent to dressing percentage (approximately 62 to 64%). That assumption is not correct. As cattle are fed for additional days, dressing percentage increases. Lighter-weight feeder cattle might only yield in the mid 50% range, while very fat finished cattle may have dressing percentages greater than 65%. Figure 1 illustrates research conducted at South Dakota State University and published by Bruns et al., (2004). The carcass weights on the x-axis are in kilograms and are less than what is common today, but the general concept still holds – within a population of cattle with similar genetics, dressing percentage increases as weight increases.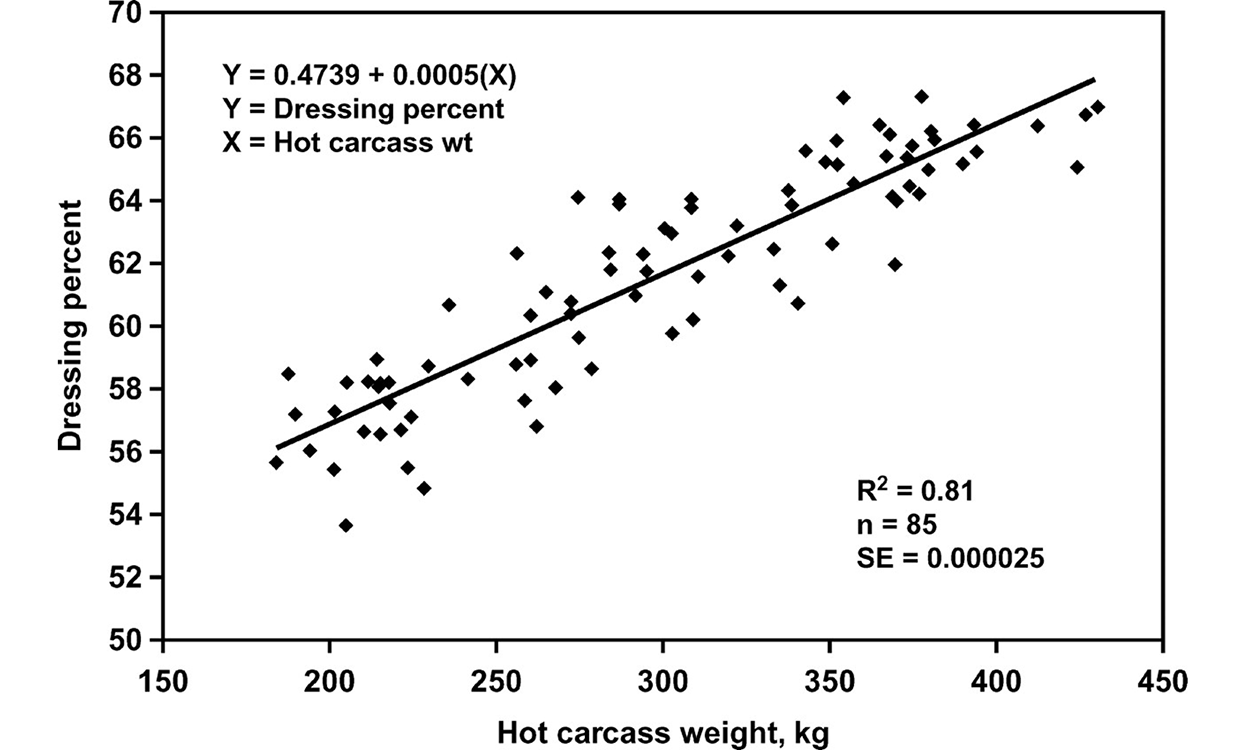 So, in order for that change in dressing percentage to occur, the amount of carcass weight gain as a percentage of an animal's live weight gain must be greater than the dressing percentage measured at slaughter. These differences between the proportion of live weight gain contained in the carcass is termed carcass transfer and can be as much as 80% or more as animals put on more fat. For example, suppose a 1000-pound steer yields 55%, or 550 pounds of carcass weight. Feed that same steer to 1600 pounds and the dressing percentage might be 65%. That steer's carcass would weigh 1040 pounds. Increasing live weight by 600 pounds resulted in 490 pounds of carcass weight gain. If we divide 490 by 600, we can see that the carcass transfer in this case was 81.7%
How does this affect feed efficiency?
Cattle feeders typically discuss feed efficiency in terms of the amount of feed required per pound of gain, usually on a live-animal basis. However, live-weight efficiency might not be the ideal measure if we are marketing cattle on a carcass weight basis. Researchers at the University of Nebraska examined results from five years of data (nearly 2,400 yearling steers with an endpoint target of 0.5 inches fat) to examine the relationship between live versus carcass measures of feed efficiencies. Figure 2 shows their analysis of how different measures of output affect efficiency.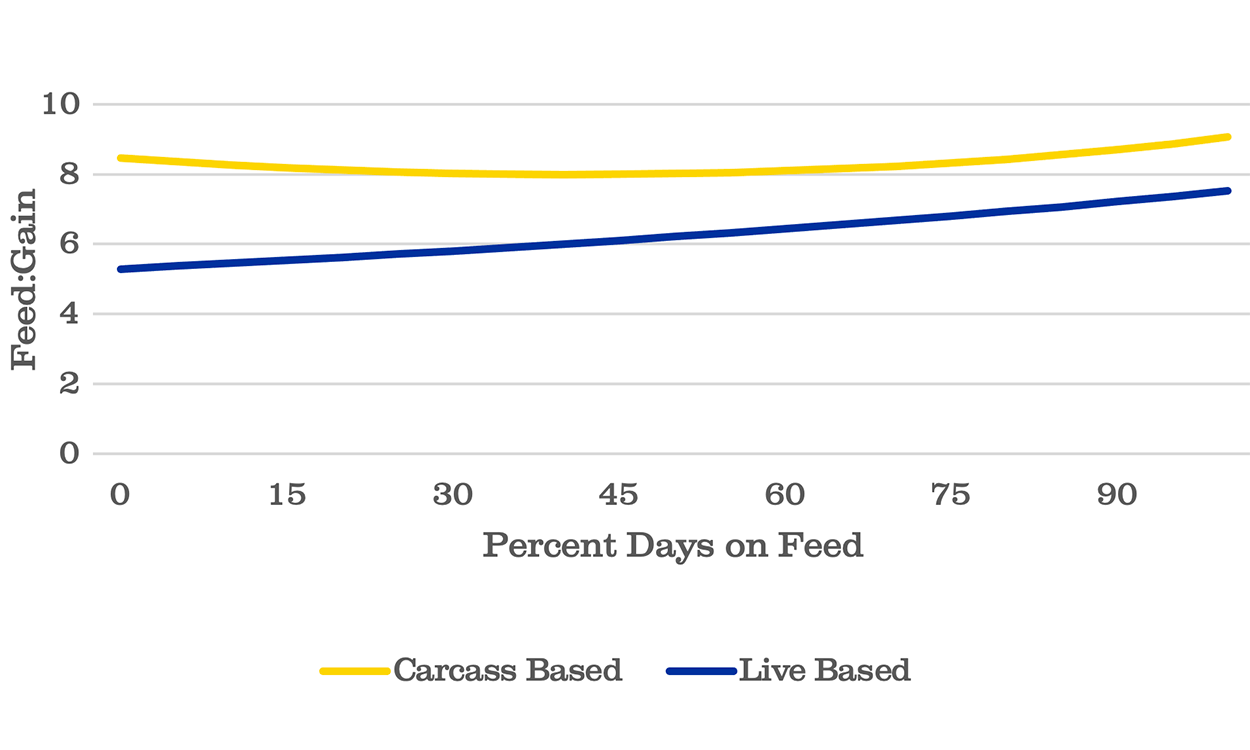 The amount of feed required for each pound of gain increases linearly as days on feed increased across the feeding studies. That should come as no surprise to cattle feeders, as that is a common occurrence as cattle get fatter with more time on feed. The carcass-based feed efficiency curve shows a different response. The penalty for increased days on feed is not as severe, because while live ADG decreases as the cattle are fed longer, carcass daily gain changes much more slowly.
How do these relationships affect cattle marketing?
These relationships reinforce the point that the ideal length of a feeding period depends on how cattle are marketed. There is a greater margin of safety for extending days on feed when cattle are marketed on a carcass weight basis compared to selling cattle live. Determining the ideal marketing time for finished cattle is not always a straightforward process. Market conditions (both slaughter and feeder cattle prices), feed costs, pen conditions, and cattle performance all influence endpoint decisions. Grid marketing adds a further wrinkle, as extended days on feed results in greater carcass weight and potentially improved Quality Grades, but at the risk of discounts for Yield Grades and heavyweight carcasses. Working with a nutritionist who can help feeders interpret close-outs and available carcass information can help fine-turn marketing decisions.