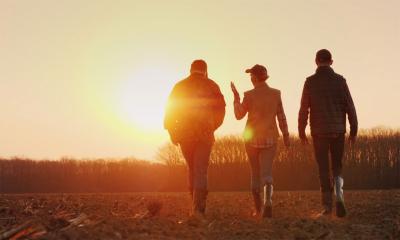 Harvest is here, where farm families work together to accomplish numerous tasks. I often hear farmers share what they love most about farming and aspects of harvest season are described. However, with unpredictable weather and market prices, time can be critical and intense stress can exist.
Times are also challenging with the current pandemic and the suggested guidelines for safety. We often hear sayings such as, "Embrace the suck," or "It's okay to not be okay," which seem relevant given the current situation. But, how do we be okay when we may not feel okay?
Recognize your stress symptoms.
The first step in gauging how you feel is to recognize when you are experiencing stress. Where do you notice your stress in your body? Our stress symptoms can be emotional (moodiness, irritability, anger, loneliness, anxiousness, panic), cognitive (forgetful, constant worrying, pessimism), physical (fatigue, headaches, aches and pains, gastrointestinal), and behavioral (issues with sleep, eating too much or too little, use of alcohol, drugs, or cigarettes, procrastination). Write down your stress symptoms. Do others notice your stress? Do they notice different stress signs about you?
Determine your control.
You know you are stressed, and you recognize your stress symptoms. Think about everything that is on your plate – all of your stressors. Maybe your stressors involve finances, strained relationships, weather, market prices, limitations with the pandemic, etc. Which stressors can you control? Which stressors are outside of your control? When we worry about stressors that are outside of our control, our thoughts and feelings spiral downwards where it can be difficult to dig out of negative thought patterns. Try to focus on what you can control.
Admit when you need help.
Given the pandemic, I have heard friends and family say they feel as if they are on a roller coaster. Some days, emotions feel pretty steady, and other days, irritability/sadness/anxiousness/anger and other feelings can occur. Additionally, harvest can feel like a whirlwind with incredible pressure. When you feel like your stressors are extremely overwhelming and your stress symptoms are intense and persistent, it is important to seek support. Support can be from family, friends, neighbors, pastors/spiritual leaders, and counselors. Avera also offers the Farm and Rural Stress hotline that is free, confidential, and available 24/7. The phone number is 1-800-691-4336.
Forgive yourself.
If you are currently struggling with your thoughts and feelings, you are not alone. An article in the Washington Post recently reported that nearly half of the people in the United States feel that the current pandemic is negatively impacting their mental health.1 It is okay to have days where you feel competent and accomplished, and other days where it might be a struggle to accomplish one task. Forgive yourself for the hard days.
For additional farm stress resources, please visit the SDSU Extension Farm Stress page or watch our Understanding and Managing Farm Stress video.
References:
Achenbach, J. (2020). Coronavirus is harming the mental health of tens of millions of people in the U.S., new poll finds. Washington Post.