During the last few years the popularity of plant-based butters has increased considerably. These plant-based nut butters have proven to be good sources of protein, fiber, essential fatty acids and other nutrients and may include soy butter, almond butter, pistachio butter, cashew butter, sesame butter, and so on. This article will help address the safety concerns in making a nut butter that is safe to eat.
Hazard Evaluation
When considering the safety of a product, it is always important to consider the hazards must be considered as part of a food safety evaluation. These hazards include physical (glass, metal, plastic, stems, rocks, etc.), chemical (allergens, mycotoxins, chemicals, etc.), and biological (parasites, pathogens, viruses, etc.). However, let's first consider the steps of how nut butters are made.
Process Overview
The process of making a nut butter can vary in several different ways. Nuts are prepped for processing and can be tossed with oil. The nuts can then be roasted for a certain duration of time to achieve pasteurization or to achieve a desired color and flavor. The nuts are then allowed to cool and be processed by putting in a food processor along with other ingredients that can add flavor, texture or bulk. Finally, the product would be packaged and labeled. This may be considered a roasted nut butter process. It is also important that the other ingredients used in the recipe are considered Ready to Eat (RTE) and not Not Ready to Eat (NRTE) for roasted nut butters. The reason being that raw ingredients added after a step that could be considered pasteurization or added to a product that is considered RTE compromises the food safety of the product.
Additionally, nut butter can be processed without roasting as noted above. For unroasted nut butters. It is important that only pasteurized nuts are used in the process and that ingredients that are considered Not Ready to Eat (NRTE) are not used in this unroasted nut butters.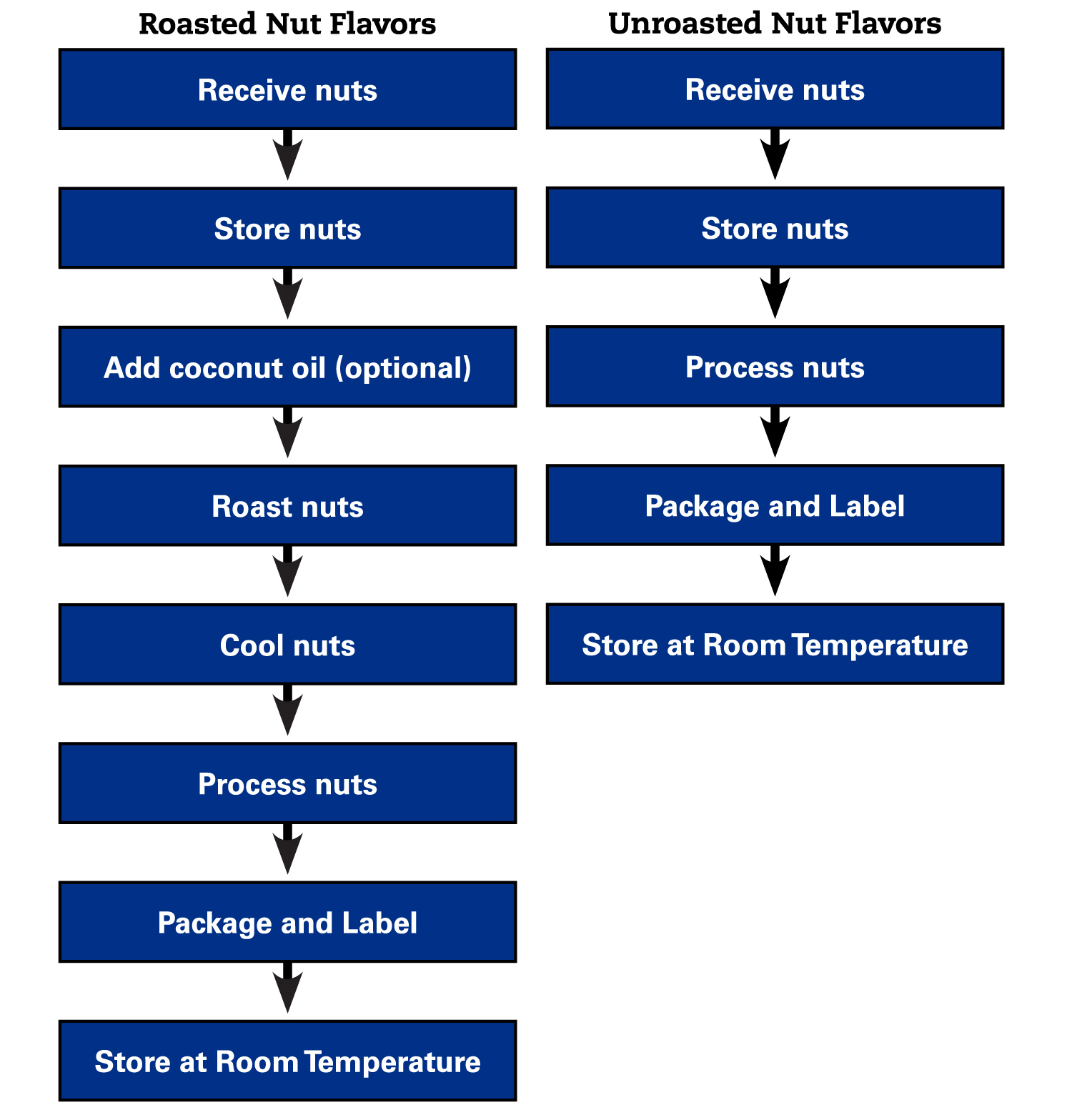 Biological Hazards of Nuts
The GMA has put out a book called Industry Handbook for Safe Processing of Nuts. Salmonella has been identified as a potential biological hazard in incoming raw tree nuts and peanuts. Thermal and chemical processing (e.g., roasting and PPO, respectively) can be effective control mechanisms for industrial manufacturers. Since Salmonella is a known risk in these nuts, it's important to understand how Salmonella is controlled whether you're buying from the store, or you're growing your own nuts. For example, the Almond Board of California sets a minimum 4-log Salmonella reduction as sufficient lethality treatment based on a risk assessment (Danyluk et al., 2006) and published this information in a final rule in the Federal Register (AMS, 2007). Additionally, the process must consistently deliver a minimum degree of lethality of 4 logs of the target organism, typically Salmonella, as demonstrated by a process and product-specific validation study. The FDA currently suggests a minimum 5-log for peanuts and pistachios, unless data are available to support that less than 5-log is adequate (FDA 2000a and 2009b). The table below lists some time and temperatures that would meet the criteria for a 5-log reduction in Salmonella. However, it is important to note that the time and temperature needed to properly pasteurize a tree nut may depend on the tree nut. Therefore, when making a nut butter, it is vitally important to select a tree nut that has been pasteurized. Processing of raw nuts without a pasteurization is not properly controlling for pathogens and significantly increases the risk that there may be pathogens in the nut butter. Always ensure that you are buying nuts that have been pasteurized or if you are processing unpasteurized nuts, it's critical to ensure that the tree nuts have been properly pasteurized as part of the process. If you're unsure of the proper time and temperature to pasteurize a particular tree nut, then you will need to reach out to an authority that can help you establish these parameters or simply use pasteurized tree nuts.
Examples for Guidelines for Time/Temperature Parameters to Meet a 5-log Reduction in Salmonella for Specific Products

Type of Processing

Critical Reference Parameters c

 

Min. Temp.

Min. Time for
5-log reduction

Temp.

D-value (min)

z-value

Dry Roasting
(Continuous Process) a

129°C (264°F)

47.1

146°C (295°F)

2.8

42.9°C (77.5°F)

138°C (280°F)

25.1

146°C (295°F)

2.8

42.9°C (77.5°F)

146°C (295°F)

14.1

146°C (295°F)

2.8

42.9°C (77.5°F)

Dry Roasting d

154°C (309°F)

15

154°C (309°F)

N/A

N/A

Hot Water Blanching b

82.2°C (180°F)

3.09

82.2° C (180°F)

0.62

30.0°C (53°F)

85°C (185°F)

2.49

82.2° C (180°F)

0.62

30.0°C (53°F)

87.8°C (190°F)

2.0

82.2° C (180°F)

0.62

30.0°C (53°F)
a American Peanut Council sponsored study on thermal characteristics of Salmonella spp. on peanuts.
b Almond Board of California sponsored study on thermal characteristics of Salmonella spp. on almonds.
c These parameters apply to the specific products indicated (i.e., dry roasting of peanuts and hot water blanching of almonds) and may not be appropriate for other type of nuts.
d T. H. Sanders and R. S. Calhoun (2014) Effect of Oil and Dry Roasting of Peanuts at Various Temperatures and Times on Survival of Salmonella and Enterococcus faecium. Peanut Science: July 2014, Vol. 41, No. 2, pp. 65-71.
Chemical Hazards in Tree Nuts
Tree nuts are considered one of the Big 8 allergens. The Big 8 allergens include peanut, wheat, egg, milk, fish, soybean, shellfish, and tree nut. Therefore, all nut butters need to be appropriately called out on the label. Additionally, the law requires that the specific type of tree nut be called out on the label (i.e. almond, pecans, walnut, etc.). Aflatoxins and mycotoxins are also chemical hazards of concern. These are toxins that are produced by molds. Since nuts are grown agriculturally, they are at risk for aflatoxins and mycotoxins. If you are buying from a reputable supplier, it is very likely that they will have a program in place to monitor for these hazards as well as screen for them. However, it's always good to check with the supplier you're purchasing from and confirm how they are monitoring and screening for aflatoxin and mycotoxins.
Physical Hazards in Tree Nuts
There are several hazards that could be found in raw tree nuts as they are grown agriculturally. This could include bird shot or bullets, plastic, glass, or metal from the harvesting and processing of tree nuts. Thankfully, food manufacturers have several foreign material control devices and programs in place to ensure that the nuts purchased at wholesale and resale do not contain any hazardous foreign material or physical hazards. However, it is important to note that there is a potential for physical hazards to be created if the nut butter isn't allowed enough time in a food processor to be brought to a consistent smooth and creamy texture. Under processing the nuts or other ingredients could result in hard pieces of nuts that could result in choking hazards or dental hazards. Therefore, it is important to ensure that there is a consistent and creamy texture of the nut butter before packaging.
Minor Ingredients Added
As mentioned above, there are several other minor ingredients that may be added which could include oils, salt, spices (i.e. cinnamon, cardamom, etc.), flavor extracts (i.e. vanilla extract), and more. It is important that these ingredients be considered RTE. The use of NRTE may render the product unsafe. Additionally, adding water to the product carries the potential of raising the water activity which is a predictor of bacterial and pathogen growth. Therefore, if water is added to the recipe, it is important to have the product tested for water activity to ensure that the water activity is below a threshold that ensures there is no pathogen growth. Oils have a low water activity and do not contribute to raising the water activity but ingredients such as extracts or other water-based ingredients can increase the water activity. SDSU uses the Animal Disease and Research Laboratory to perform this testing so please contact the SDSU Extension Food Safety Specialist for more details if you'd like to know the water activity. Any of these ingredients that are used may also have allergens so if you're selling the nut butter, it is important to call out the allergen on the finished product label.
Conclusion
When making a nut butter, it is important to consider how the product will be made and processed and how the chemical, physical, and biological hazards will be controlled. If you take into consideration these characteristics, you can create a nut butter that is safe to eat and enjoyable.
Sources
"Industry Handbook for Safe Processing of Nuts." Grocery Manufacturers Association. 2010.