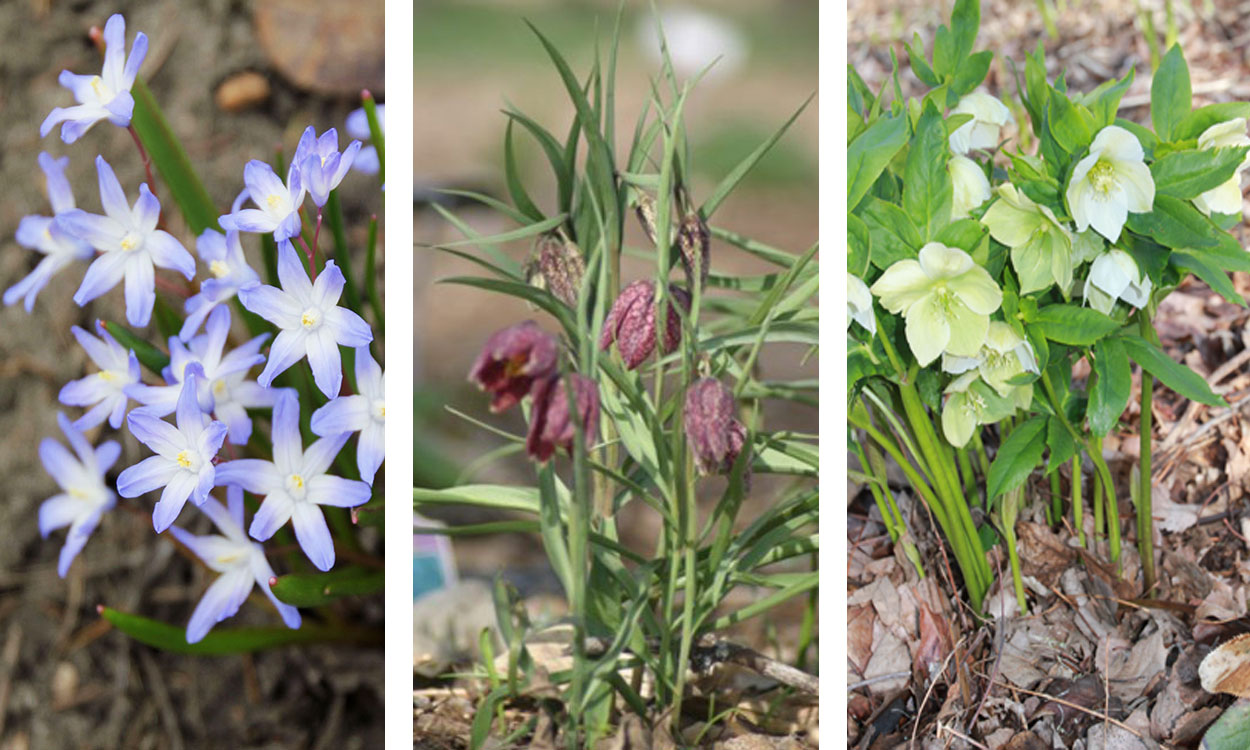 Original article by David Graper, Professor Emeritus of Horticultural Science. Reviewed and updated by Kristine Lang.
Most gardeners are very familiar with the typical spring-flowering bulbs, such as tulips, daffodils and crocus. But there are a number of other spring-blooming plants that may not be as familiar.
The following selections are all early blooming perennials that can be grown in South Dakota. Since these are all early spring bloomers, they are best planted in the fall, particularly the ones that grow from bulbs. However, you will sometimes find some of the others available in your local garden center, or they are available from catalogs and websites.
Early Bloomers for South Dakota
Glory of the Snow
(Chionodoxa)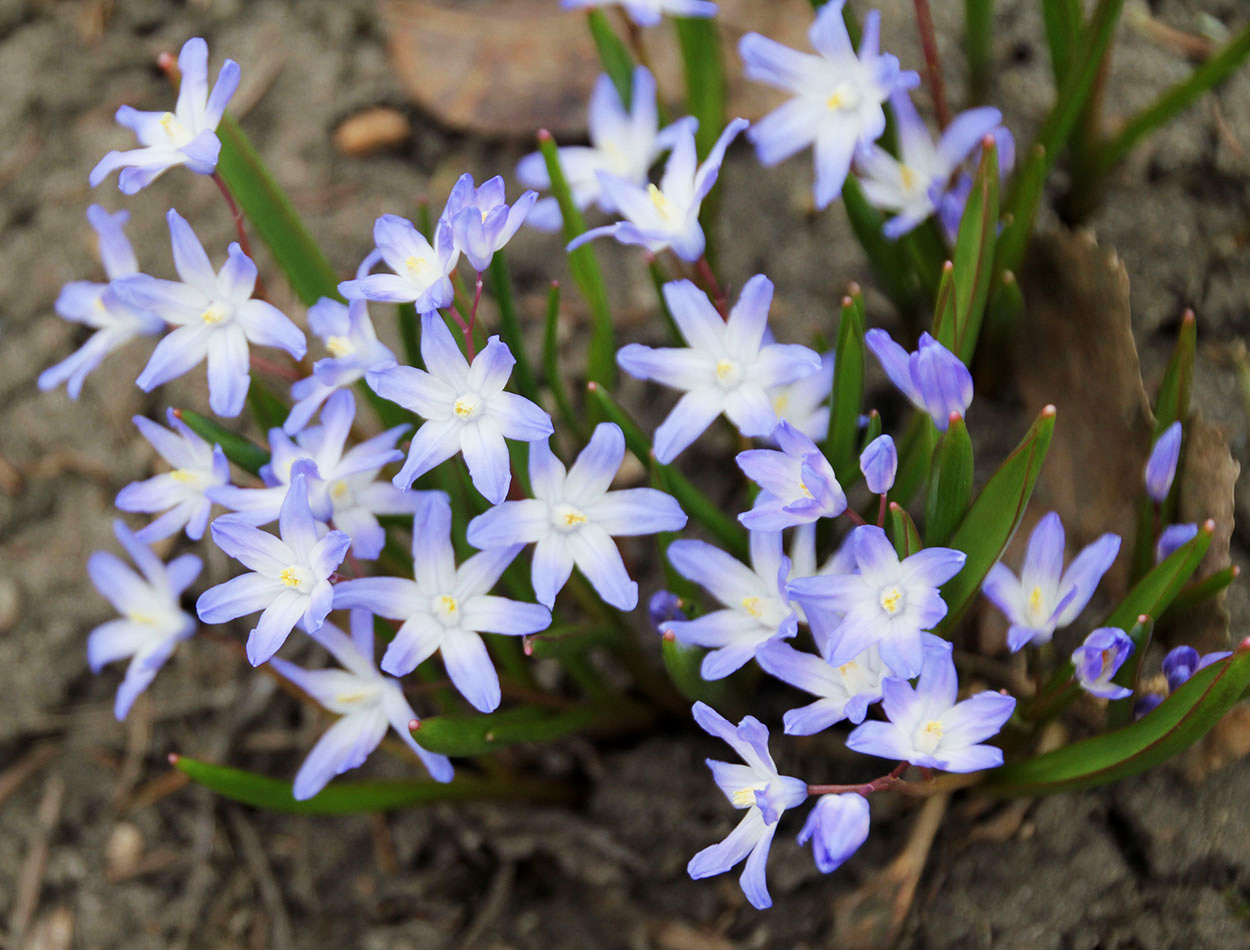 The first is a delicate little flowering bulb called Glory of the Snow, or Chionodoxa. As you might guess from the common name, this is one of the earliest-flowering spring bulbs. The flowers are star-shaped with six petals that may be blue, lavender or pink, depending on the species and cultivar. They produce little, branched flower stems, each tipped with a small three-quarter-inch flower. These have been good perennial plants for us at McCrory Gardens, growing into a little larger clump each year. They grow to about 6 inches tall when in bloom. The foliage dies down by early summer.
Striped Squill
(Puschkini)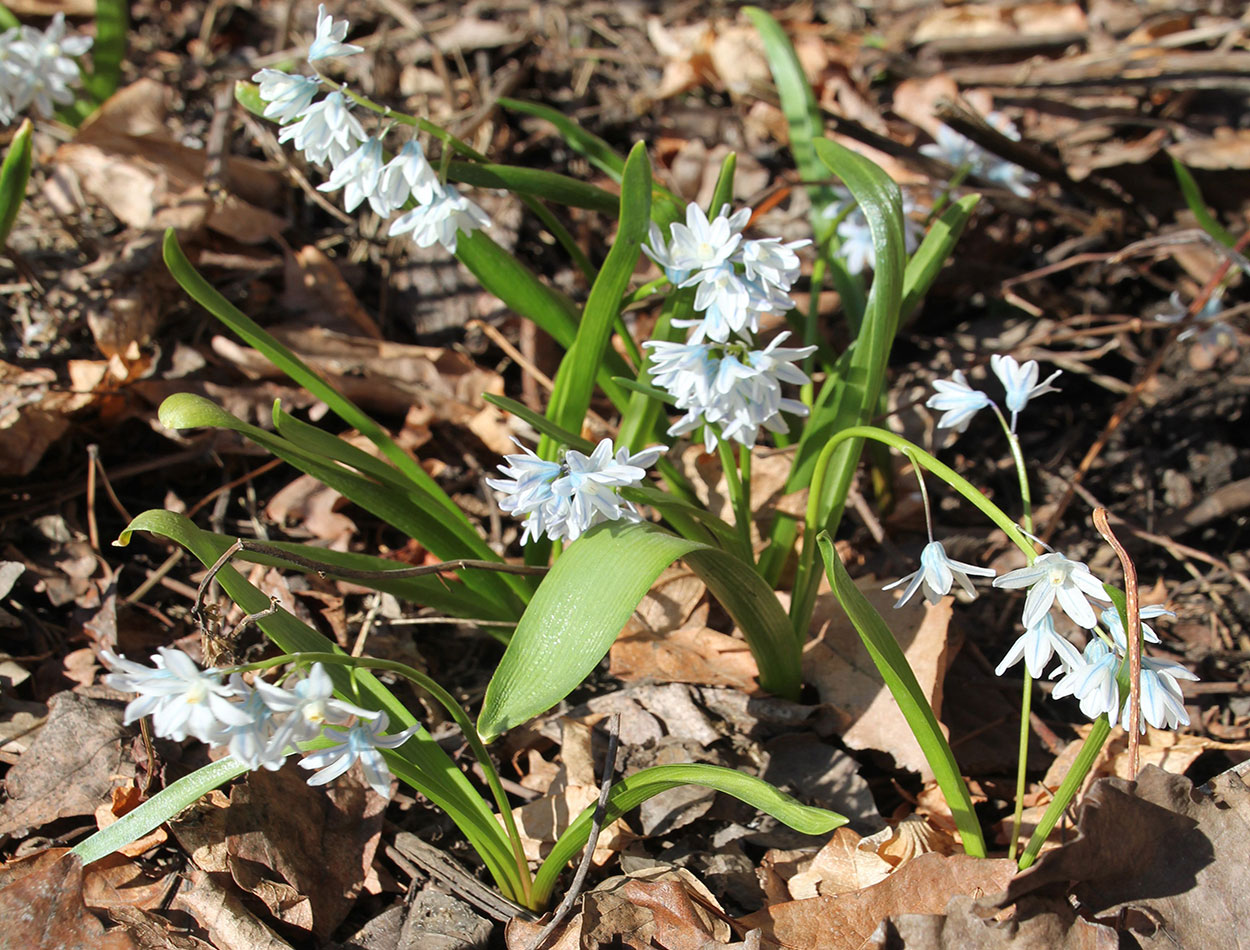 Another lesser-known spring bulb is called the Striped Squill, or Puschkinia. This is a tough little plant. The flower stalks will reach up to about 6 inches tall, with the leaves looking like big, thick grassy leaf blades. This is growing at our greenhouse, where it often gets dug up when we plant annuals in front of the building, yet it seems to come back year after year. I also have this growing at home. I am not sure how it got there, but it is in a partially shaded spot and comes up and blooms each spring with no care from me. The flowers are usually mostly white, but with a blue line down each petal. Several flowers will be found on each flower stalk.
Checkered Lily
(Fritillaria)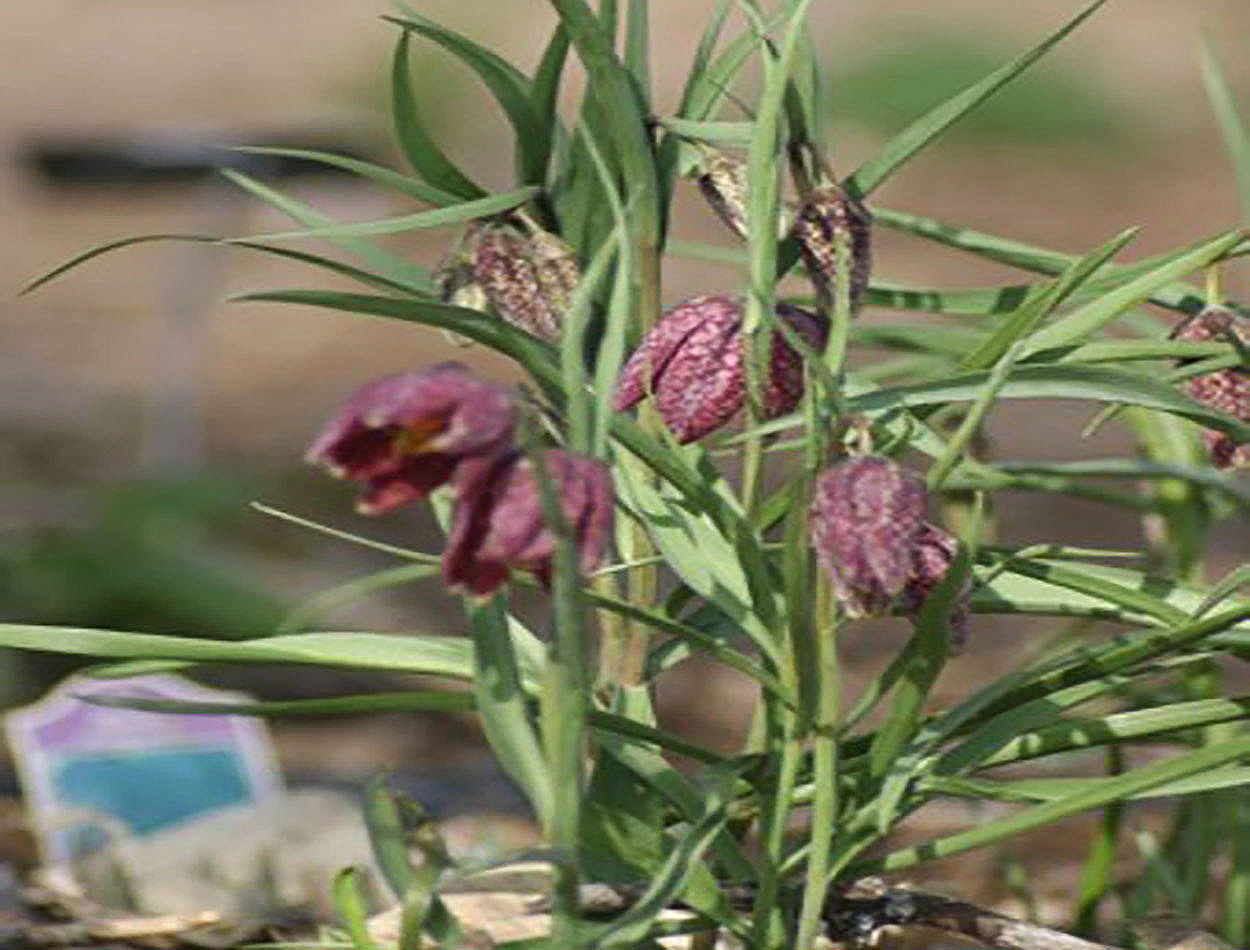 The last bulbous spring plant I will mention is called the Checkered Lily, or Fritillaria meleagris. The nodding, bell-like flowers are quite interesting in that they come in white, pink or purple, but they are checked with a contrasting color. The flowers are borne on stems that will get about 10 inches tall and will have up to three flowers per stem. The foliage is somewhat rounded and, again, looks like succulent grass blades. I have this growing in a few spots at McCrory Gardens, but also have a couple nice patches of this at home. It seems to spread easily, mostly by seed from what I can observe. But don't worry, this will not take over your garden. Mine have spread out into a patch of about 18 inches wide over the course of about 15 years. These plants usually bloom about the first week in May, with the foliage persisting into early summer.
Virginia Bluebells
(Mertensia virginica)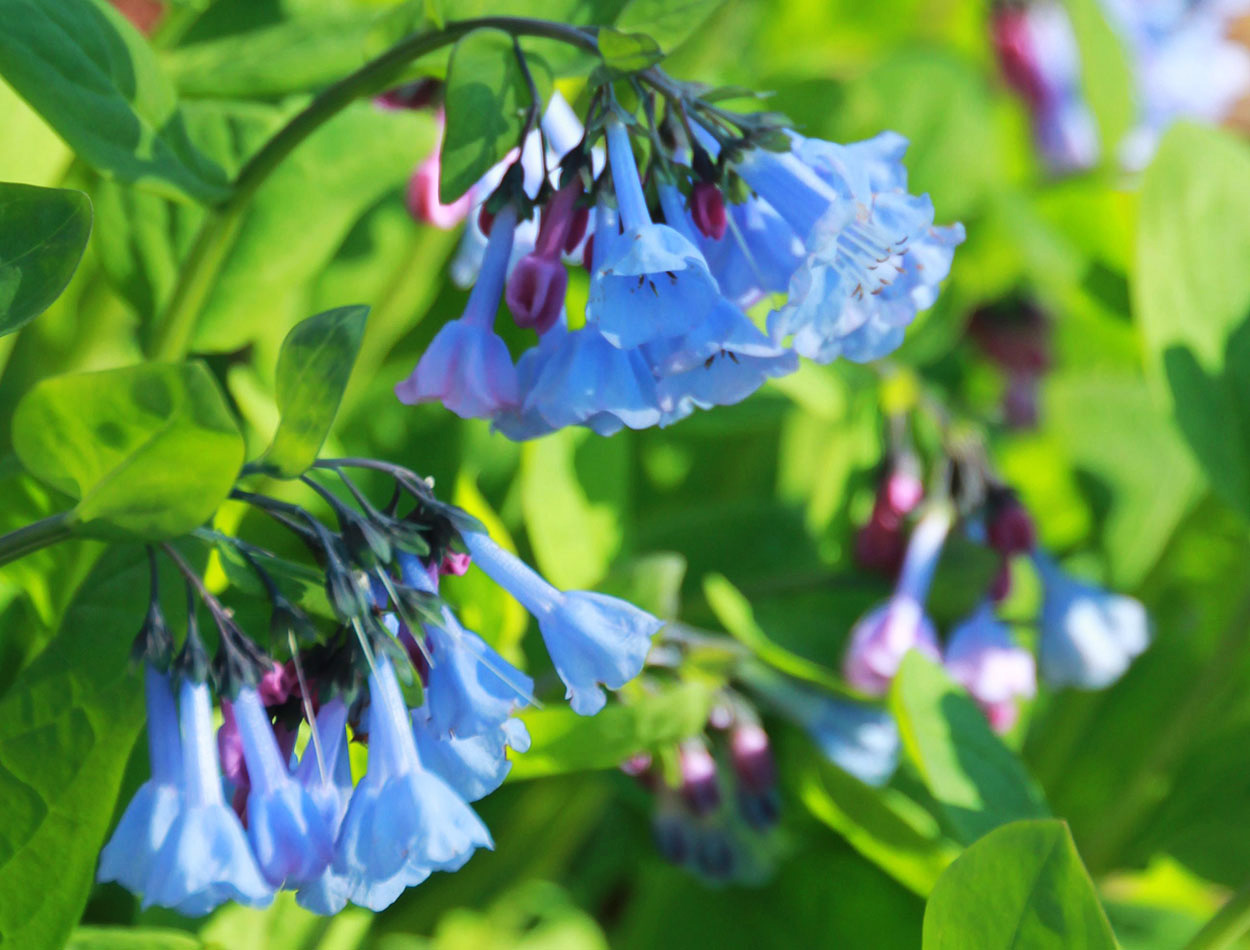 One of my favorite spring flowers are the Virginia Bluebells, or Mertensia virginica. I find this to be an amazing plant. It seems to burst out of the ground in the spring, growing up to 2 feet tall with lovely blue and lavender, nodding, bell-like flowers borne in small clusters at the ends of the flower stalks. The flower buds are a lovely shade of pinkish-lavender when they first appear, but then soon open up to a lovely shade of sky blue-lavender. These plants too can spread easily around the garden, but don't worry, about six weeks after they bloom, they go dormant and virtually disappear from sight. These will do best in a partly-shaded location.
Lenten roses
(Helleborus)
Another spring bloomer I want to mention are the Lenten Roses, or Helleborus. The Hellebores are quickly gaining in popularity as one of the best flowering perennials for the shade. They are known as Lenten roses, because they are known to be in bloom for lent, but only in climates warmer than ours. The flower's stalks push up through the leaves and even snow in the spring to gradually unfurl lovely, speckled flowers that can range in color from white to nearly burgundy-black, with yellow and rose shades common as well. The actual flower will last for a few weeks, but the colored bracts that surround the flower can last for a few months. These are larger plants that will reach about 20 inches in height and can spread into a nice 2-foot clump over the course of six to ten years or so. These are now available from many catalog and web gardening sites. They are often listed as being hardy to Zone 5, but I have had no problem with them here in McCrory Gardens or at my home out in the country. Plant them in a mostly-shady location and cover with mulch in the fall to help provide some extra protection.