Addressing South Dakota's wellness challenges takes a statewide effort beginning with community-level conversation and engagement. Community wellness coalitions bring together community-based organizations, stakeholders and wellness experts to identify the wellness challenges facing South Dakota communities and address them through resources, programming and wellness opportunities tailored for their unique needs.
South Dakota State University (SDSU) Extension is proud to support the growing number of wellness coalitions statewide by offering expert support and a wide variety of wellness programming designed to address the unique wellness challenges facing South Dakota communities. View the following information to learn more about getting started with a new or existing wellness coalition today, or use the button below to contact us for more information!
Community Champion Spotlight
Marcella Yellow Hammer
Job Title: Community Champion
Community Name: Standing Rock
Years as a Community Champion: 6 years
What has been your greatest achievement as a Wellness Coalition Champion? "Our greatest achievement would be our Wakanyeja Garden that has been getting better and bigger.  Nathania has gotten so many things to make the garden look more home like with the table, chairs, garden tools decorations and the beautiful murals on the walls.This past year we had a great variety of vegetables and flowers and I can't wait to see what we will add next summer!" - Marcella Yellow Hammer 
 
About the Champion: "Marcella is familiar with the community, land, people and environment in the Standing Rock Area.  She is very well respected in the community and does an outstanding job at the Boys and Girls Club.  I have enjoyed working with her and she is my right hand person. We couldn't ask for more!  I have enjoyed working with her, I look forward to our phone calls each week.  I am so proud of her learning how to "zoom" she is amazing! I look forward to many more years together!" - Nathania Knight, Extension Associate 
About Wellness Coalitions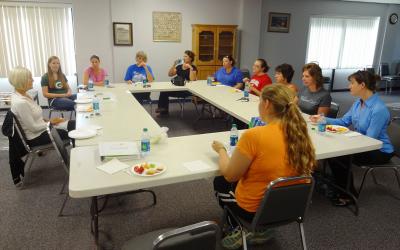 Learn answers to some common questions about community wellness coalitions and SDSU Extension's supporting programming and services.
Learn more about community champions and the important roles they play in community wellness coalitions.
View a complete list of active community wellness coalitions throughout South Dakota.
 SDSU Extension Programs for Wellness Coalitions
South Dakota State University (SDSU) Extension has a wide array of programming that focuses on enhancing physical activity and nutrition within the community. Some common initiatives wellness coalitions may choose to implement are:
Physical Activity
Active Worksites
Community Fitness Zones
Connectivity via Safe Routes
Improving Active School Spaces
School-Based Extracurricular Fitness Activities
Shared Use Agreements
Nutrition
Breastfeeding-Friendly Business Initiative
Fuel Up to Play 60
Grocery Store Dietitian
Smarter Lunch Rooms
Stock Healthy Shop Healthy
Funding Disclaimers:
CDC: This material was funded by Centers for Disease Control High Obesity Program (HOP) CDC-RFA-DP18-1809.
SNAP-Ed: This material was funded by USDA's Supplemental Nutrition Assistance Program -- SNAP. This institution is an equal opportunity provider.