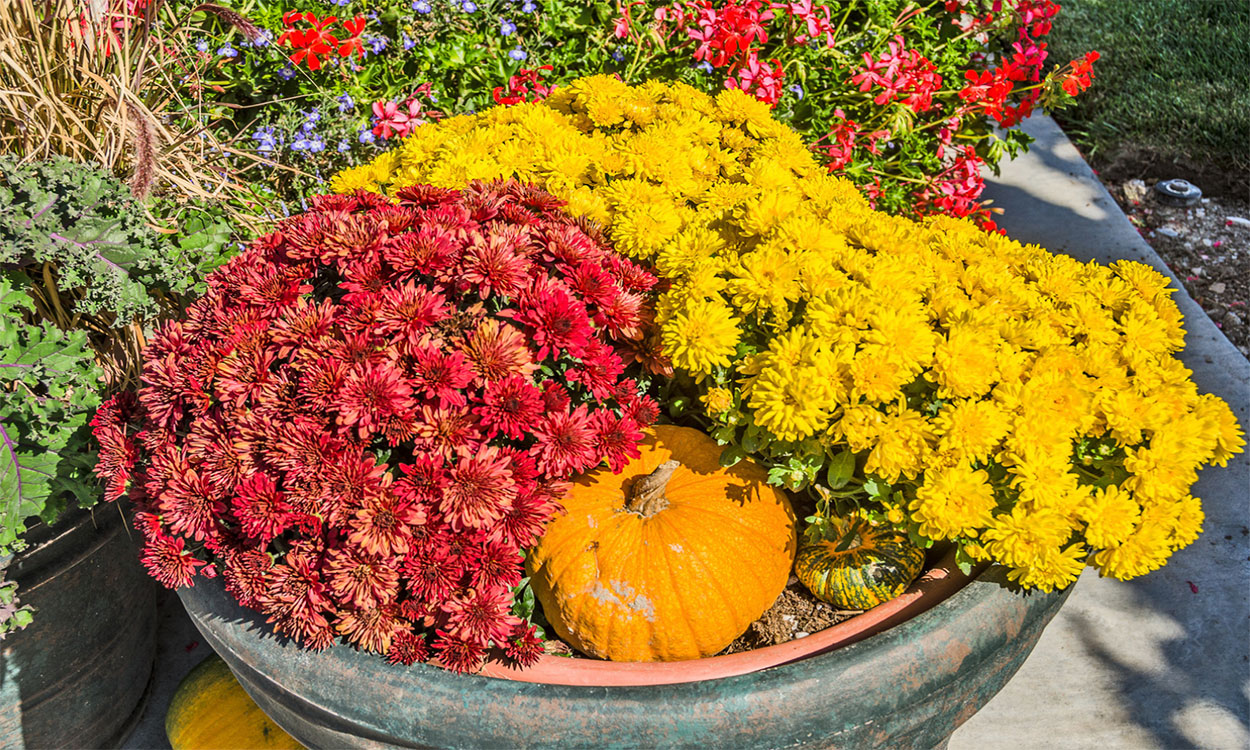 Written by Cindy Schnabel, South Dakota State University (SDSU) Extension Horticulture Assistant and Master Gardener, under the direction and review of Kristine Lang, Assistant Professor and SDSU Extension Consumer Horticulture Specialist.
Summer has been rough on the containers you used to accent your front door, dress up your patio or just enhance your landscape. The plants in the containers are showing wear and tear from high temperatures, little rain and high winds. Yes, they have seen better days, but don't give up quite yet. You can rejuvenate those pots and bring them into the fall season.
There are many things to do which will make them look nice again. Where should a person start? Start by removing all the spent blooms on any plants that are still alive. Deadheading will give them an opportunity to, one last time, try to produce more blossoms.
Next, anything that is dried up, dying or dead should be removed. Stand back and evaluate what you have left in the container. There may be just a few empty spots to fill, while with other containers you may want to completely rethink the layout of the container.
The empty spaces can be filled with many things. One idea would be to add cool-season flowers, such as pansies (Figure 1). This cute, flowering plant comes in a multitude of colors. It is a great plant to use when the temperatures vary. Pansies can handle frost and even some hard freezes.
Ornamental grasses, such as Northwind switch grass, will create height in the planter. Decorative millet will add interest with its seeds.
Greenhouses and big box stores always have Mums this time of year. Pick up some in the color you love, and they will be a nice addition to the container. Mums come in fall colors, such as yellow, orange and maroon (Figure 2). They are sure to draw attention to the pot. Placing them alongside the containers will create an interesting new arrangement on the porch.
Late-blooming perennials will fill up the spaces nicely. Asters, Black-Eyed Susans and Echinacea are some examples that will work (Figure 3). Trailing Sedum will give that spilling effect to the container.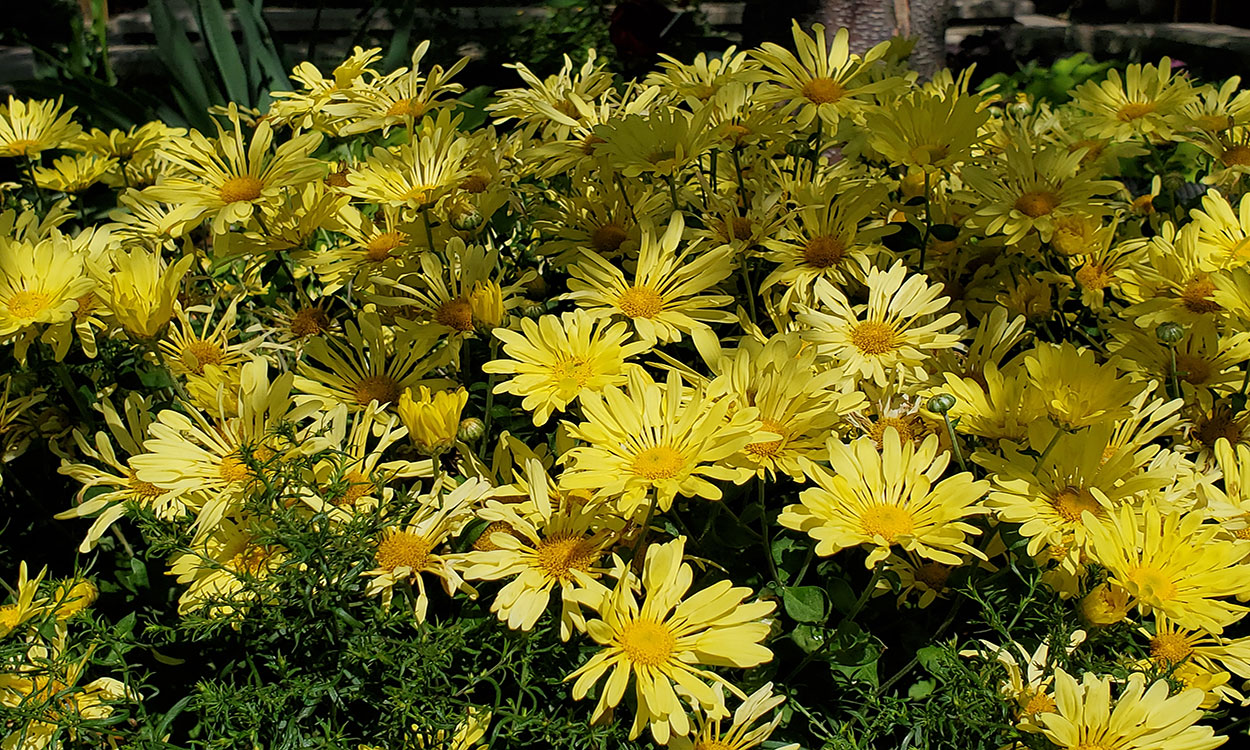 Consider adding ornamental peppers, flowering cabbage or kale to the mix. They are unique additions that are extremely cold hardy, and their foliage comes in different shades of green. The shape of the pepper, the ruffled leaves and gorgeous middles of the plants will make for a fun and interesting variation.
Another way to transition summer pots is to find a new container. This doesn't mean repotting plants - simply grab a pail, wagon, a step ladder, or crate, then place the container on, inside or around the new focal point. An interesting prop that is just laying around allows you to not spend any money, but get a different look. You're giving something a new purpose. It helps make the transition from summer to fall enjoyable, easy and economical.
To create interest, plants are not the only addition to containers. Texture is a way to change the look of the container. This too can be done without much expense. Go for a walk and see whether you can find interesting twigs. Dogwoods have a nice red color to them. Look for twigs that have berries on them. Birch and willow branches are easy to find. Amur chokecherry trees have a distinct golden color to them. Dry hydrangea flowers and Chinese lanterns are interesting for the container. Putting these materials in the pot will add color, texture and height to the container.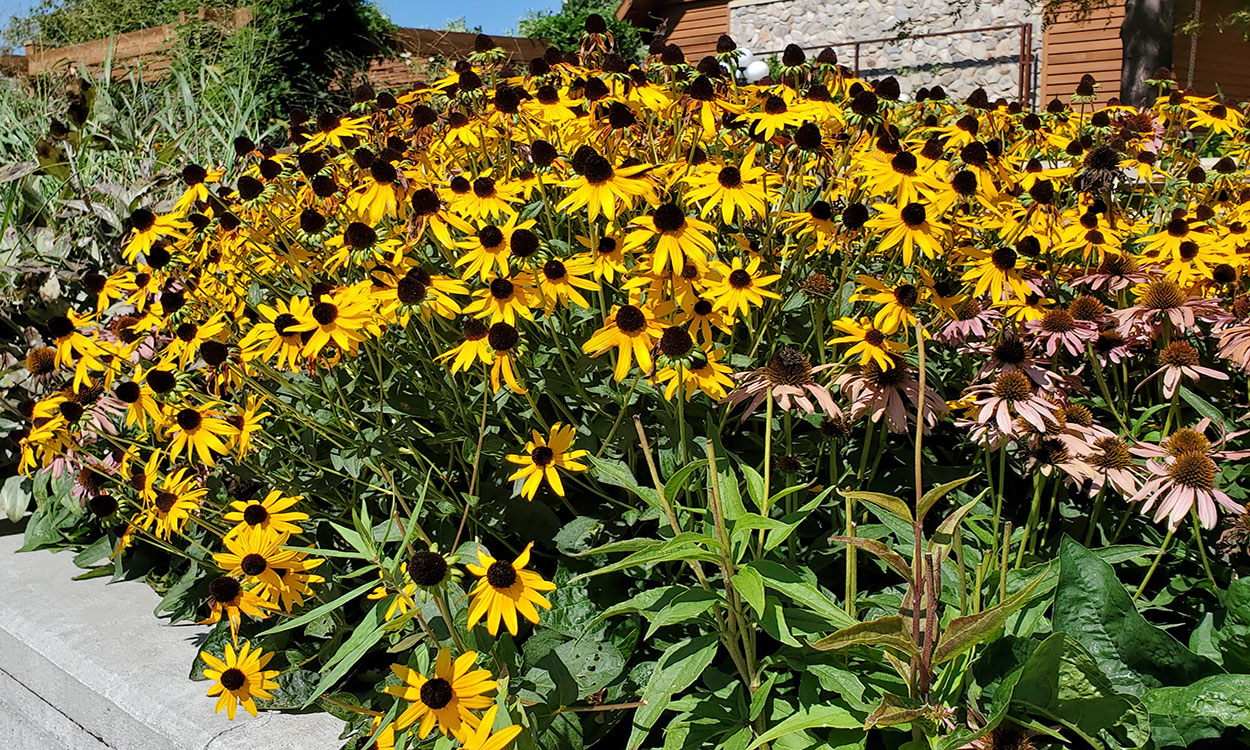 Don't overlook the fact that fall is squash, gourd and pumpkin season. You can stack them by themselves and create a topiary. You can fill your vacant pot spaces with any or all these items, and it will scream fall. They are abundant. Their shapes are interesting and come in all the fall hues. Take a drive in the country and find some dried corn stalks for filling the container. Look for Indian corn at the stores and incorporate these colorful ears into the arrangement.
Here is another idea: Find a little chalkboard. Place it in the container. Welcome, inspirational sayings and holiday greetings will be the first thing your company sees as they come to your house. This allows you to change your message and greeting any time you feel like it.
If you want to get cute, you can make the pot festive for the next three months with just a bit of planning. Find an item you can remove and change out. As an example, grab a scarecrow when the box stores get them in. Place it in the back of your pot. It is large and tall and will give you the feeling of fall. When October rolls around, drape the scarecrow with an old sheet. Now you have your Halloween decorations done. Once November comes, remove the scarecrow and put in a basket or cornucopia. Reuse all those gourds and pumpkins you have on hand. When December is here, remove the twigs and put in evergreen boughs or juniper branches. Add lights or a string of popcorn and your pot has now made the transition into winter.
Your summer flower container can take you all the way into winter if you choose. It can still be the eye-catching focal point you had in mind when you put it together in the summer. With just a bit of looking and a little time, you won't have to move that planter to the shed. You will have new and interesting creations for months to come.
Special thanks to SDSU Extension Master Gardeners Tim Schreiner and Stacy Dreis for serving as volunteer copyeditors of this article.