The bison market has been a vital part of the sustained production and conservation of the species. The bison market has largely been dependent on slaughtered bison meat prices since the 1960s. The primary reporting service for bison market data is the U.S. Department of Agriculture Agricultural Marketing Service (USDA AMS) office, providing monthly summaries since November 2012. Leveraging these data is essential to enhance bison production and conservation sustainability. To assist the bison management system in realizing benefits of these USDA AMS market data, the Center of Excellence for Bison Studies at South Dakota State University (SDSU) has developed the SDSU Bison Economics Tool, which is a user-friendly, visual webtool.
Animal Class Selection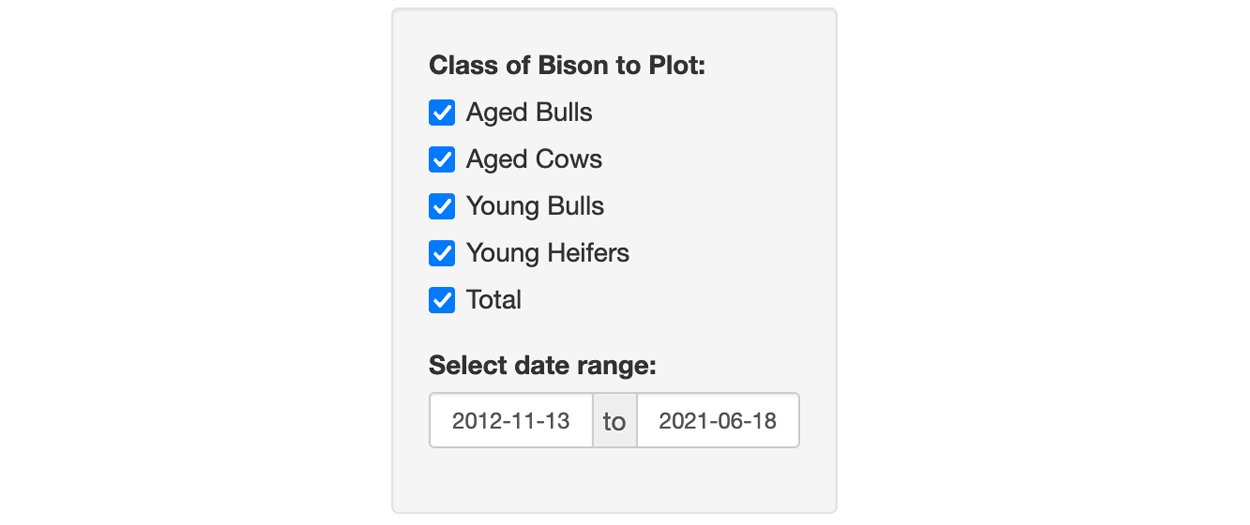 The webtool has graphic user interface allowing users to click on boxes to select/deselect animal classes producing simple graphical plots (Figure 1). According to AMS reporting standards, "Aged" animals are considered more than 30 months old (2.5 years old) and "Young" animals are considered less than 30 months old. The default data range defaults to display the entire available monthly dataset; however, a more-specific date range of interest can be selected and displayed.
Tool Tabs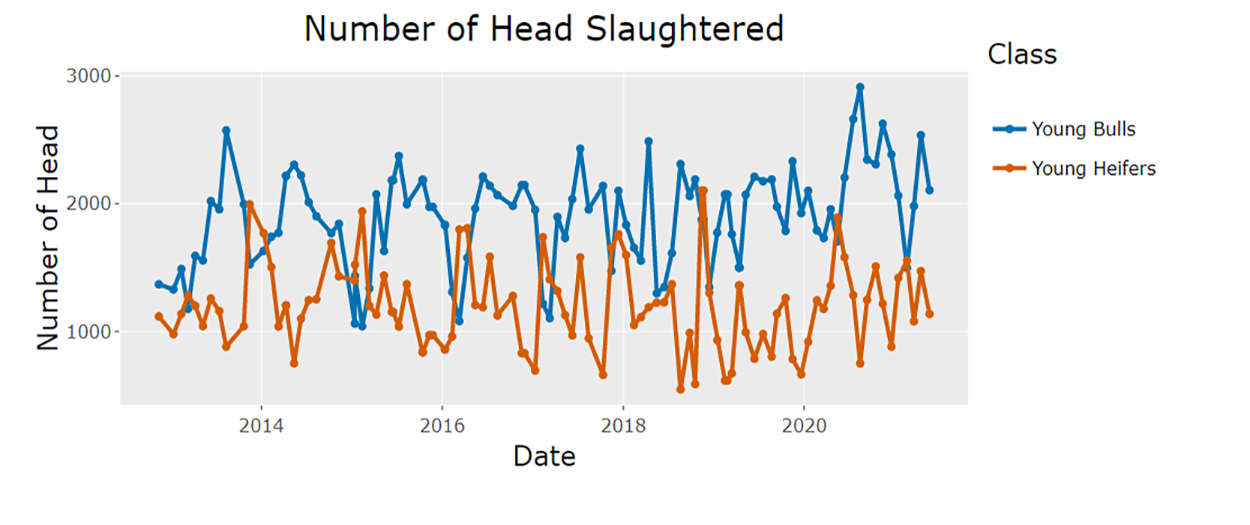 Number of Head Slaughtered
Tracking the number of head slaughtered is a useful metric for considering when to send your animals to market; whether the market appears over-supplied or in-demand compared to recent months. Keep in mind that there are yearly cycles for processors and packing plants that may be associated with typical "busy" cycles, like December through March, and that large market disruptions (e.g., COVID-19, drought) may alter these typical market cycles.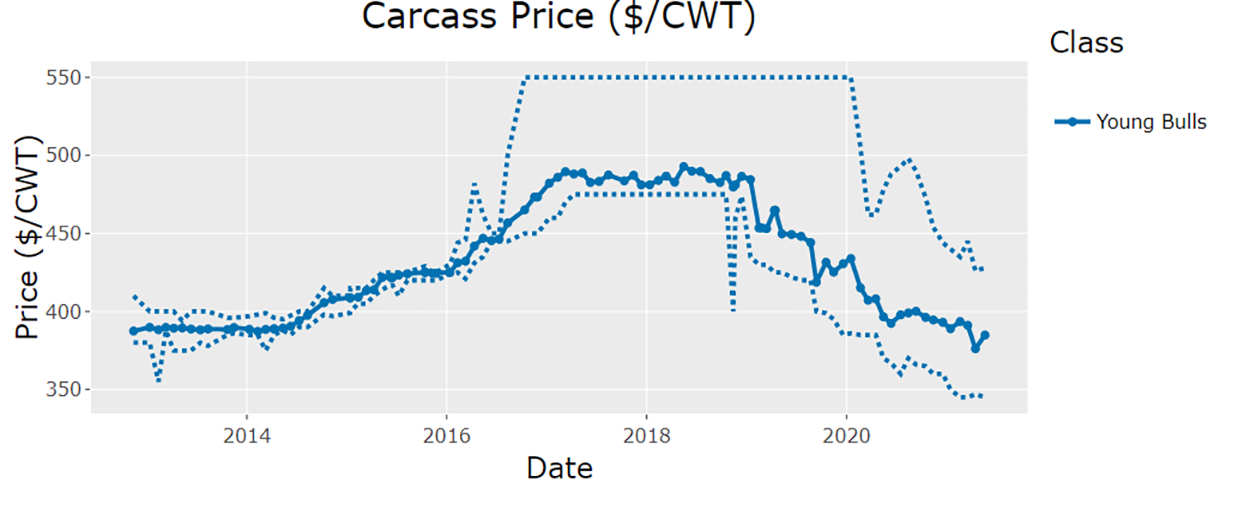 Bison Carcass Price
Tracking the minimum, average and maximum carcass prices for each animal class are important for understanding the range of values that your bison may be worth. Note that young bulls often attain a higher carcass price than young heifers. Carcass prices are portrayed in dollars per-cent weight, which is equivalent to dollars per 100 pounds. Converting to dollars per pound ($/lbs.), divide the value by 100; for example, $477.56/cwt divided by 100 equals $4.78/lbs. Understanding expected market cycles and price is likely to help producers to identify alternative strategies to improve profitability.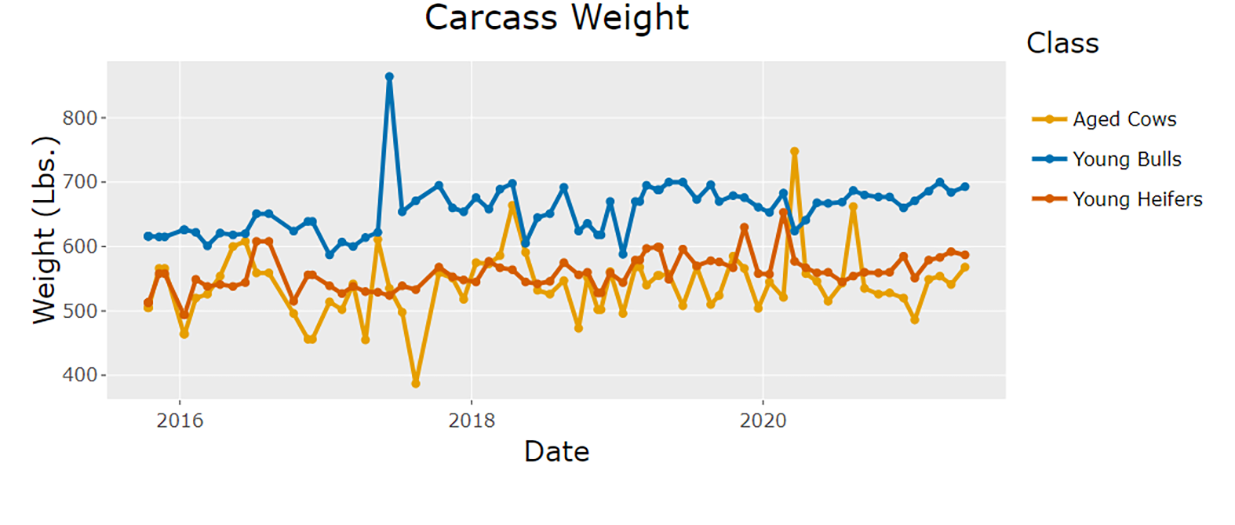 Bison Carcass Weight
Tracking average carcass weight is useful to understand how the rest of the industry compares to your specific production. It is important to keep in mind that your average carcass weight will be dependent on your location. Most of the bison are produced in the northern and central Great Plains and northern Rocky Mountains, which is often produces larger animals than the southern Great Plains or other regions.
In Summary
The SDSU Bison Economic Tool provides bison producers and processors with up-to-date monthly bison market information from the AMS. The rapid and user-friendly visualization capabilities enhance communication and evaluation of how the industry is performing compared to previous months. If you have questions about this tool or data, please contact Jameson Brennan to request a CSV version of the data, or Jeff Martin for feedback or ideas to improve the tool.